Recently, I've started to think about learning to knit. I've never knitted more than a scarf before, but there are so many talented sewing knitting bloggers than can knit as well! And as it gets colder, I covet your cosy knitted creations!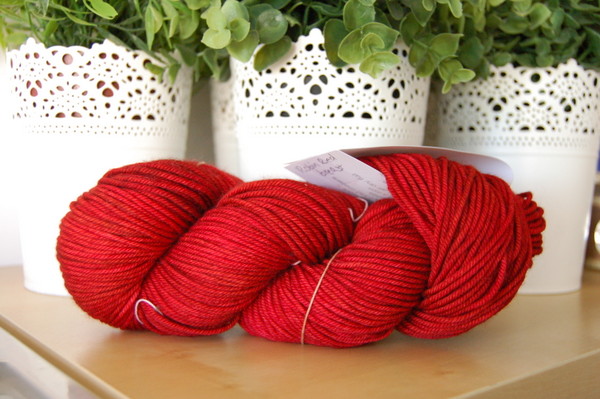 I love the idea of making my own sweaters and cardigans instead of buying them. I rarely shop anymore, and I find myself lacking sweaters because I can't make them!
I could make knitted items to coordinate with my sewn wardrobe – the answer to what to wear over a vintage dress! Like Casey's adorable cardigan, or SulovesSew's pretty Alice top! It seems like a natural next step, perhaps. (And another excuse to buy special buttons!)
I already have a mini-list of things I'd love to try when I get good! Like the Winterberry hat-and-gloves set by Ms. Cleaver. Elbow-length gloves! Perfect for my Lady Grey. And socks! So many of you make amazingly warm-looking socks yourself! I'm impressed. How about Kristen's sweater for her husband – definitely a labour of love! Wouldn't Mr Sewaholic look great in something like this? (Although let's get through his Christmas shirt first…which as you can see I have nothing new to report on!)
However, there are only so many hours in the day. Do I have the time (and more importantly, the patience) to learn something new? Will it be fun or frustrating? Will I end up with a ton of knitting UFOs to keep my sewing UFOs company? Where do I even get nice quality yarn and not something that will pill right away?
What about crochet? Karen from Did You Make That crocheted the cutest little snood as her first project. She says it was easy, fast and doesn't unravel! Sounds like a good place to start.
I'd like to begin with little knit hats or scarves. Something that's fairly likely to turn out useful and wearable! I imagine myself turning out cute knitted hats to match with different wintery outfits. Maybe a looped circle scarf to wear with Lady Grey?
Do you knit or crochet? Which would you recommend? If I want to learn to make knitted things, where should I start? Your feedback is much appreciated!