Hey everyone! Thanks for the comments about my fabric goodies I showed yesterday. It's nice to know many of you fabric-shop on holidays, even when camping! While I'm not surprised, it's cool that many of you bring home fabric or yarn as souvenirs, and remember the good times from your holidays all over again when you finally get to making something.
Today I wanted to talk dress forms. One of the questions I get asked frequently is about dress forms, what I use and what I'd recommend. I'm not an expert on the subject, having used the same brand and type of dress form all my life. (First my mother's Diana dress form, then my very own Diana.) I wrote a post about my dress form a couple years back, but since it keeps coming up I though it was a worthwhile topic to revisit. For all the people that keep asking about dress forms, I'd love to give them a more thorough response from people who've tried different brands and types of dress forms. The more opinions, the better!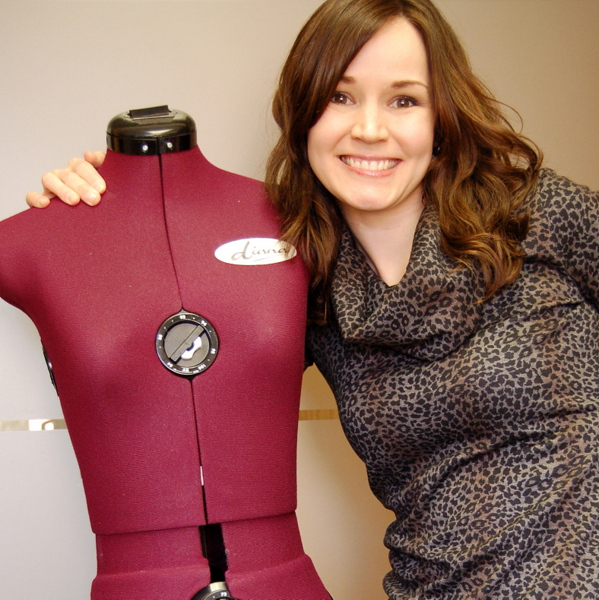 You can read the original post here – Meet Diana. Most of it's still true, but I'll highlight some of the things I like about her:
Adjustability – you can adjust her bust, waist and hips as well as her height and torso length. (In the original post I wrote that 'I can be anywhere from a 33″ bust to a 39.5″ bust' – what I meant was, theoretically I could be those sizes because I could adjust Diana to fit, not that my actual size fluctuates that much. At that point in my blog, I was still figuring out how to explain my thoughts properly online when I can't hand-gesture along with my words!)
Pin-ability – you can pin into her, sort of. (I've seen dress forms that you can pin straight into, much deeper than you can pin into Diana. Think of pinning into Diana like pinning into your coat – you can only pin through her skin, not straight into her like you could pin into a pillow. I hope this makes sense!)
Affordability – I think the price (around $200?) is pretty reasonable.
One other thing I didn't mention the first time is that she's quite lightweight, and the stand and the body come apart for easy storage and moving. So if you had to keep her in a closet and only take her out when needed, this is a good type of dress form.
Overall, I still wish she was a less distinct colour. If she was neutral-toned, or black or white, I could use her for photo shoots and it would look like a catalogue. But if I were to use purple Diana, it would look less pro. Plus, I'd have to consider what colours look good on purple skin when choosing fabric for samples!
If I were to upgrade, I think I'd do one of two things. On one hand I've considered finding a beige or black or white mannequin for photo shoot purposes, while still using purple Diana for fittings or testing out ideas. The disadvantages of that would be that a stock-size mannequin won't fit the proportions of my size chart, so I'd need to keep both and that takes up a lot of space. (And I think it would be confusing to see patterns that are designed for pear-shaped women modelled on a standard-proportioned mannequin with very narrow hips. The mannequins I've looked at have the same measurements for their bust and waist, not at all what I'd want!)
If I were to do a big upgrade, I'd look for one of those fully customizable dress forms that you pad to fit your exact dimensions, putting the curves in the right places. Then she'd be wonderful for fitting and for photo shoots. Or a custom dress form to fit my sample size. I believe those are the type you can pin right into as well. Price-wise, that's a bit of a jump at this point, but it's something to aspire to! (Have you splurged for a custom-fit dress form or one of those pad-it-up-yourself forms? What were they like?)
While my Diana dress form was a gift, not a purchase that I researched thoroughly before deciding on the best alternative, I enjoy her and use her frequently. This was of course well before I had a sewing-based business! There are plenty of options for dress forms. Duct-tape body doubles are a cheap alternative to custom dress forms. (Never done it personally, but there are plenty of tutorials and examples online on how to make one yourself.)  Buying one second-hand is a great way to save money but I've heard it can take a lot of searching to find one as they sell fast.
What about you? What kind of dress form do you have, and what do you like about it? (What don't you like about it?) Was it a worthwhile purchase or do you rarely use it? What would you recommend for someone buying their first dress form? If you were to upgrade, what features would you be looking for?