It's time to get to know a bit more about me, Caroline! I live in Vancouver, but I was actually born and raised in Montreal, Quebec. I attended the Fashion Design program at LaSalle College in Montreal, and upon graduation, I got an internship at Télio, one of the leading fabric wholesalers in North America. I worked in their Montreal showroom for a summer, and then on their merchandising team for a year. It was a great year! I learned about building a fabric collection, trend research, graphic design, and all kinds of things relating to the textile industry. I fell in love with fabric!
When I heard about an opportunity to move to Vancouver and open Télio's first showroom out here, I jumped at the opportunity. Flash forward three months, and I was moving my life across Canada! I've now been living here almost three years, and I love it. I spend my days running the showroom, where I meet with local designers, manufacturers and retailers, and help them to source fabrics. I also contribute to the Télio blog, Textures, which has been up and running for about two months now.
Tasia and I met two years ago, and I immediately thought she was such a cool lady. I won't lie, after meeting her I spent hours on her blog learning about her journey, totally in awe. When she asked me to lend a hand, I was thrilled! It's been tons of fun helping her with sewing samples, and taking care of e-mails. It certainly keeps me busy on my evenings and weekends, but I don't mind – it doesn't feel like work when you enjoy what you're doing. I'm so excited and honored to be a part of her team, and to start blogging in her little corner of the online sewing community!
And there you have it; a little peek into the path that brought me here!
So to kick things off, I wanted to show you guys one of my favorite Sewaholic makes so far, my cheetah print Alma blouse! I'm not usually big on loud animal prints, but when I saw this fabric at Télio, something about it just spoke to me! I immediately thought it would be perfect for a fun Alma blouse.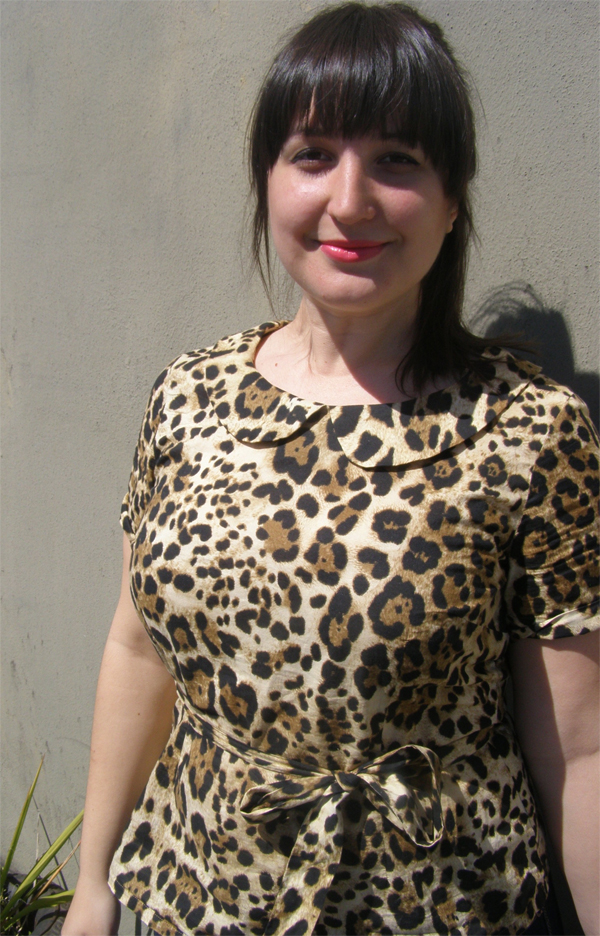 I used a cheetah print cotton poplin from Télio. It's a lovely light weight, but not sheer at all. One suggestion I have for using cottons: always be sure to pre-wash! Cottons will always shrink during the wash/dry cycle, so I always make sure to give them a good pre-wash before cutting.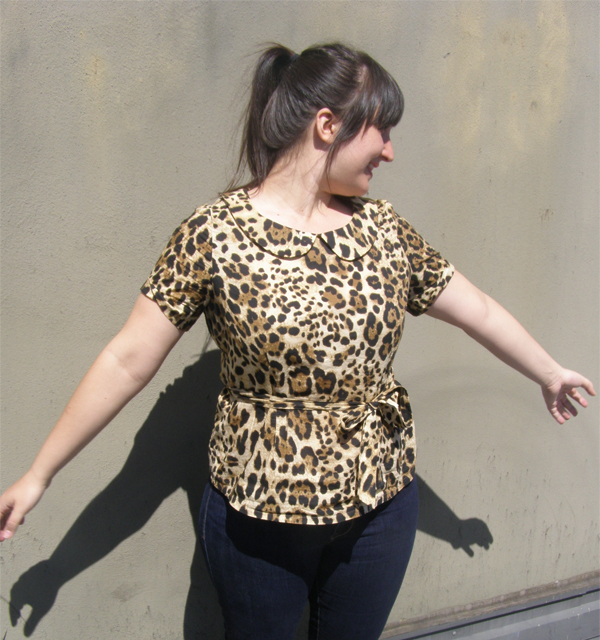 This blouse came together in a flash. This is partially due to the fact that I decided to omit the side seam zip. When I made my muslin, I was able to pull the sample over my head easily without a zip, so I just went with it! I wouldn't suggest this with a delicate fabric though.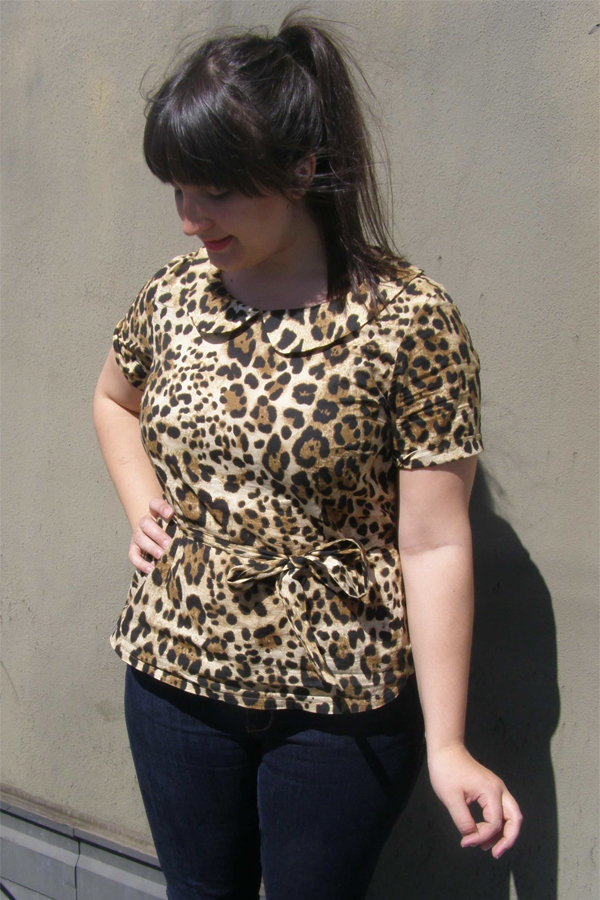 I considered doing a contrast collar and tie belt, but in the end I decided to do everything in the same fabric. It really lets the animal print shine! There is no distraction with a different colored collar or belt.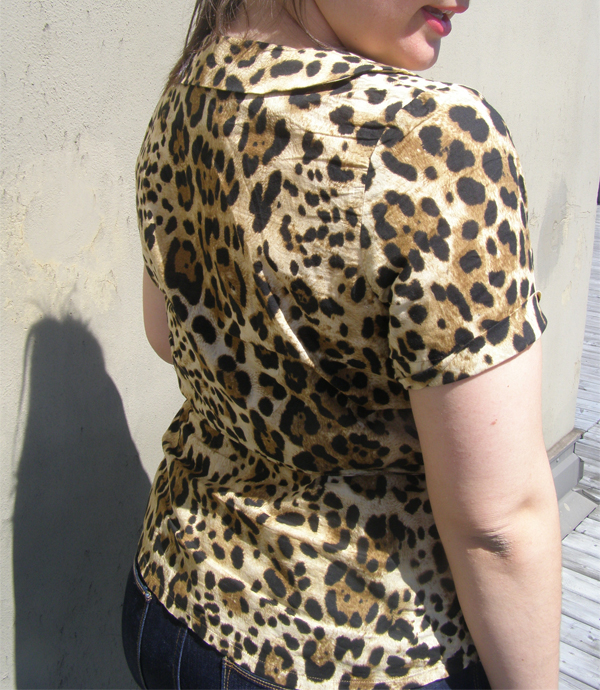 You might notice that the sleeve length is shortened from View B. This was a super easy customization, I just hacked off few inches from the View B sleeve.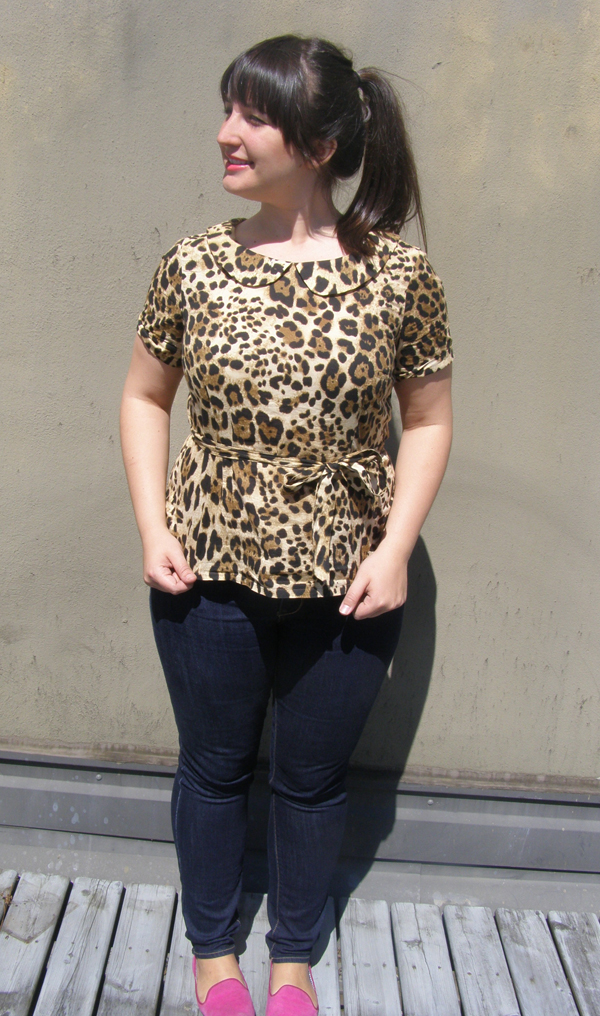 I also lengthened the pattern by about an inch and a half, and took it out just a tiny bit at the hips…
The photo above is a quick snapshot of this adjustment. I try to always trace out my patterns, and I knew the Alma would be a repeat make for me, so I was sure to take the time to trace this one. You can see that I lengthened the bodice, and brought the hips out a little. This is an adjustment I commonly make with more fitted patterns, since I have a longer torso and fuller hips, and I like some extra room in that area. I just copied this adjustment to the back bodice piece, and voila! Super easy.
Did I mention I love this blouse? It's flirty, and girly, and kind of feisty too! Hope you enjoyed reading a bit more about me, and my cheetah print Alma Blouse. I'm looking forward to sharing more sewing projects, tips, and inspiration with you.