Whew! Nearly done the month. The hardest part isn't wearing the items I made, it's writing witty and insightful things about the outfits I wore. What can I write about this one that hasn't been said already?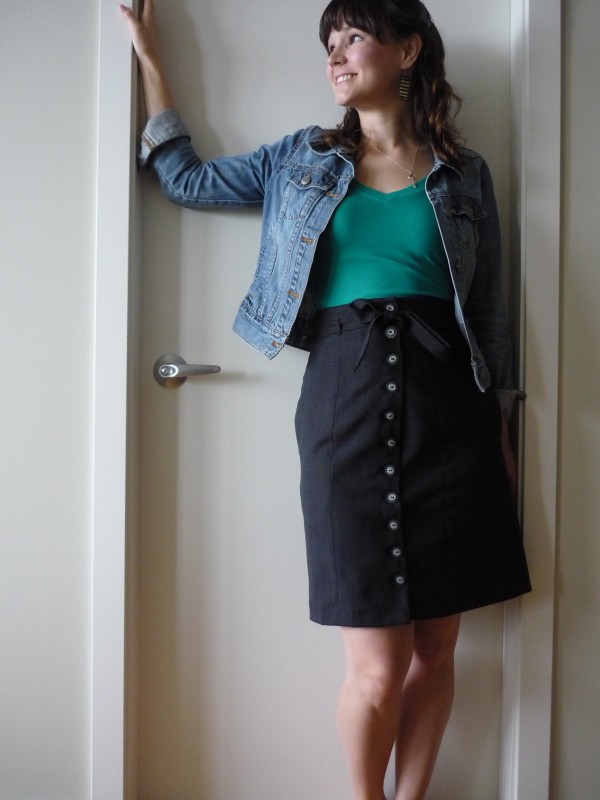 What I'm Wearing, Day 18:
Self-Stitched Skirt: Beignet by Colette Patterns, in wool with bemberg lining
T-shirt: Forever21, purchased last year for a whole six dollars. Isn't that crazy how cheap you can buy clothing sometimes?
Denim jacket: Old Navy, same as in this outfit.
See this skirt in more outfits here, here and here!
On Day 18 I went to volunteer again at Dress for Success, hence the cute-but-comfy simple outfit. I can't wear jeans, and I'm supposed to dress business casual which is hard for me because at my office, anything goes! It was pouring rain when I left the house so I took a quick indoor shot.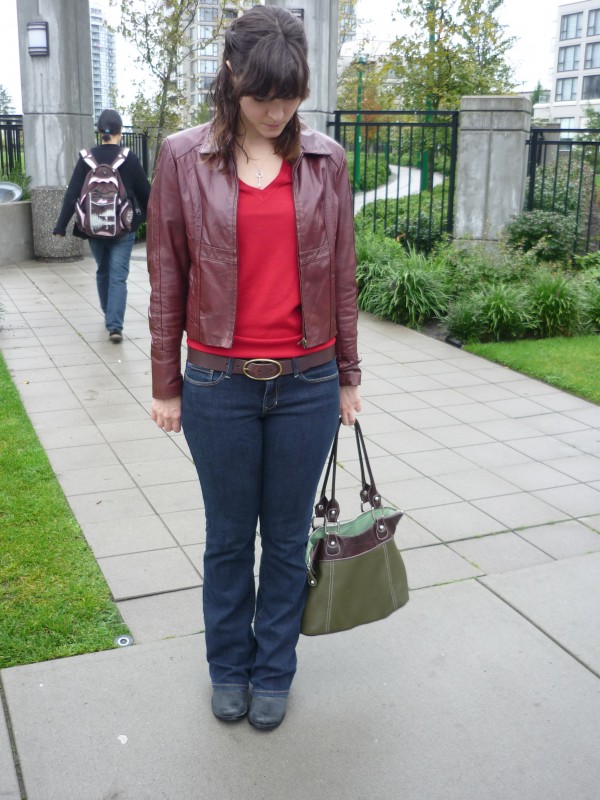 What I'm Wearing, Day 19:
Self-Stitched Jacket: Thrifted leather jacket, replaced the zipper and lining back in May
Jeans: Gap, which I never wear because they leave blue smudges on everything
Sweater: Gap, the same as this one but in red
Boots: Nine West. I realize they look stumpy with jeans and much better on their own so you can see the cool motorcycle-style buckles! I just threw them on to go across the street and wanted something flat I could wear with socks. They need a little polishing, too! Funny the things you notice in photos that you ignore in real life…
Learn how to fix up a leather jacket: click here to learn how to replace a metal zipper, or click here to see how to replace the lining!
Another rainy day! This outfit I only wore to get coffee with Mr Sewaholic before he left to watch football.. then I spent the rest of the day sewing in my underwear! (Too much information? Well, it's true!)
Looking back, I feel a bit square in this one. I look better when my waist is more defined! And I prefer the look of myself in skirts 100 times more than in jeans, no thighs to contend with in skirts! The more I sew the less I reach for jeans as the 'safe outfit' – and I feel like my look is very average today. I am a skirts and florals and bright colours girl – today you can't even tell!
Do you always dress the way you want the world to see you? If today was the outfit you were stuck in for the rest of your life, would you be pleased with your choice? This day, or this day, or this day – absolutely! Today, not so much. I'm going to strive for better outfits every day, even when I'm only going across the street. You never know what could happen in a day!