Yes, it's time for me to move. Mr Sewaholic and I can't take it any longer. We tried, and we gave it a good run, but it's just not working. It's time for me to go, and move out of the apartment… into my own office!
Most of you know I've been working at home, while I've been attending school and starting Sewaholic Patterns. What you might not know, is that Mr Sewaholic also works at home. In the same room. So between the two of us, we've been fighting for alone-time in the spare room. He likes to call it the office, I like to call it the sewing room. I can't sew while he's on the phone, he can't answer the phone when I'm sewing. You'd think we'd be fighting all the time, but it's quite the opposite! We have so much fun together, it's hard to get down to business with each other around.
So while I've been in school, he's been happy and productive! I'm gone all day, so he can work properly, like he used to before I was laid off. As for me, I've been working every evening and every weekend, squeezing in sewing time while he's relaxing. Which makes me frustrated, as I'm frantically writing blog posts and packing orders while he's taking it easy on the couch after dinner. So for the sake of our sanity and productivity, I'm getting my own office!
I'm so excited! It will be in a shared office building. That means there are lots of different people with their own businesses, but we share the lunch room, the boardroom, and the reception area. I'll meet new people! I have a little office that's all mine, and it has a window with a view! Natural light! And being able to see the outside! This might not matter to everyone, but I swear I'm more productive when I can see the daylight. At my previous job I moved workstations thirteen times (over the eight years I was there), and my most productive and fun work stations were the ones by the window. Maybe it's all in my head, but I swear it makes a difference!
And, it's only a twenty minute drive! I could walk, but it's over an hour walk. But what's even better than that, is that there is a bike path from my house to the office. So I'm going to bicycle to work! If I could describe my ideal situation, I'd have a space of my own, where I could walk or bike, with natural light. I'll get my daily workout built into my workday! Which is great, as it's so hard to fit gym time into a busy schedule, even though I know it's important. It's easy to let exercise slide, when there's a deadline looming. Not anymore! I'll save money on parking, and get a little bit of fresh air and exercise.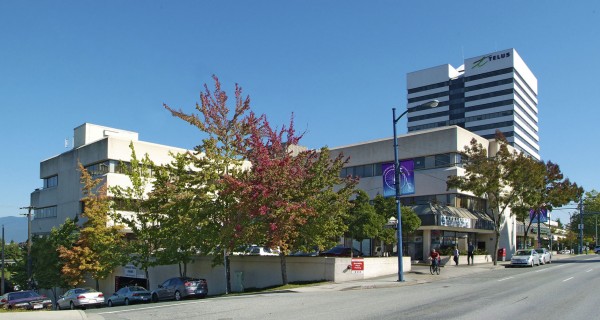 (Click photo for image source. See those top-floor windows? One of those is mine!)
I'm pretty pumped about moving in, setting up an office space and really getting to work, uninterrupted. And then going home to Mr Sewaholic and being excited to see him, instead of dodging him all day while trying to work. It's a big decision, but I know it will just encourage me to push forward with the business, work harder, and really 'earn' my office space.
Scary? Exciting? I'm feeling a bit of both right now, but I know this is the right call. More to come as I get closer to move-in day!
UPDATE: Yes, I can sew in my new office too! Before signing the agreement, I brought both my machines and tested to be sure the noise wasn't going to be a problem… and it's not!