Hey, everyone! I've been busy moving the office into the new workspace. It's looking great in here. I can't wait to show you how much nicer it looks! (I also can't wait to try sewing in here. Having more space makes me anxious to be all set up and back to sewing!)
Want to see the progress? Here is before, in the old office. I'm standing in the farthest back corner to take this photo.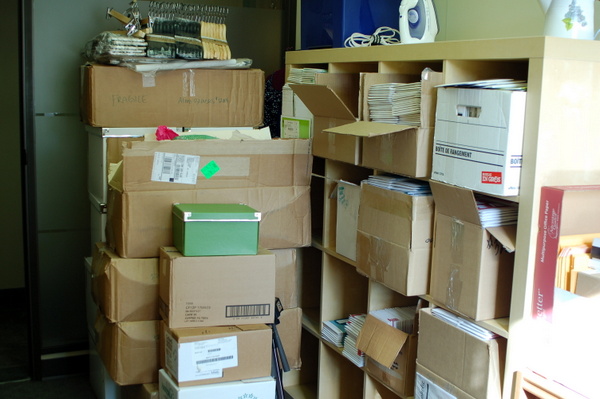 That is a lot of stuff to unpack, right? Here's where we're at now:
Yup, I'm only showing you a little peek at the clean-and-organized part for now! For the most part I like my workspace to be functional and minimally decorated, but I couldn't resist these little plant pots. The edges look like lace! (Here if you're interested in your own lace-trimmed plant pots.)
In between unpacking, I've been shipping out sale orders like a madwoman. Thanks to everyone who's shopped the sale! It's a perfect time to stock up on patterns as we head into Fall. I've already noticed the change in the weather here. It's slowly becoming jacket weather, which is quickly followed by scarf and glove weather, then winter coat and snow boot weather if you're outdoors a lot.
When I'm set up again, I look forward to talking about Fall sewing projects and sewing some new items for the cooler weather. As the seasons change, I tend to look at my closet and re-evaluate my wardrobe. What do I need and what would I like to make? (Can I make it in time for when I'll need it?) I've gone through one season of winter cycling and know what items worked and which didn't, and have plans to get through the winter in style and comfort. I'd love to make up some of the patterns that haven't been featured yet on the blog (Renfrew and Thurlow especially) and share sewing tips and construction photos to help with the patterns you've purchased. The linen-print Cambie Dress I made has been worn and loved all summer so I want to make a couple of Cambie dresses in Fall-appropriate fabrics. And of course, I have plans for new patterns! Plenty of exciting things happening before the end of the year.
In the meantime, today is your last chance to shop the moving sale for 20% off your order!
Here are the details, once again:
Shop the Pattern Store at sewaholicpatterns.com and use the promo code MOVING at checkout to get 20% off your order. All patterns are on sale.
The fine print: Promo code is valid on orders all around the world, and can only be used once. Sale ends Thursday, September 6th at midnight Pacific Standard Time. Discount applies to patterns purchased online at sewaholicpatterns.com only.

Happy shopping, everyone!