Apparently, there was a study done on men and the caliber of a restaurant they would take a woman to, depending on how she was dressed. The outfit that prompted men to suggest the nicest restaurants? Red dresses.
So here is my finished Vogue 9668, in fire-engine red!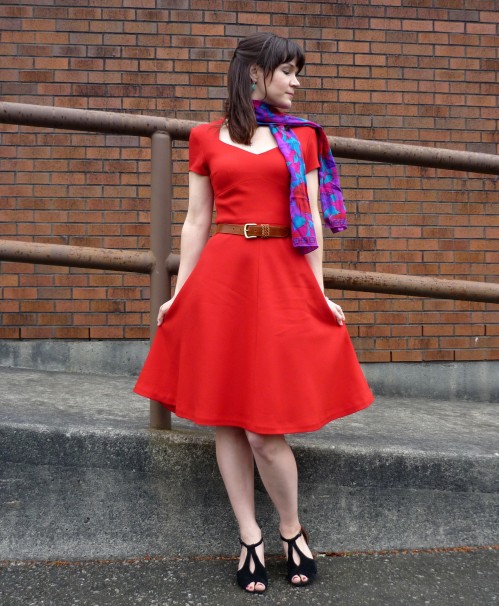 As I'm cutting this dress out, Mr Sewaholic is watching hockey. He's the one that told me about the study, as I unpacked my latest bag of fabric purchases, so he must be hinting at something, right? During the commercial break, I smile and ask casually "So, where are you taking me for dinner once I finish my red dress?" And he says back "Well, where do you want to go for dinner? You pick." (Success!!)
I suggested Las Margaritas, a fantastic little Mexican restaurant with one of the best patios in Vancouver. (Only been there once, but always wanted to go back!)
Anyways, talk about motivation for finishing this dress quickly! Food AND a cute new dress, not to mention margaritas on the patio.
Here are a few more shots of the finished dress: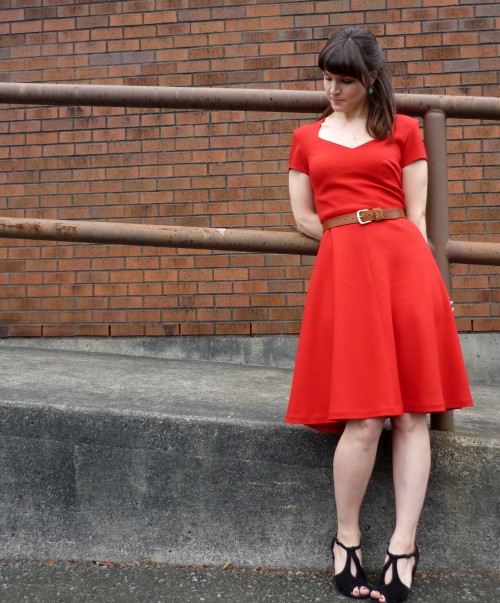 This is a definite make-again pattern! It really suits my body type – narrow waist, wide hips, small bust. I didn't make any changes to the pattern at all, and even cut the same size on top and bottom, which rarely happens!
Here's the back view – it's a little wrinkled from sitting in the car but still pretty. Love the flared skirt on this dress! There's a bump on the right side but it's from the belt, not the dress itself.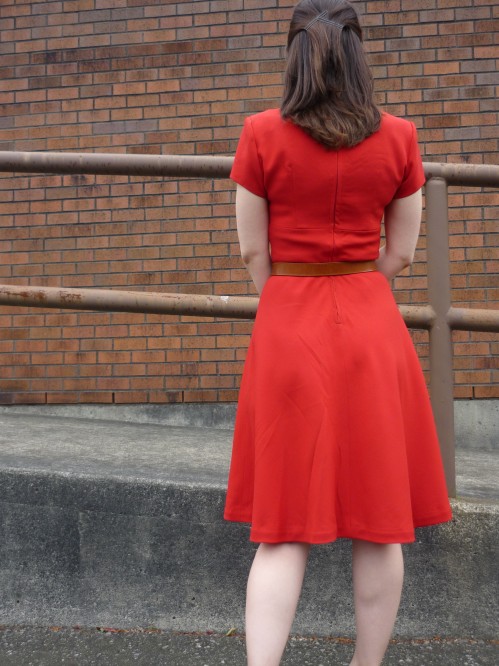 I was outside taking tailgate photos, when it started to rain, cutting the photo shoot short! The rest of the photos are inside my dry, warm home.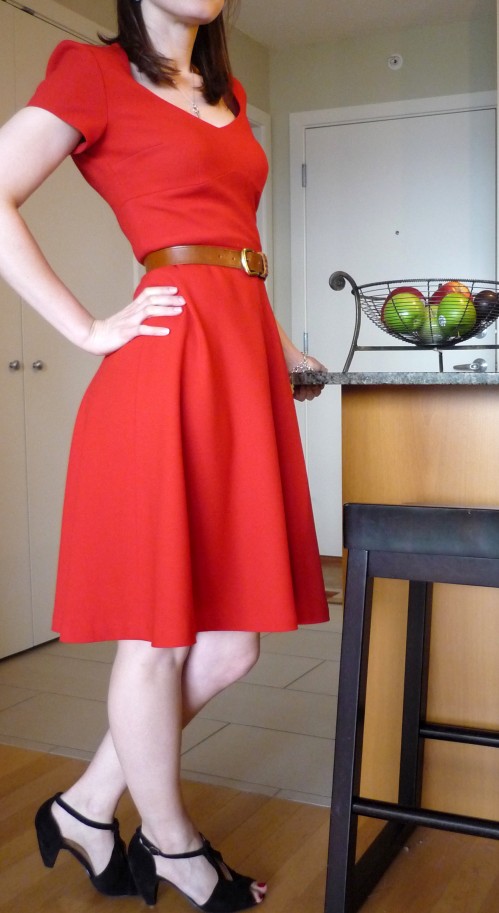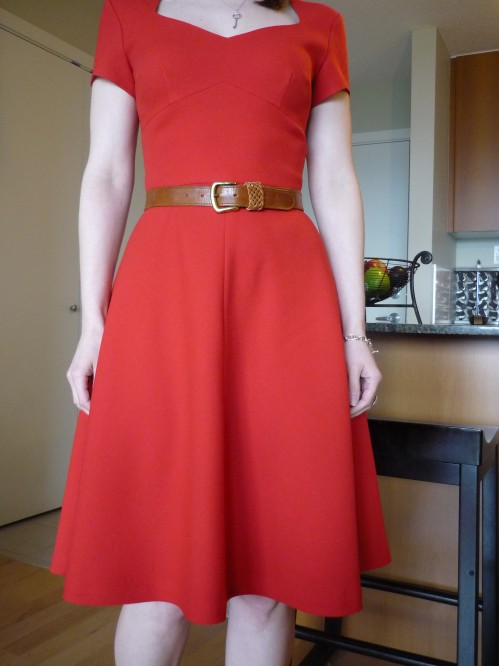 One thing to mention, if you make this dress – it goes on over your head. It's not possible to step into it and get it over your hips, especially if your hips are anything like mine.  Now it's documented forever on my blog, so when I make this dress a second time and wonder why I can't get it on, I'll re-read this post and laugh.
Me-Made-May coverage resumes on Friday, and I have to say I'm looking forward to June! I'm counting down the days not because I'm anxious for it to be over, but I don't want to bore you readers with repeat outfits. Every one of my Me-Made items has been out for a spin already! I'm planning to bring this dress out a few times before the month is over, styled differently of course.
My next project? I'd like to do a little vintage sewing so that I can post on the Sew Retro blog, there have been so many inspiring creations lately! I'm leaning towards starting on the Advance Shirtdress… has anyone by chance made this pattern? Let me know, otherwise stay tuned for my version coming soon!