Have you heard of Kiva (kiva.org)? It's a non-profit organization that lends money to people who want to start businesses to get out of poverty. (Kiva says it better than I do, here on their About page.) Basically, you lend money to someone in need, and they repay the money back just like a regular loan. Except that they're small loans, for specific reasons, and all of the money from the lenders goes directly to the people needing the money. There are stories for each person, why they're seeking a loan and what they plan to do with the money.
I signed up when Mr Sewaholic sent me an 'invite' to join. Of course, I searched for something sewing-related to support if possible.. and found one! My donation helped a woman in Tajikistan buy a sewing machine and start a sewing business.
I made my loan at the beginning of August when she was at 4% of her goal, and when I checked the site again mid-August, her loan had been fully funded. Isn't that cool? That didn't take long at all. Now as she pays back the loan, I can take that money and re-invest it into someone else's hopes and dreams.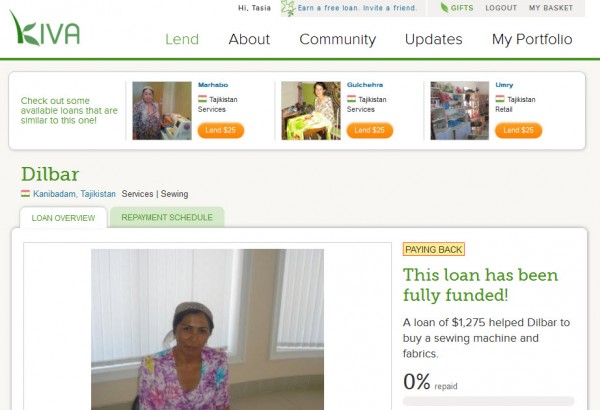 If you would like to give it a try, I can invite friends to join Kiva – just click this link to the 'invited by Tasia' page here. (Bonus: if you sign up, I can earn credits to lend to more people. And in turn, if your friends are inspired to sign up, then you could earn credits too. Official info about that here.)
You don't have to, of course, but it's a neat concept. I wanted to share because I thought it was cool, and relevant. Where we have so much available, we're stashing fabric and collecting beautiful materials, and many of us sew mainly for pleasure, there are people who want to sew to support their family and build a better, self-sustaining life. Why not help fulfill someone's sewing dream on the other side of the world?
If you do sign up and support someone, I'd love to hear about it!
Have a wonderful weekend, everyone. Perhaps I'll see you at the Our Social Fabric sale!