We're so excited to be able to do a sew-along for the Saltspring dress! I (Caroline) am really looking forward to hosting this sew-along and guiding you through the steps for sewing this lovely and flattering dress.
The Sew-Along will officially start on Monday August 12th. That's soon!
Between now and then. I'll go over fabric suggestions, and I'll show you my first Saltspring dress, which ended up being a wearable muslin! Don't you love it when that happens?
If everything goes according to schedule, we'll be finished our dresses on Friday August 30th.  I'll be walking you through all of the steps, with lots of pictures. I'll also be available for support if you have any questions in the comments along the way. One of the best features of the dress is how the top layer of the bodice is longer than the bodice lining, which creates a really effortless blousing effect. This makes the back zipper seem tricky to attach. Don't worry though; we actually use a really cool and surprisingly easy technique that I'm really looking forward to walking you though.
Here is the Sew-Along badge. Feel free to put it up on your site/blog whenever you'd like!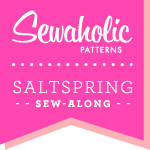 Right-click the image to save it to your computer. If you'd like to add a link to your badge, use this one to find all of the Saltspring Sew-Along posts quickly and easily!
http://sewaholic.net/tag/saltspring-sew-along
Feel free to use any photos of the Saltspring dress in your blog posts. Just please be sure to link back to Sewaholic if you do.
Phew! I think I've covered everything! So who's in? Let us know in the comments!