The Minoru Sew-Along is on! I look forward to leading you all through the making of the Minoru Jacket in the New Year.
The official Sew-Along start date is going to be Monday, January 16th, 2012.
Doesn't that seem ridiculously far away? I swear, we'll be there before you know it! It's going to be a lot of fun, and it will help the adventurous beginners sew this intermediate-level jacket with a little extra guidance. If we start mid-January, we'll be finishing up our jackets in early February. This jacket isn't as hard as it looks, but there are a few tricky parts that might be fun to work through together.
We've already had the promised guest post on sewing for the rain – I'm glad you guys enjoyed it! I'll also share some thoughts on choosing fabric and other Minoru-related posts to help you get all lined up to start sewing in January.
Like the Lonsdale Sew-Along, I'll put together a complete Sew-Along schedule so you can plan when to go out, and when to stay in and sew. Although it's January, so I think we've timed it perfectly right. What would you rather do besides make a cup of tea, put on the fire and stay in and sew? Sounds like a perfect way to beat the January blues!
Yes, we have a Sew-Along badge! You can put it up on your site as soon as you like.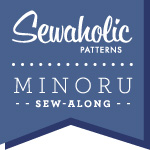 Right-click the image to save it to your computer. If you'd like to add a link to your badge, use this one to find all of the Minoru Sew-Along posts quickly and easily!
http://sewaholic.net/tag/minoru-sew-along
And a couple of you have asked to 'borrow' photos of the Minoru Jacket for your own blog posts. Feel free to use any of the Minoru Jacket images if you like! Please link back to Sewaholic if you do.
Who's in for the Minoru Sew-Along? Leave us a comment if you are! I'm excited to sew another pattern along with you guys!