You know what I mean, right? The lower end of an invisible zipper can be scratchy and bothersome. Sometimes it can even poke its way into undergarments, if the length is right. (So annoying!)
What if you've shortened the zipper, and have a cut end that looks like you cut it yourself? (Which you did, but we don't want it to look that way if we can help it.) What can we do?
This!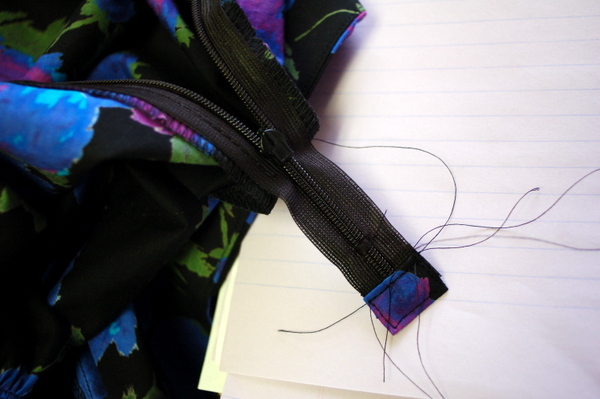 Oops, I didn't trim my threads before taking photos.. and didn't seem to take any after trimming them. (The dreaded Hairy Garment!) Ah well. Imagine there aren't any hairy loose threads distracting you from the main point of this photo – the fabric-covered invisible zipper end!
On my Hazel Dress, I shortened the invisible zipper, and thought I would cover the end so it's pretty as well as comfortable.
It was quite dark when I did this, so my photos aren't the greatest but I thought I'd mention how I did this, in case you wanted to try it on your next scratchy zipper end. (And also for my own records. Sometimes I forget what I did, it's nice to read through my own posts as a reminder.) It adds a nice finishing touch and softens a stiff zipper, to make your garments more comfortable to wear!
How to cover a scratchy zipper end:
Cut a small rectangle from scrap fabric. I wish I'd measured mine before sewing it up now, but it was about the width of the zipper plus seam allowances, and four times the width of the zipper for the length measurement.
Press under the seam allowances on either side, so that the zipper cover (we'll call it that from now on) is the same width as the zipper tape.
Press under the other ends too. Sew to the zipper, with the inside of the zipper facing you, as shown in the photo below. You'll wrap the tab up and to the front, so it's easy to sew from the right side.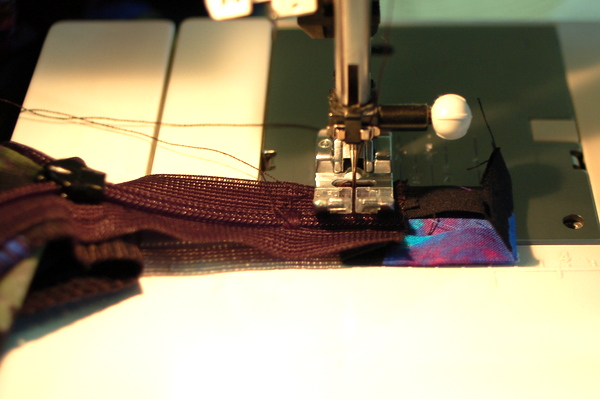 Next, wrap the folded end around to the front, and line up the folded edge with the line of stitching you just sewed.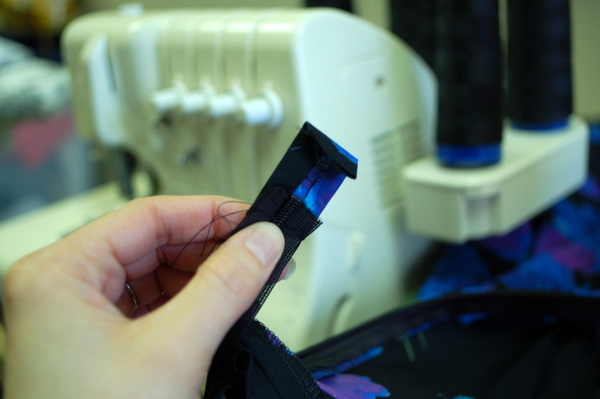 Stitch all around the zipper cover as shown, pivoting at the corners. When in doubt, stop short of each corner, as it's easy to overshoot and sew off the edge. (Ask me how I know!)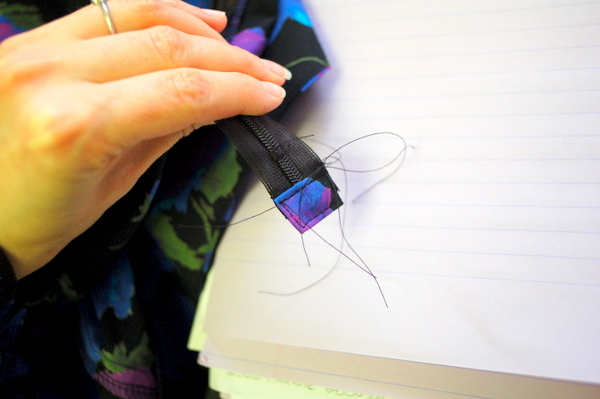 (And don't forget to trim those stray threads.)
I hope this helps! I know these aren't the greatest photos, but it's challenging to photograph black fabric late at night. The point was to give you an idea of how to cover the ends of your zipper if you wanted to try it on your next project!
Have you ever done this with your zipper end? Any tips to add?