Me-Made-May started as an challenge to wear my handmade clothing, but it also forced me to look at my body and how it looks in my handmade clothes.
After looking at photo after photo, there's no doubt about the fact that I'm a Pear.
With a hip measurement over 10″ larger than my waist (12-13 in fact!), my body looks a lot like a pear. With legs and arms and a face, but still a pear.
I almost always cut out a smaller pattern size on the top than the bottom, sometimes up to 2 sizes different!
Thing is, I kind of hate the term Pear Shaped. It brings up thoughts of lumpy yellow fruit and it feels somewhat negative. And after looking at a zillion pictures of myself during Me-Made-May, I'm starting to like my silhouette more and come to terms with me being me.
I'm a brunette, not blonde as I've tried many times in the past; I'm only 5'4″ at best, not 5'7″ as I like to tell people; and I'm most definitely built like a pear.
So going forward, I'd like to focus on dressing to show it off and flatter my shape, rather than squash it into jeans or straight-up-and-down styles. If you've got it, flaunt it… or at least work with it and stop fighting the way you're made.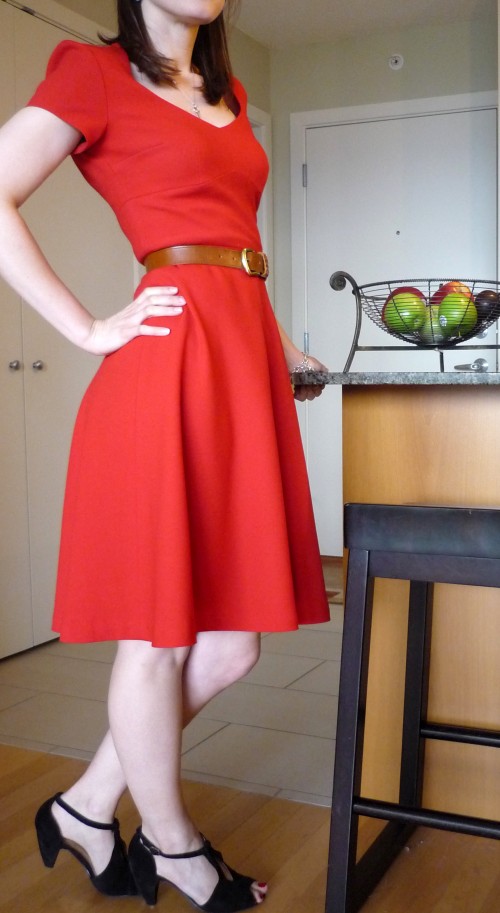 What have I learned? Pears like full skirts, fitted waists and high heels. (Ok, the last one isn't totally pear-related.) Pears can rock a good fitting pair of jeans but look rather uncomfortable in an ill-fitting pair.
Belts are a pear's best friend – if you don't have narrow hips, then show off a narrow waist. Focusing on the shoulders helps to distract from a wide hip area.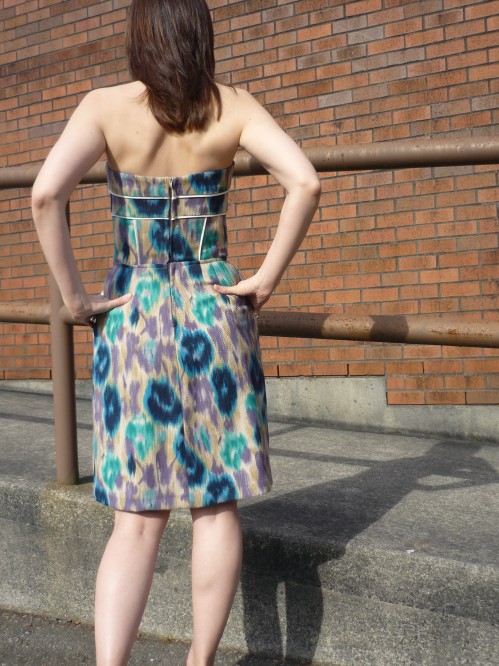 But I still don't like the term pear shaped. So what term to use instead? Curvy on the bottom? Junk in the trunk? I'd love to hear your thoughts.
And if you also are a pear shape, do you dress to hide it, or to show it off? What tricks do you have for dressing a pear?
On a completely separate (and non-sewing related) note… look what my awesome friend gave me! Runner's World Training journal – to prep for the marathon.
It's basically a running diary to track my progress over the next year as I train for the Vancouver Marathon – with tips and guidelines on everything from nutrition, technique, and how often to replace your running shoes.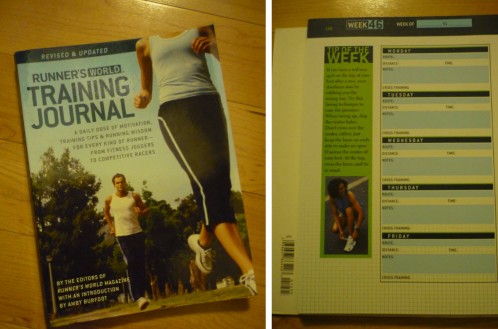 It's amazing how nice people can be when you tell them what you're up to!
On a sewing-related note, here's what happened the last time I had a free night to sew.
I was all set to cut out Vogue 2961, after an (internal) debate on what project to sew next. Go figure, as soon as I've finally decided, I unfold the pattern tissue to find a pocket. Strange, I thought, as I didn't remember there being any pockets on this dress… so I double-check the pattern number and would you believe it, it's the tissue for Vogue 1158.
Of course I get out the computer and search for what Vogue 1158 looks like – maybe it's fate and I should be making it instead? I put the link in so you can check it out – not quite the same thing. Plus, the 1158 wasn't in the right size either. How frustrating! Has this ever happened to you?
I emailed Vogue Patterns right away and still haven't heard back. I'm sad because any time I order online, patterns take a good 3-4 weeks to arrive. It looks like my vintage sundress dreams are on hold for a little while. Ah well, on to the next thing!