Today we have a very special pattern announcement: five new sewing patterns!
Introducing the Vancouver Collection. Athletic-inspired sewing patterns inspired by our beautiful city of Vancouver, British Columbia.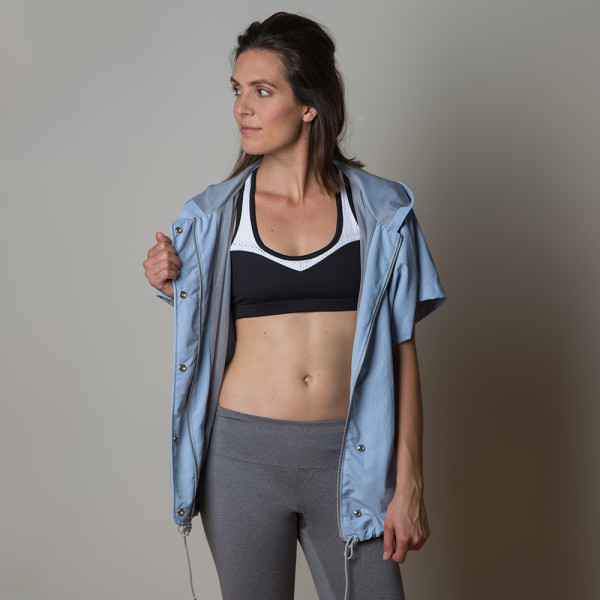 What's special about this collection is the fact that it looks like athletic wear you'd buy at the store. People won't believe you sewed your outfit!
As we developed this collection, the number one thing people said about the collection photos and samples is that it doesn't look handmade. We wanted to create sewing patterns for clothing you'd be amazed that you could sew yourself. Athletic-inspired clothing that looks as professional as store-bought, but customized to fit you. 
The Vancouver Collection patterns incorporate all the functional details you see in ready-to-wear athletic apparel – gussets, zip pockets, shelf bras with padding pockets. It's not overly simplified for home sewing.
This is the first time we've ever released patterns as a complete collection! Let's take a look at each style individually.
Cypress Cape
The Cypress Cape is one of the most specialized pieces in the collection. We designed it as a rain cape for cycling, but it would work just as well for dog walking or any wet-weather activity.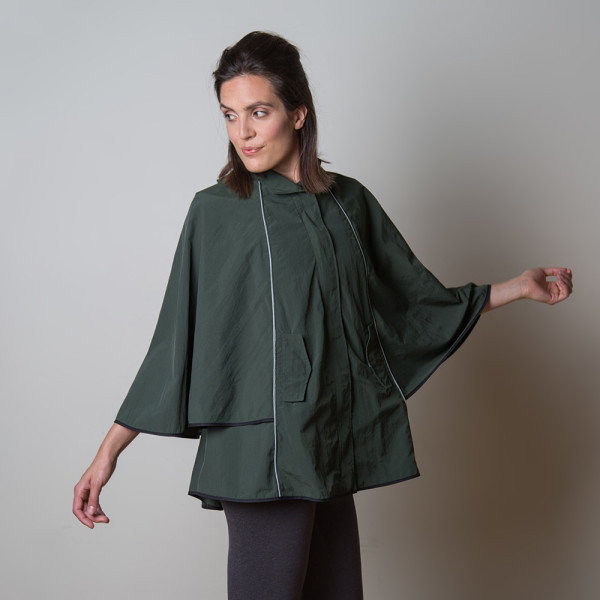 The most distinct feature is the wide, semi-circular sleeves that allow a range of movement. Many cape designs have small hand openings in the front that don't let you reach very far. This design gives you plenty of room to reach your arms out in front of you.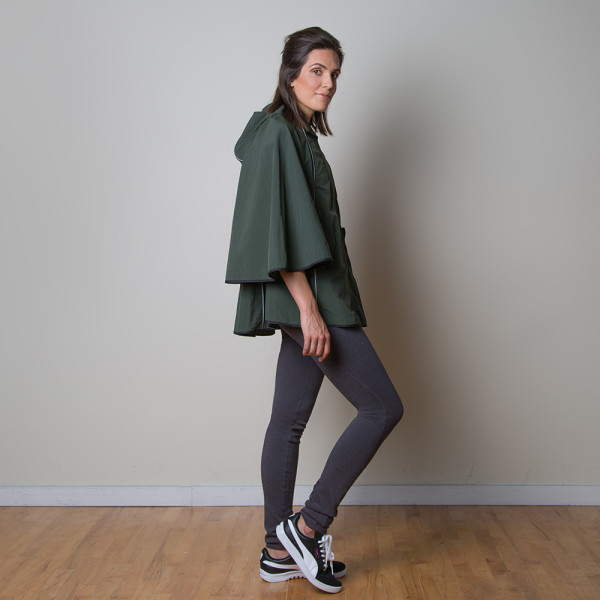 Named for Cypress Mountain, it's unlined to make it light and packable, with a hood, front zip closure and wind flap, and front pockets. Our Cypress Cape sample includes optional reflective piping for extra visibility.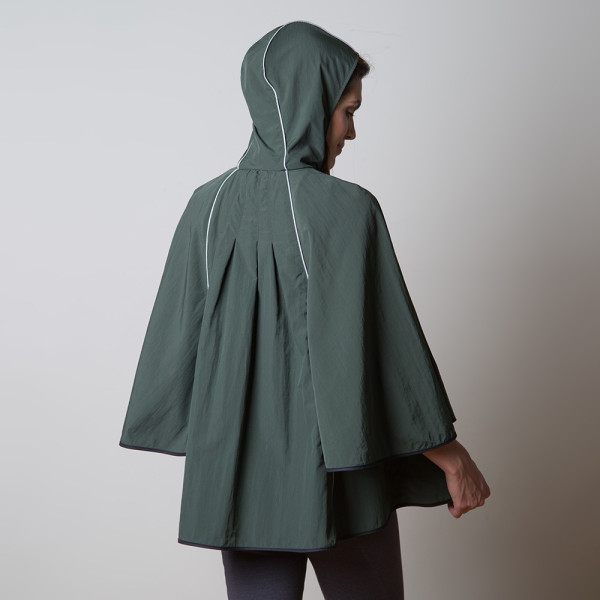 We've used a nylon supplex from Outdoor Innovations for this sample. It's a lightweight water-repellent woven fabric with a cottony feel. Look for something relatively lightweight so it can drape and the back pleats aren't too bulky. Water-resistant and waterproof fabrics are an excellent choice – read this post on sewing waterproof outerwear for construction tips!
Check out more photos and details about the Cypress Cape pattern here.
Seymour Jacket
If the Cypress Cape is the most specialized pattern in the collection, then the Seymour Jacket is the coolest!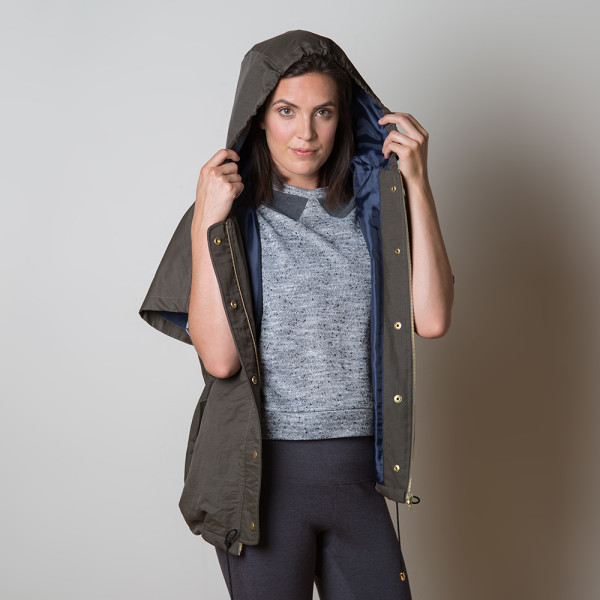 Throw on the Seymour Jacket for biking, dog walking, hiking, or going to and from the gym. The loose fit leaves your arms free to move, with plenty of room to layer a warm long sleeve sweater under. We've layered short and three-quarter length sleeves under it, it looks great with any sleeve length! It's named for Mount Seymour, a local B.C. mountain.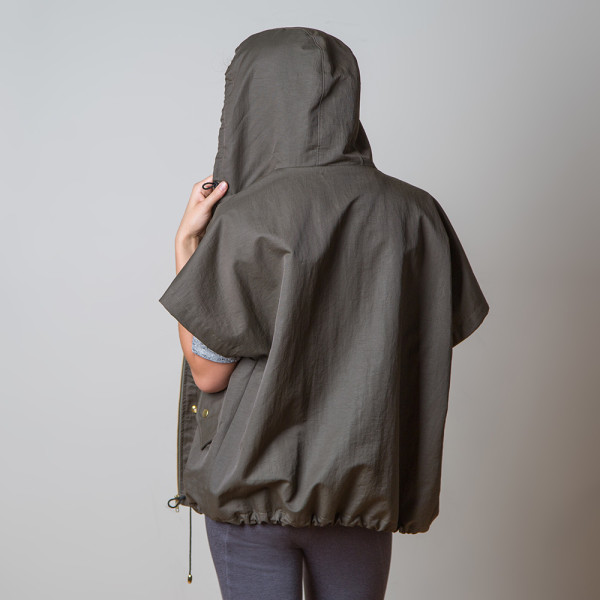 I showed the photo shoot photos to a friend of mine, who wasn't into it at first glance… until she stopped by and tried on the sample. Then she loved it! Immediately she commented on the comfortable hood, the useful pockets, the cool shape, the relaxed fit and the fact you could layer it over everything!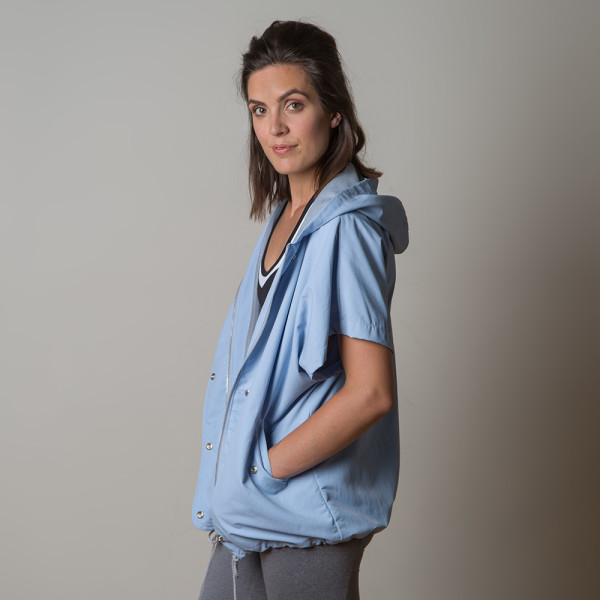 I'm the same way. Once I tried on the initial sample, it was instant love! It looks equally cool with a dress and boots, as with leggings and a sweater. A short-sleeved jacket is unusual yet surprisingly versatile, with a forgiving fit. After working out, it's loose and breezy and won't stick to warm skin.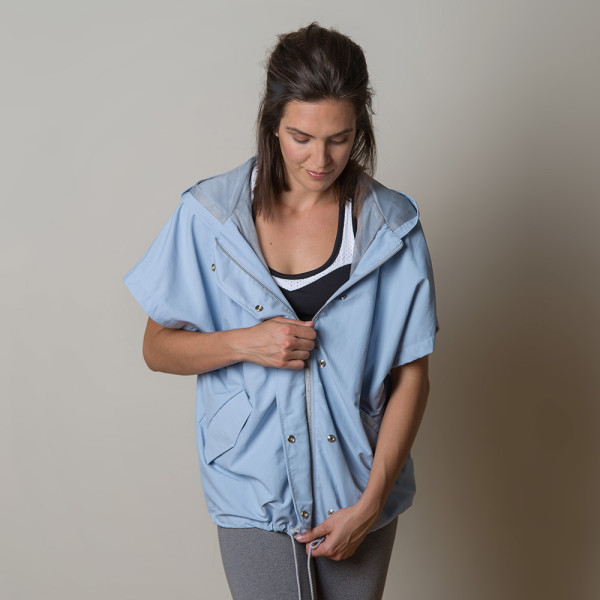 Look for fabrics for the Seymour Jacket that are lightweight and not too stiff. We've used a cotton-nylon for the olive sample (same fabric as our Robson Trench Coat samples) and a light ripstop nylon for the light blue samples. Marissa's working on a version in soft linen for a summery, relaxed outerwear piece. For lining, use lining fabrics or a light mesh fabric like our blue sample. The cotton-nylon is from Telio and the ripstop is from Fabricana.
See more photos and details about the Seymour Jacket pattern here.
Pacific Leggings
This is pattern that started it all – the Pacific Leggings. We designed these and realized that they needed a top to wear with them. We'd already started working on a rain cape for cycling so it was a natural fit to keep going and create a mini wardrobe of athletic styles! It's easy to mix and match all of the styles in the collection into outfits, starting with the Pacific Leggings.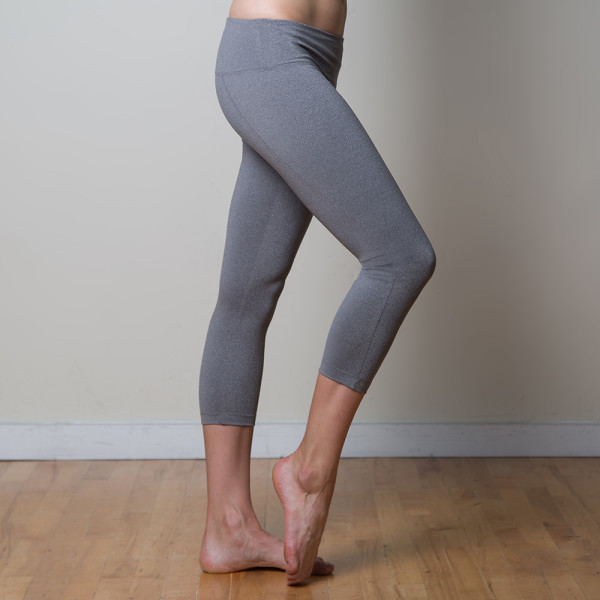 These leggings are great for running, yoga, hiking – any activity where you need to be able to stretch and move in comfort.  Marissa's sewn four pairs of these and wears them climbing, bouldering and hiking – even to run a half-marathon! I wear mine for lounging, cycling, gym classes and running. Named for the Pacific Ocean and Pacific Spirit Park, they're a great West Coast basic.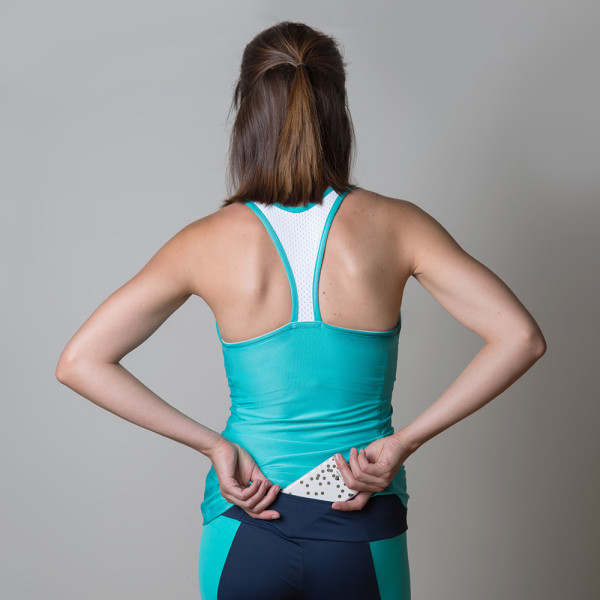 A zippered back pocket fits even the biggest of smartphones! Perhaps you might not want your device in there for a high-impact workout, but it gives you an idea of the pocket size. It zips closed to securely hold your keys, cash or cards.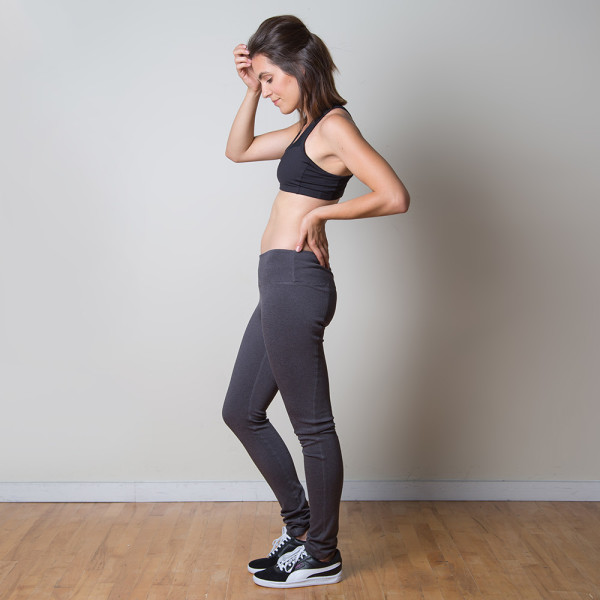 There's so much you can do with the design lines: contrast panels in different colours or fabrics, contrast stitching to highlight the seamlines, tone-on-tone detailing. It's a simple pattern with a lot of potential.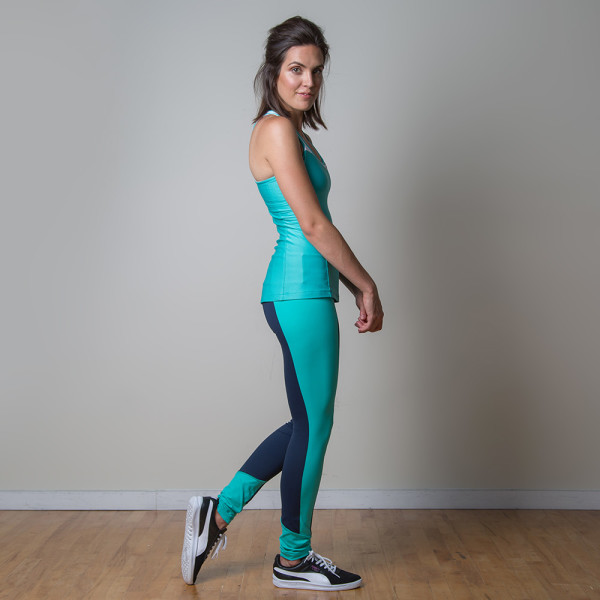 For fabrics, choose a knit with stretch in both the horizontal and vertical directions. Stretch it across the width and the length of the fabric to check! I like a thick, dense fabric with spandex, like a nylon spandex. The cropped sample and the colourblocked sample use nylon spandex knits, both from Dressew.
If you wanted a more casual look for your Pacific Leggings, a cotton-spandex knit would work for a softer, less sporty effect. Fabric will affect the fit as will the recovery, which refers to how well the fabric returns to its original shape after being stretched. Our darker grey leggings use a rayon nylon spandex knit and they have a less snug fit. The great part is how quick they are to sew: try them out in a multitude of different fabrics!
Check out more photos and details about the Pacific Leggings pattern here.
Fraser Sweatshirt
Many sweatshirt sewing patterns are designed as raglans with a loose or oversized fit. Our Fraser Sweatshirt has a slim fit that's not tight, for a streamlined look.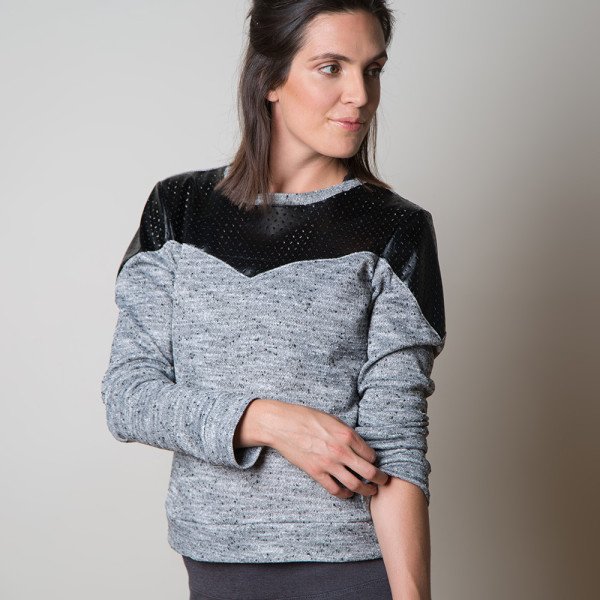 It's meant to be an easy layering piece to wear before and after yoga, on your way to the gym or workout room. We added a collar detail and colorblock lines for interest but the plain, simple, no-fuss version is my favourite. Named for the Fraser River, which meets the Pacific Ocean after passing through Vancouver.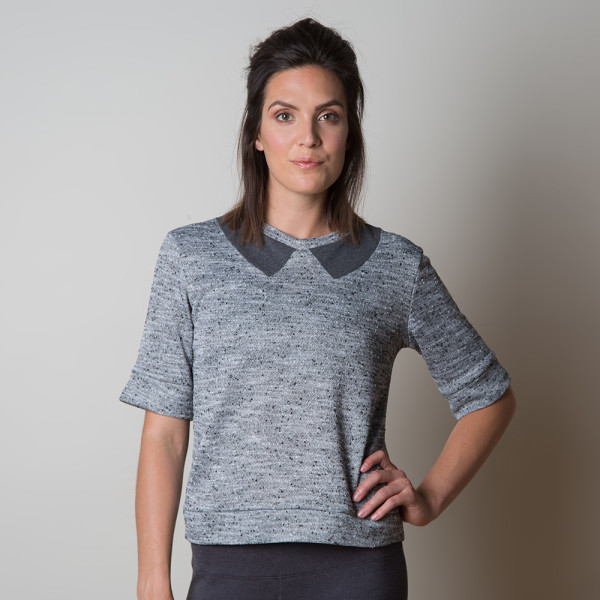 I love the idea of a collar on a sweatshirt, but know that knit fabrics don't always lie flat especially after being washed. The collar detail on our Fraser Sweatshirt is created with inset pieces so it lies flat forever.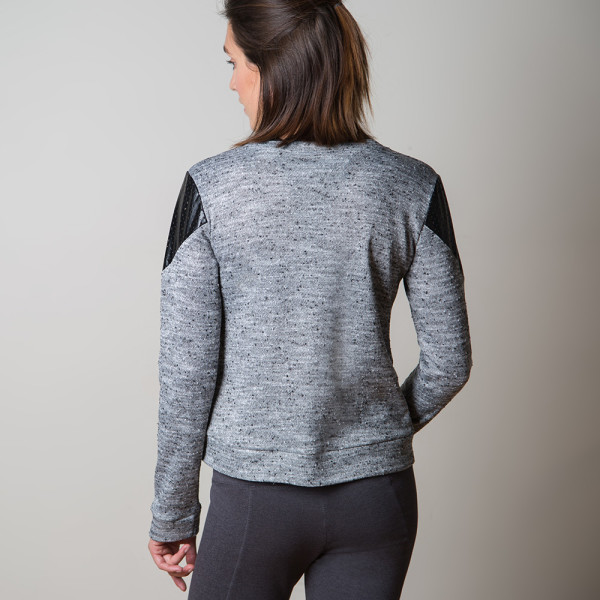 The yoke version has cool seaming on the front only; the back is plain without any seams to restrict movement.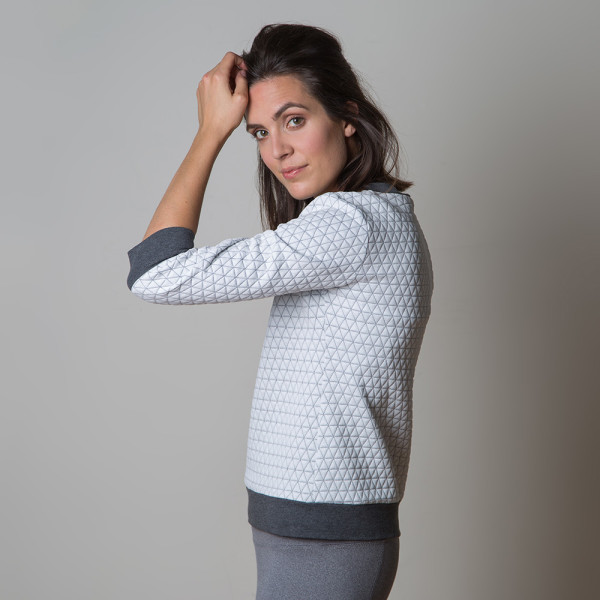 We've used a quilted polyester knit fabric for one version, and a speckled cotton blend (76% polyester, 24% cotton) for the heathered grey versions. Contrast bands are cut from plain cotton spandex jersey to reduce bulk. The yoked version features perforated stretch leather as an accent! For the collared and yoked versions, mix in other fabrics along with your sweatshirt knit to make it your own. Both sweatshirt knits are from from Telio, as is the perforated faux leather. Find the exact white quilted knit here at Blackbird Fabrics, too.
Check out more photos and details about the Fraser Sweatshirt pattern here.
Dunbar Top
The last style in the collection is the Dunbar Top, a sports tank and bra. Named for Dunbar Street in Vancouver, this top looks simple but has built-in structure inside.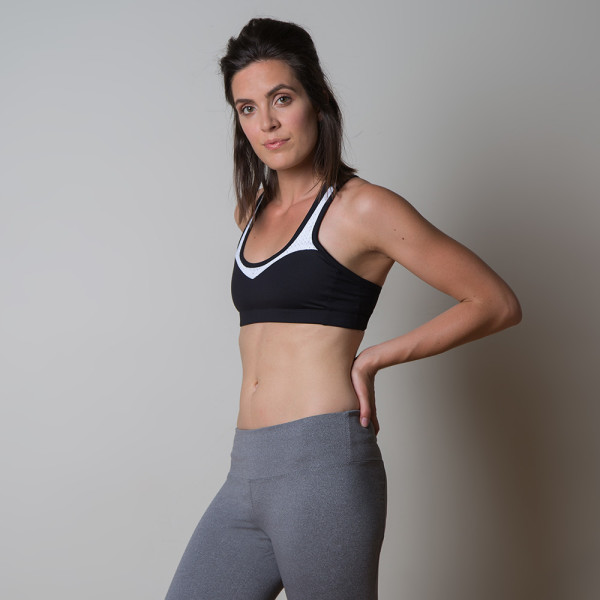 Inside the Dunbar Top, a powernet shelf bra adds support and includes pockets for optional bra cups. We've shown the tank and bra version with high contrast fabrics, with one bra version in black-on-black for a simpler look. You can sew this bra without a serger, and still achieve a professional look!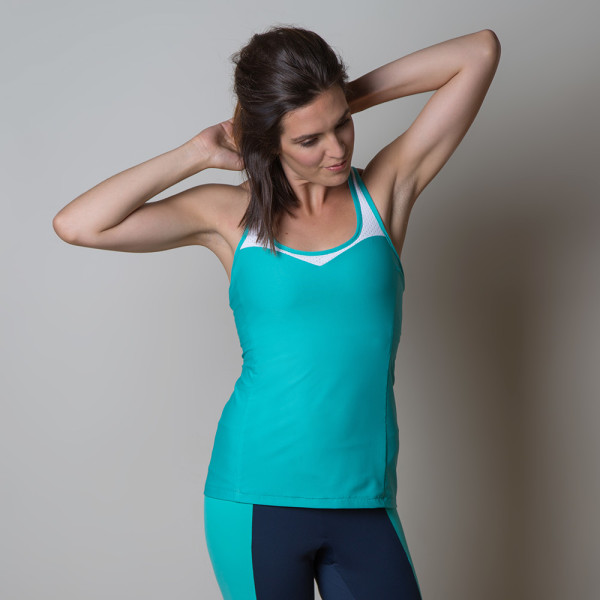 For fabrics, you can use the same fabrics for the leggings, or even a lighter weight knit.  Again, you're looking for a knit that stretches both vertically and horizontally. Why?Think about it this way – you want it to stretch around your body as well as up and down the straps when you move your arms.
I prefer a thicker fabric for pants but I don't mind a lighter fabric for tops. We've used nylon spandex knits for most of our samples with perforated nylon mesh knits in the strap sections. (All fabrics from Dressew in Vancouver.)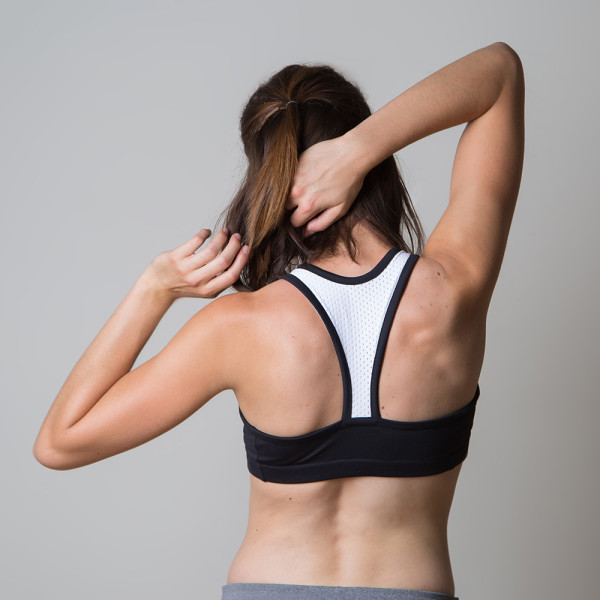 Check out more photos and details about the Dunbar Top here.
The Vancouver Collection is a little more specialized than our usual designs and some of the styles are more challenging to sew. Great for more experienced sewers, or those who want to branch out and try a new type of sewing project!
It might also be the only type of sewing project that saves you money, versus buying store-bought garments. Especially in Vancouver, the home of Lululemon and Mountain Equipment Co-op, where high-quality performance clothing is popular yet pricey.
It's athletic inspired, but cool enough to wear for any activity. Here in Vancouver we're all about athletic wear in everyday life. It's normal to wear leggings or yoga pants out and about. Our Vancouver Collection features sporty clothing you don't mind being seen in before and after.
All five patterns are available in both print and pdf versions, in our shop at sewaholicpatterns.com or at a fabric store near you.
We hope you like the new patterns. Thanks for your support!