I'm excited to introduce the next pattern from Sewaholic Patterns today… the Saltspring Dress!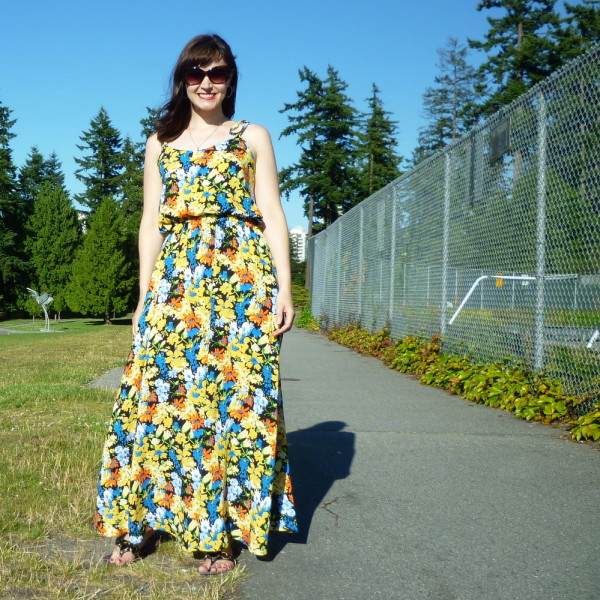 The Saltspring Dress is a breezy, relaxed sundress perfect for hot summer nights and days at the beach. It comes in two lengths, a full-length maxi dress and an above-knee length dress. The maxi dress is so dramatic! (I'm going to show off the maxi dress today, the shorter version tomorrow.)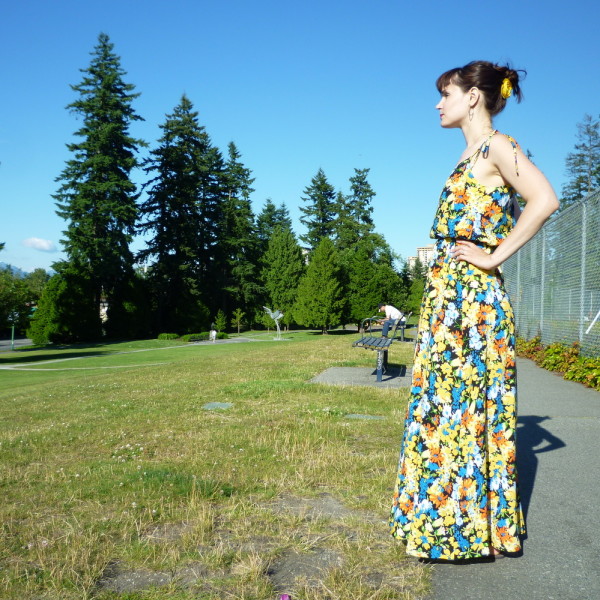 What's neat about this dress is the construction. The inner layer is shorter than the outer layer, which causes the blousiness to sit neatly at the waistline. No need to tuck and then 'blouse' the dress yourself, having it slip out of place during the day. You'll always look effortlessly put-together!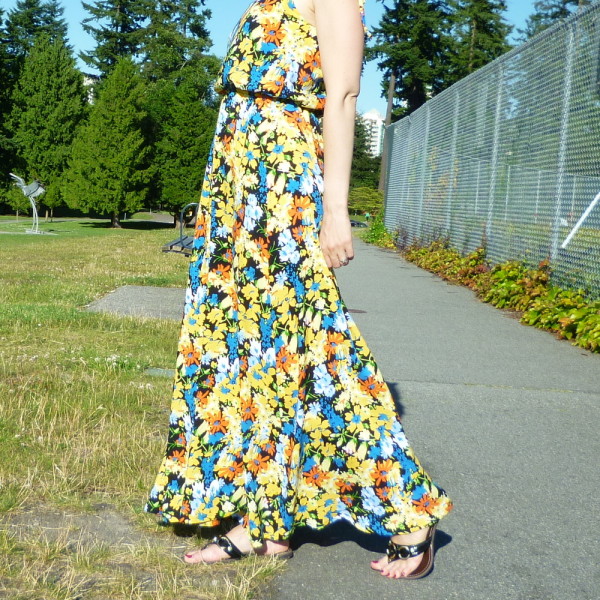 There are pockets, too! Easy-to-sew inseam pockets make this dress practical as well as stylish.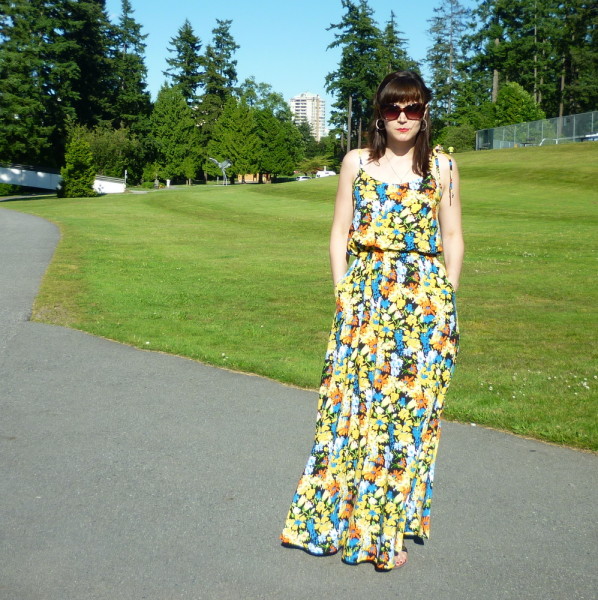 I've included two skirt options, one long, one short. I like the dramatic appeal of the longer skirt, which is great when there's plenty of yardage available. For an in-between length it's easy to start with the longer skirt, and measure off where you want the hemline to fall.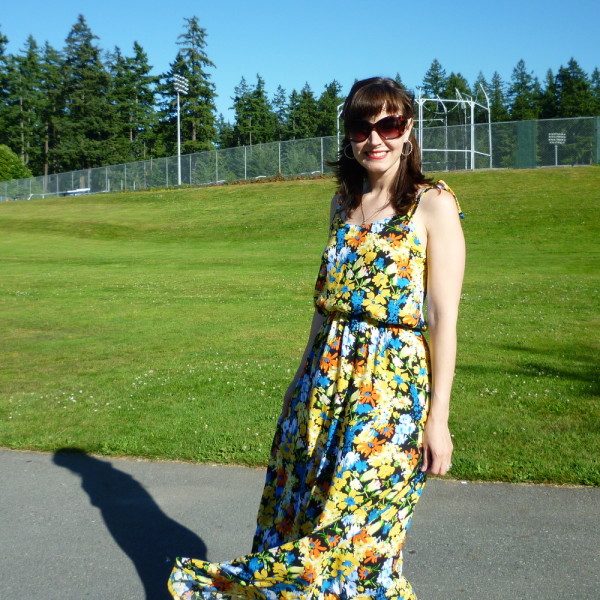 The key to not looking (too) short in a full-length dress is to define the waistline at your natural waist. Not empire waist as it looks maternity, not drop-waisted as that makes the legs look short. I'm about 5'4″ with short legs, and you can't tell in this dress! (And I'm not wearing three-inch heels like usual.)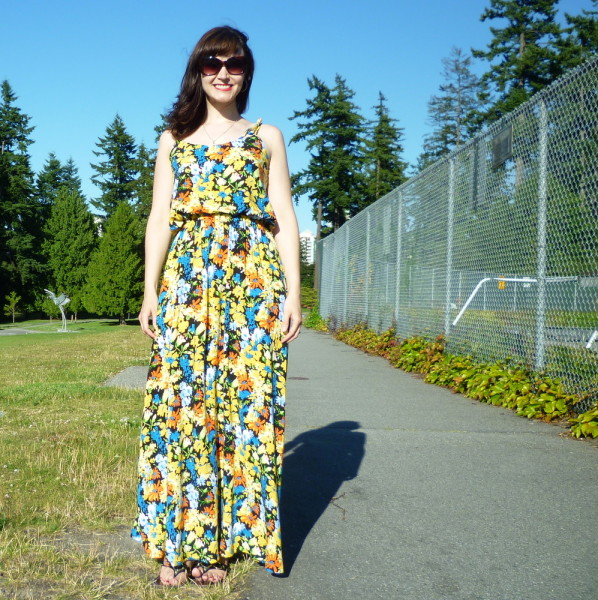 It's so comfortable!
The straps tie in a bow at the shoulders, making it easily adjustable to raise or lower the neckline. (Or if you lend someone else the dress.) The elastic waistline is comfortable to wear and allows for weight fluctuations, or eating a big meal. Make a tie belt or wear your own belts to cover the elastic waist.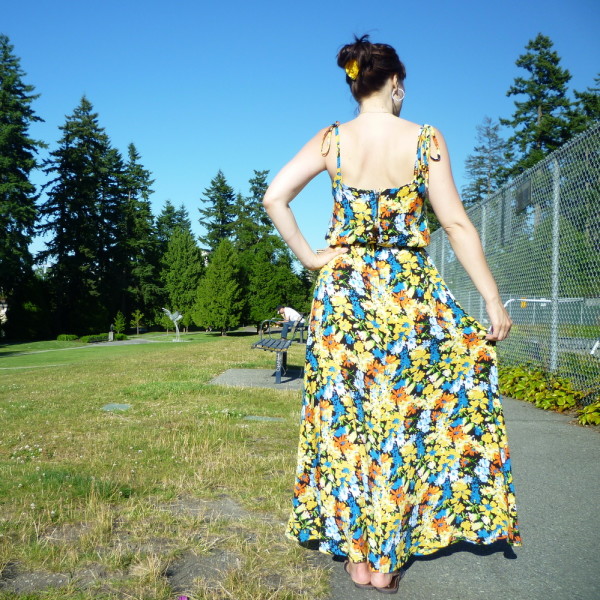 This pattern is perfect for large prints because there are no seams or darts in the skirt front. Large flowers won't be cut in half by seamlines.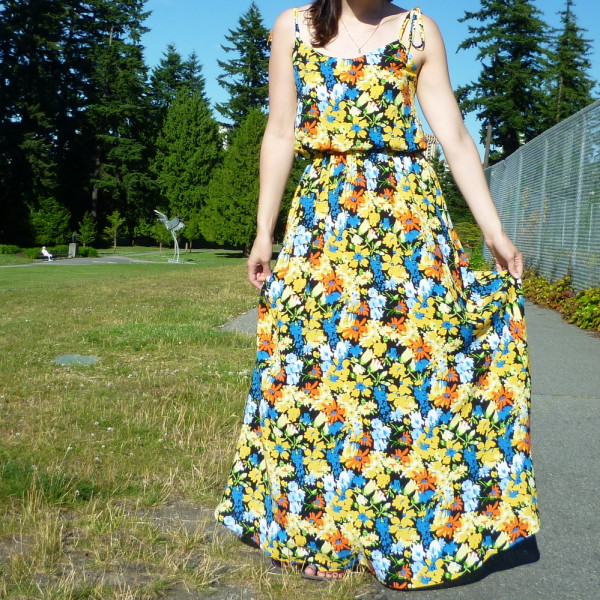 It's no secret that I love this dress. It's so easy to wear! A solid version is classic, a printed version is more fun, and a floral version is sweet with a colourful cardigan. The shorter length is practical, the maxi-length is wonderfully dramatic.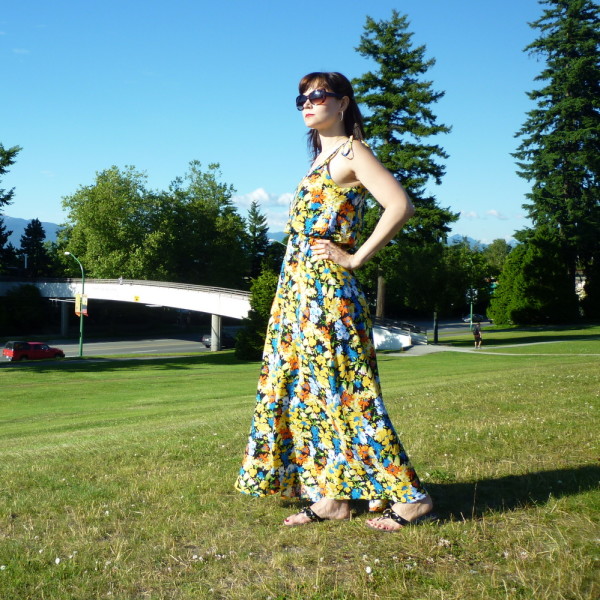 Where does the name Saltspring come from? It's named after Salt Spring Island, a small island off the coast of Vancouver Island, between the island and the mainland. (I made it one word so it would match the other pattern names.) I've been attracted to the Vancouver Island place names this year, starting with Tofino and now Saltspring.
Vancouver Island is known for having a relaxed feel,  and Salt Spring Island is home to artists, free spirits, musicians, writers and organic farmers. It's the perfect place for a flowy, relaxed sundress with a blousy bodice and comfortable elastic waistline!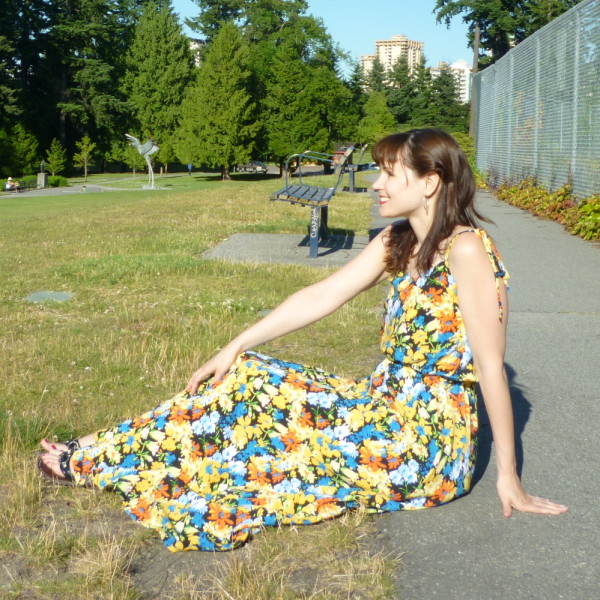 Fabric Notes: Rayon challis from Fabricana (bought in 2010)
I hope you like the new pattern! Click here to visit the shop. Thanks for your support!