I'm excited to interrupt the Minoru Sew-Along to introduce the latest pattern from Sewaholic Patterns… the Renfrew Top!
The Renfrew Top is the perfect basic tee. Great for layering, it fits perfectly under the Minoru Jacket. Cosy and comfortable for wearing on the weekend!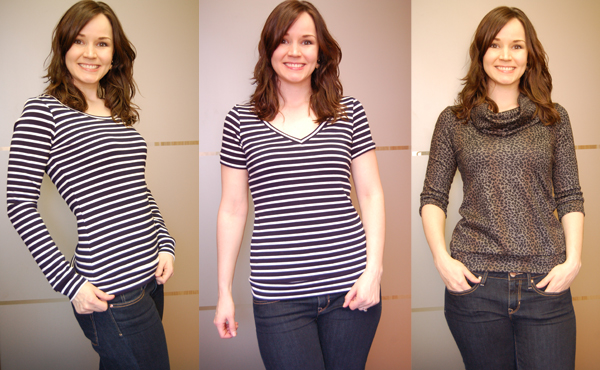 This is the knit top pattern for people who dislike sewing with knits. That's what inspired me to create a knit top pattern that was easy to sew with a professional, clean result. Instead of ripply, stretched-out hems, I've replaced the sleeve hems and lower hem with bands. These bands are easy to sew and finish the edge in a professional-looking way. No more messy hems!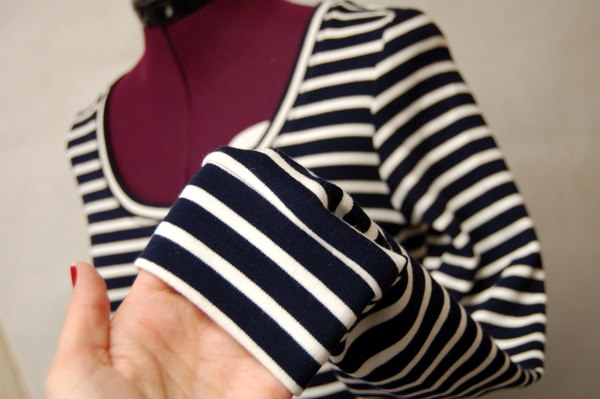 Choose from three neckline options – a V-neck, a scoop neck, or a cowl neck – to finish off the top. The great news? All three sleeve patterns and all three neckline options can be interchanged to sew nine different tops.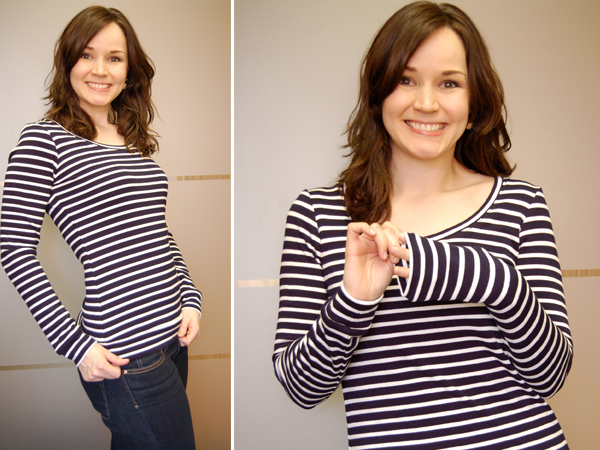 I love my dressy tops, full of ruffles and detailing and prints. But some days all you want to wear is a soft, cosy tee shirt. Now you can make a whole bunch of fresh new tees! Refresh your wardrobe by adding a couple of new, colourful knit tops this spring. I know I'm planning to make at least three new white tops using this pattern!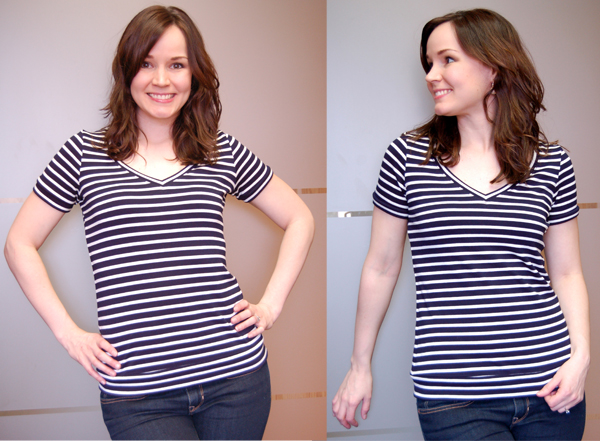 What's the name Renfrew mean? It's named after Renfrew St in Vancouver, BC. I named the tee shirt Renfrew because it's the street near Playland (a local amusement park), near a stadium that has concerts and hockey games, and a horse-racing track. So it's a fun-loving tee shirt. Maybe you'd wear the V-neck version with shorts to ride the roller coaster, a long sleeved version with jeans and boots to watch the hockey game. Perhaps a striped version, chunky necklace and printed skirt to watch the horse races in the summertime. It's simple, it's easy to sew, and it's comfortable to wear. I hope you like it!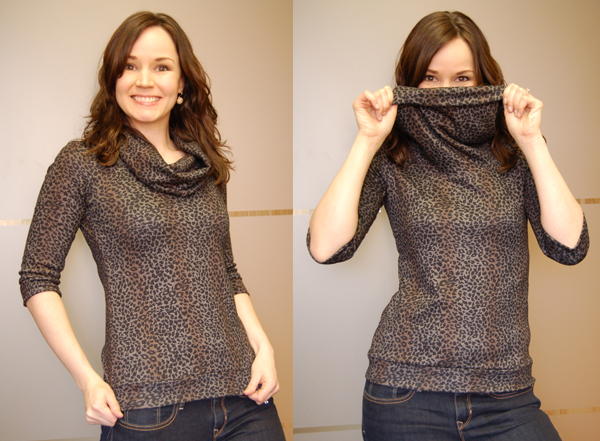 Stay tuned for more on this exciting pattern release! I'll tell you now that the pre-sale is happening very soon. We're doing it a little differently this time out of necessity, so I hope you'll bear with me if there are any kinks. People on the mailing list are always the first to receive updates and to be alerted of pre-sales! Be sure to check your email over the weekend. Sign up today to stay in the loop!
Have a fantastic weekend, everyone!