Today I'm excited to announce the newest pattern… the Rae Skirt!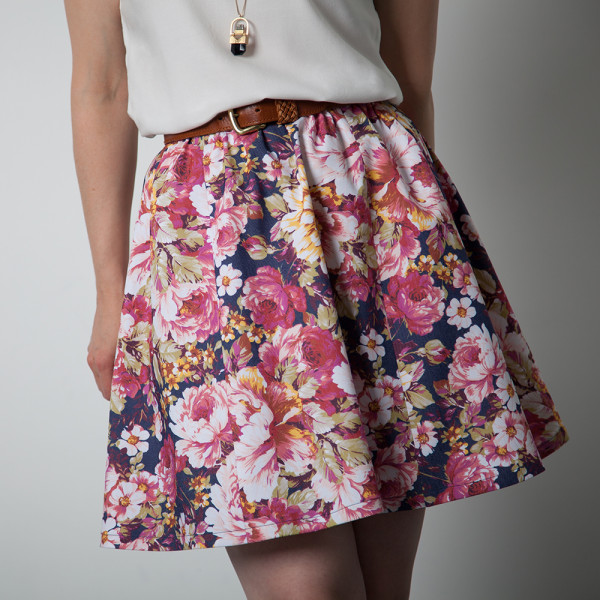 For such a simple style, I'm really excited about this new design. It's a skirt for true beginners, designed to meet the needs of a brand-new sewer making their first garment project.
This design has an interesting story and reason for existing. I met with a local sewing teacher, Carley from SewGood, and we developed the design together. She's been teaching for years and pointed out all the things she liked about the patterns she was using, and all the areas where her beginners struggled. Together we came up with this skirt design!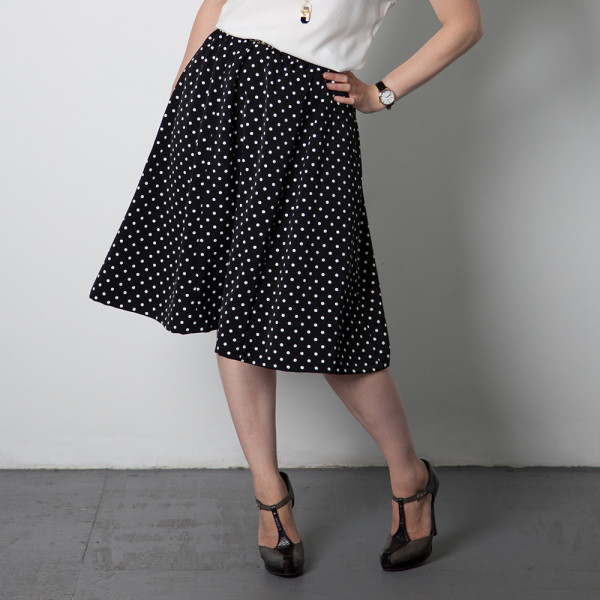 With only two different pattern pieces, this is a great first garment project.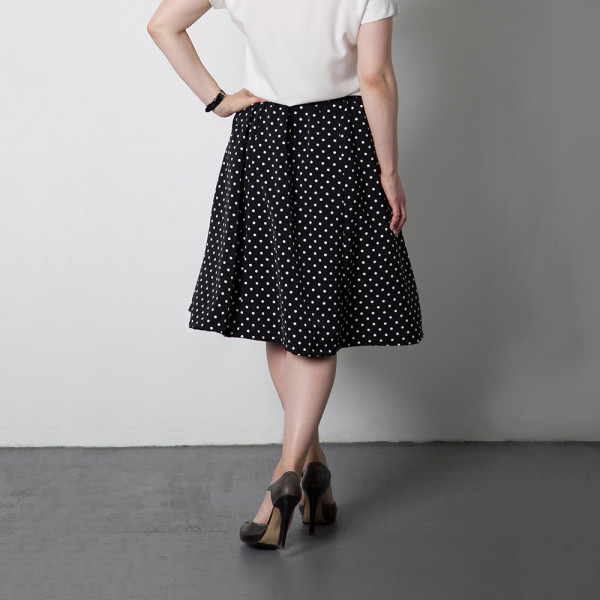 There are two lengths, short and knee-length, and two different fullness options for the short version. Personally I like the short and full version, but I also like the knee length version for summer.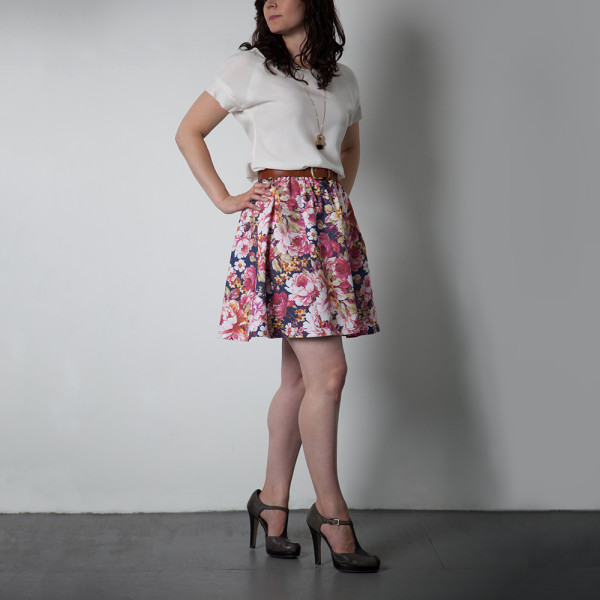 Why make a beginner skirt? Aren't there already tons of options out there?
Perhaps, but I wanted to put my spin on it. After listening to Carley's frustrations with finding a pattern that worked for her beginner classes, I knew that the options available weren't meeting her needs. It made sense to me that any pattern used for a class should match the objectives for the class.
She was using patterns that were okay but not perfect, and then pointing out where they'd deviate from the pattern instructions during the class. If she needed a pattern to teach from, then I knew there had to be other sewing teachers out there that felt equally dissatisfied with the beginner pattern options!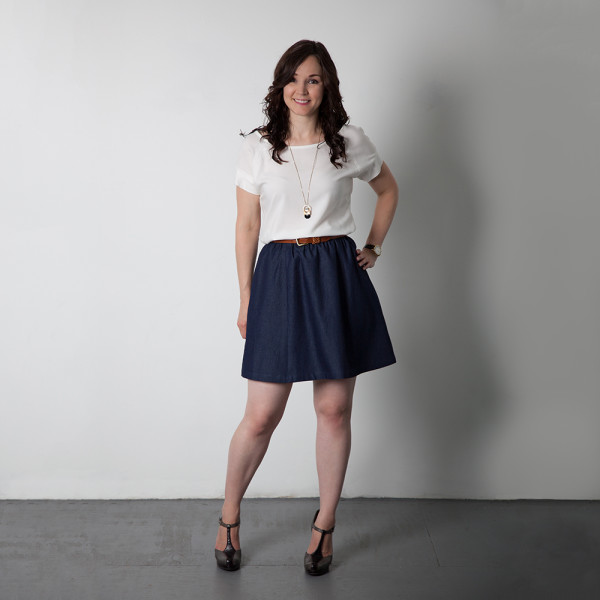 I wanted to make an appealing beginner skirt pattern that didn't give off that 'my first skirt' vibe. By styling it in a modern way, I'm hoping to attract new sewers to the wonderful world of sewing. How many beginner patterns out there are dated-looking, with unstylish outfits often featuring a top in the same fabric? This is a fresher and hopefully more appealing look.
One of the main reasons people become interested in making their own clothing is to make attractive, modern, one-of-a-kind garments that they actually want to wear.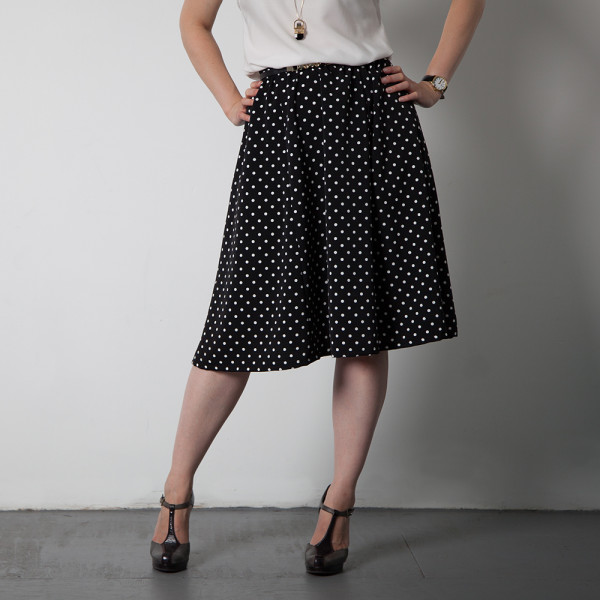 Plus, it's really easy to make an elastic-waist skirt look frumpy or sack-like. This is not a sack skirt, I promise.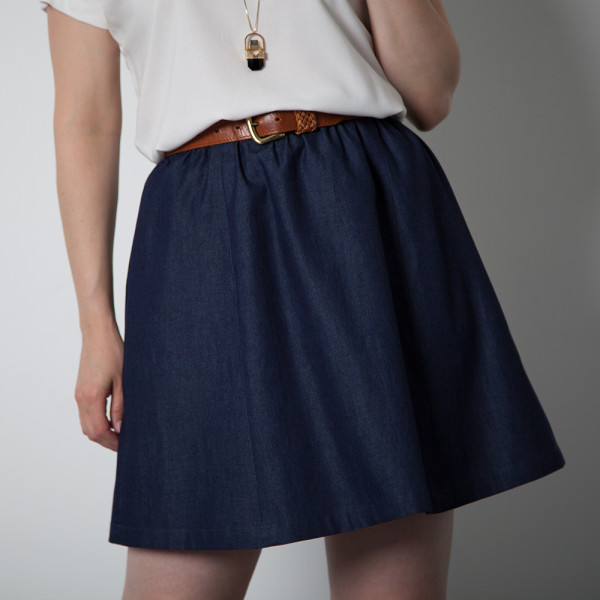 If you're not a beginner, and I'm betting that many of you aren't, think of this as an instant gratification skirt. Start Saturday morning, wear it on Saturday night. I'm surprised how much fun this skirt was to make.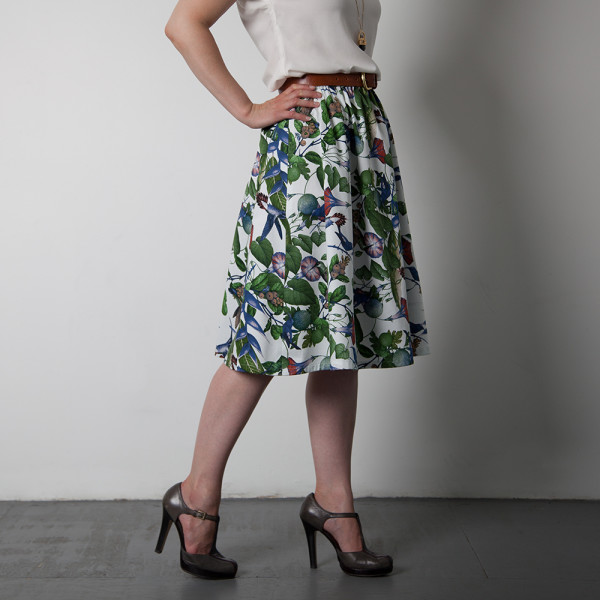 Rae is named after a street near my office. Short and sweet! Simple name, simple project.
If you're confident in your sewing, personalize your skirt! Add inseam pockets by using the pattern pieces from the Cambie or Saltspring dress patterns. Shape the hemline. Add trim, or piping, or rick rack. Add a lining or underlining. Add belt loops to wear your own belts, or add a fabric tie belt. You could use the tie belt from the Alma blouse pattern or draft your own. Cut different panels in different fabrics. It's so quick to make!
I am planning to whip up a whole bunch of these easy skirts. Just because it says beginner doesn't mean that us more experienced sewers can't enjoy it, too! Intermediate or advanced sewers can whip this one up in a few hours. (I made four in one day.)
Photos by ImageryWorks – Leanne Scherp and Susannah Street
Buy the printed paper version of the Rae Skirt pattern here. 
Buy the PDF version of the Rae Skirt pattern here.
But wait, there's more! (Imagine that in your best infomercial voice.)
For this pattern, we've decided to offer something special! Did you like the fabric in the Rae Skirt samples? You could make the exact same skirt!
We've put together Rae Skirt Kits to go with the pattern. Fabric, thread, elastic, and a label all in one package, ready to sew.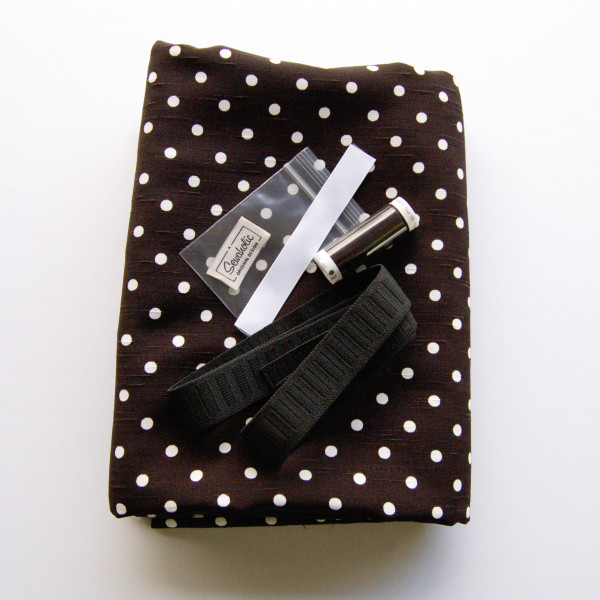 This is the dotted one, but you can get kits for the denim, floral, and bird-print skirts as well.
I've packed the kits in zippered plastic bags, for minimal packaging. These bags are strong and reusable, you could use them for your work-in-progress. I wanted to use the least amount of packaging I could to save shipping costs and not be wasteful, while still giving you something you could possibly use again.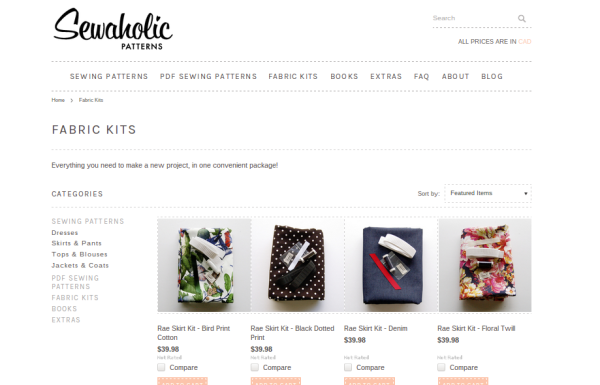 The kits are not packaged with a pattern since you can choose from PDF or printed patterns. But if you buy a kit, you can get the PDF copy of the pattern free!
(Kind of neat that I can set the web store up to do that. Sorry that I can only do it for the PDF version of the pattern though.)
Kits are limited so once they're sold out, they're gone! You could always make something else with your kit materials, it's totally up to you. Shop for kits here!