I'm excited to introduce our second new pattern for 2015, the Oakridge Blouse!
The Oakridge Blouse is a modern take on the bow blouse. It also includes a collarless version without the bow.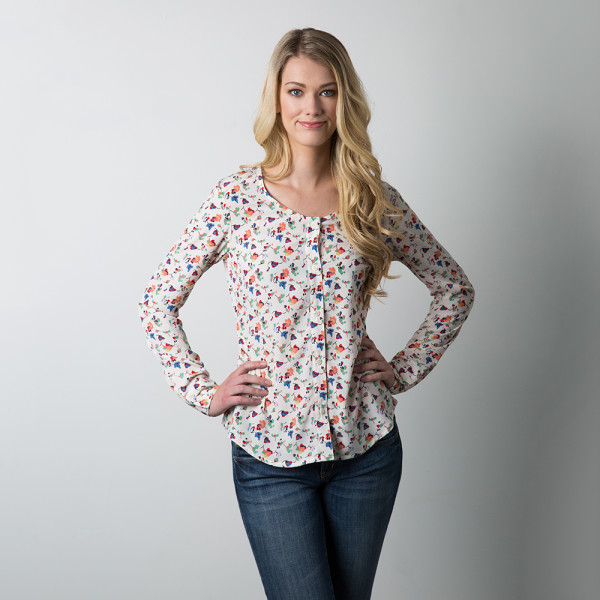 Originally when I was working on this design, I wanted to include all of these variations in the Granville Shirt, but it worked out better to release two patterns instead. Here's why!
One, I could increase the size range up to size 20. This was important to me (and to you too based on the response so far!) so I needed more space to include the larger size pieces.
Two, I could choose the design details that best suited the style. The Granville and Oakridge feature different plackets, different back designs, different front button bands and of course neckline variations. To combine them would have meant sacrificing design to fit in the space provided. This way, the dressier Oakridge blouse features a simple sleeve placket, while the tailored Granville shirt has the detailed 'tower' placket.
Three, I could put more detail in the instructions if I produced two separate patterns. The construction techniques required to sew a shirt are rather involved, and I didn't want to skimp on the diagrams.
And four, I could make some of the pieces as full open pieces, instead of folded half-pieces. This is great for pieces like the yoke on the Granville shirt, where you're likely going to cut two pieces open, rather than four on the fold.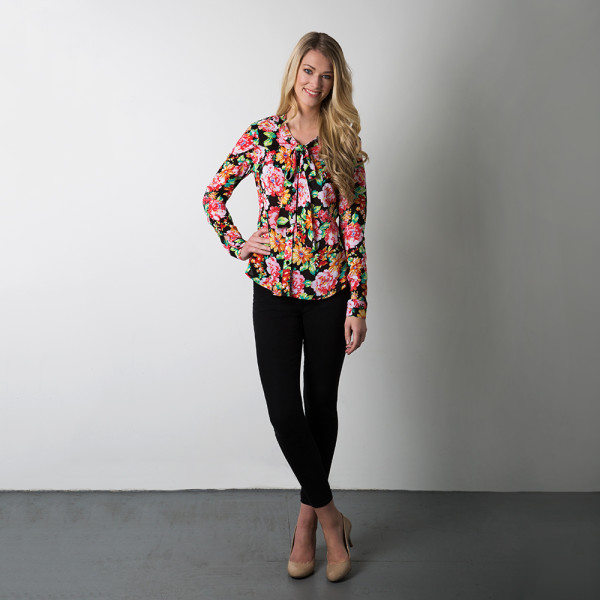 Back to the shirt! The Oakridge Blouse has a similar fit the Granville Shirt, defining the waist without clinging too much. There's a bow collar option, but if that's not your thing the collarless version is quite nice as well.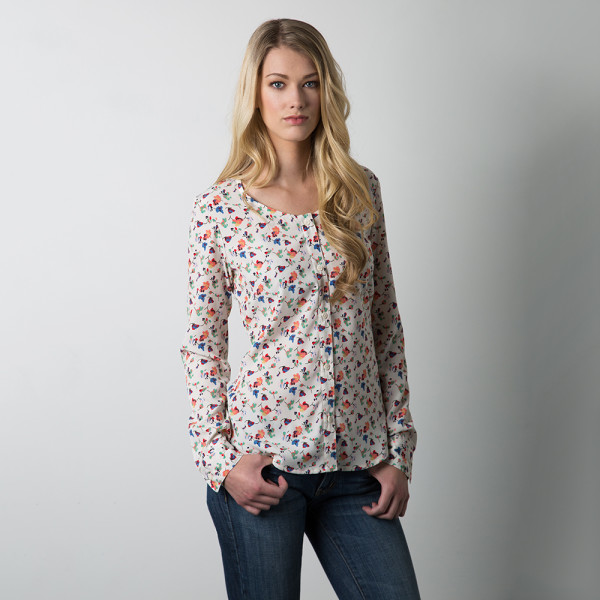 What I really like about this style is the neckline, instead of sitting high up on the neck it's a bit lower and more relaxed. I love bow blouses, but I wanted a simple, classic one without too many fussy details. Some are very retro-looking, some cinch too high on the neck, some are too gathered and billowing. This is a simple, clean, classic blouse. With a great bow!
This fabric is a light rayon voile with lovely drape. For the bow version, drape is important or the bow could look quite stiff. That effect could look quite dramatic as well. Decide on the look you're after and choose a fabric that does what you want!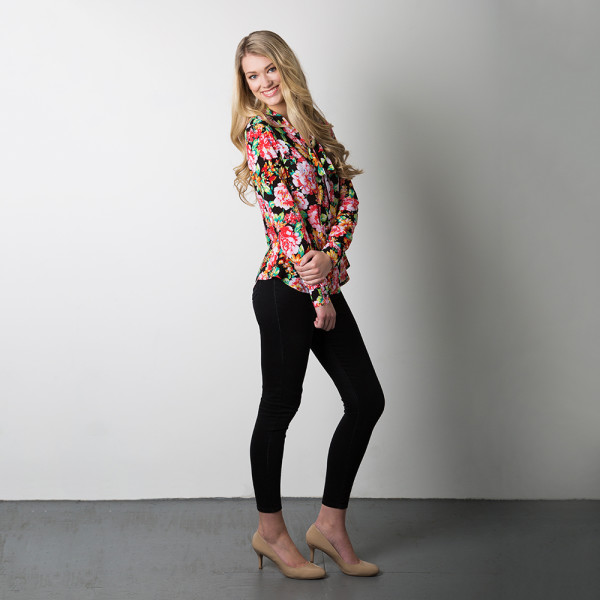 Just like the Granville Shirt, the Oakridge Blouse is shaped at the waistline for a flattering look. It looks great from the back!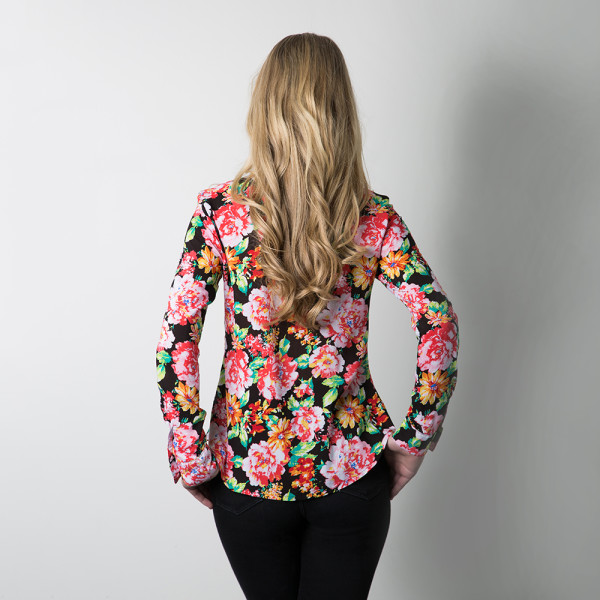 I think this would look gorgeous under a jacket or cardigan, in a great printed fabric, so just the bow and a bit of the blouse is showing. The Oakridge Blouse is simpler (and quicker) to sew than the Granville Shirt, with less seams to sew, a simpler collar to construct and no pockets.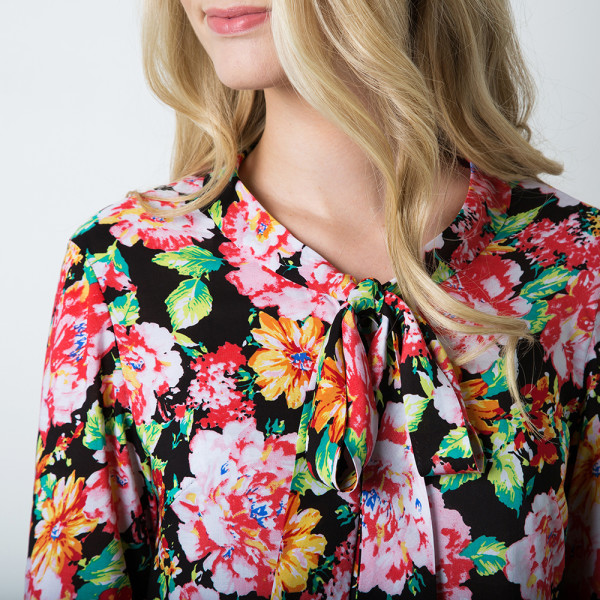 The collarless version is shown in a polyester crepe de chine, which also has a nice drape for this pattern. This particular polyester fabric feels very soft and high quality, without being shiny.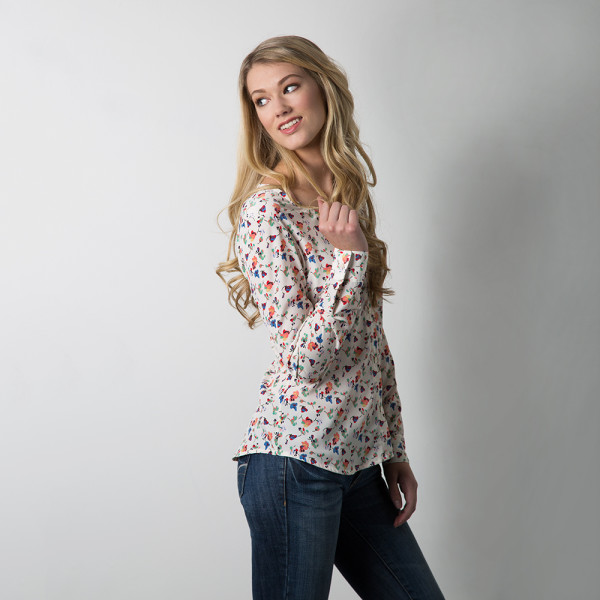 Oakridge is a neighbourhood in Vancouver, bordering on Granville Street. (See what I did there – Oakridge and Granville, both shirts, both new patterns?)  I considered calling it Oak, because Oak Street runs parallel to Granville Street and I think of both streets as the main ways to drive downtown from the south end. However Oakridge sounded classier than plain Oak, so that's what I chose!
Pattern improvements 
Same as the Granville Shirt announced yesterday! I'll highlight them again quickly.
We now haves size 0-20 included. (Previously we had sizes 0-16; we added 18 and 20.)
We now have metric AND imperial measurements on the envelope back.
We have a PDF and printed version available. Our PDF version includes a copy-shop version.
We have French translations, available for free! Download them here.
Pick up your copy of the Oakridge Blouse pattern today! Here are quick links to the shop:
Thanks for your support. I hope you like the two new patterns. Stay tuned for more versions of both Granville and Oakridge, and plenty of sewing tips. (As I sew up a million more button-front shirts. They're so satisfying to make!)
Have an awesome weekend, everyone!