I'm excited to announce our first new pattern of 2015 today… the Granville Shirt!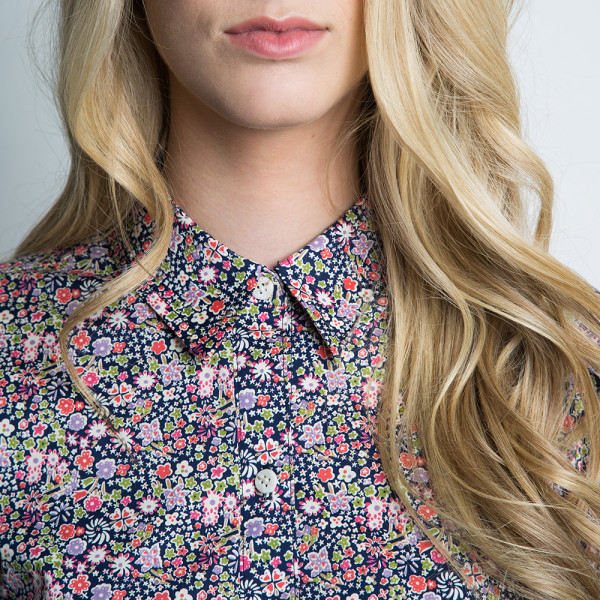 I just love this photo. Look at that crisp collar!
The Granville Shirt is a button-front collared shirt with a great fit. It's got a two-piece collar and stand, self-lined yoke, tailored plackets and cuffs, and front button band. Basically, it's that good, classic shirt pattern with all of the standard features that you can make over and over again!
When I designed this shirt, my goal was to create a fitted, flattering button-up shirt that looks good on curvy figures. It's all about the fit and the shape of this shirt. I love the look of boxy shirts on others, but on me I prefer a shirt with shape. It nips it at the waist for a curvy effect, but isn't overly snug. I wanted it to be slim-fitting but comfortable, with enough room over the hips to wear untucked over jeans and a belt buckle.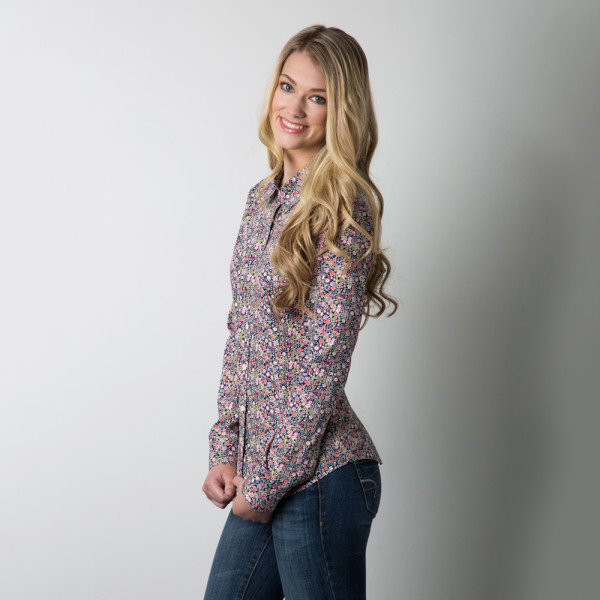 It's designed to fit women, yet includes all of the great details you find on men's dress shirts. A feminine take on a menswear staple.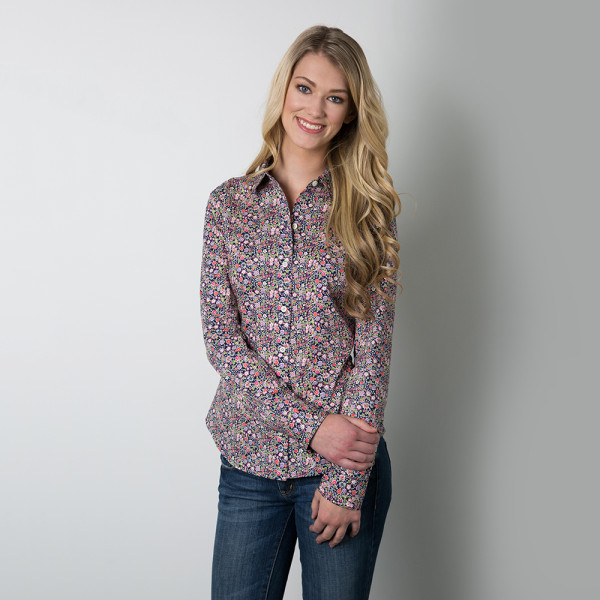 One of the best design features is the princess seams along the back. Having back seams creates a great fit in the curve of the lower back and gives you a place to adjust if needed. It's the part I always show people on my own Granville shirt. Anyone that has a narrow waist and curvy hips instantly gets excited to see shaping in this area!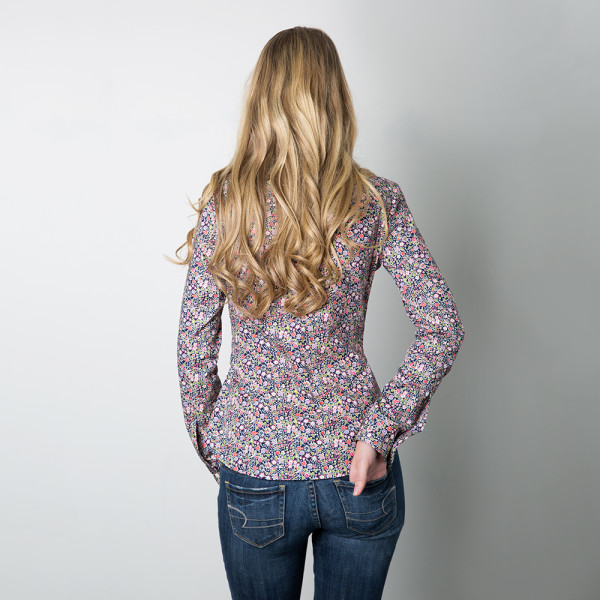 The front features bust darts, and optional front pockets with flaps. I like the front pockets with flaps best of all, but on busy fabrics you may prefer to keep it simple. What's nice about the pockets is that on smaller bustlines they draw attention to the bust. (Always a good thing in my books!)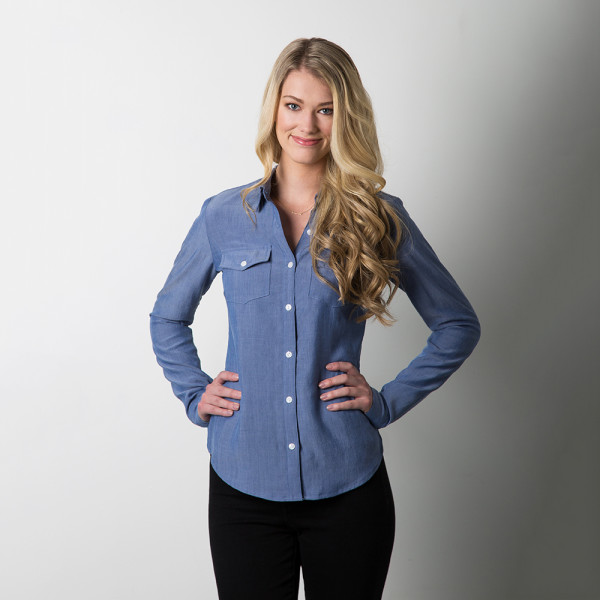 The self-lined yoke is nicely finished, and gives you a place to put a big label. It's also a great way to use up smaller pieces of fabric, especially fun prints that make you smile when you see the inside of your shirt. I have some Liberty lawn scraps that I've been saving specifically for beautiful inner yokes, or plackets, or inner cuffs. There's no end to the possibilities when sewing your own perfect shirt.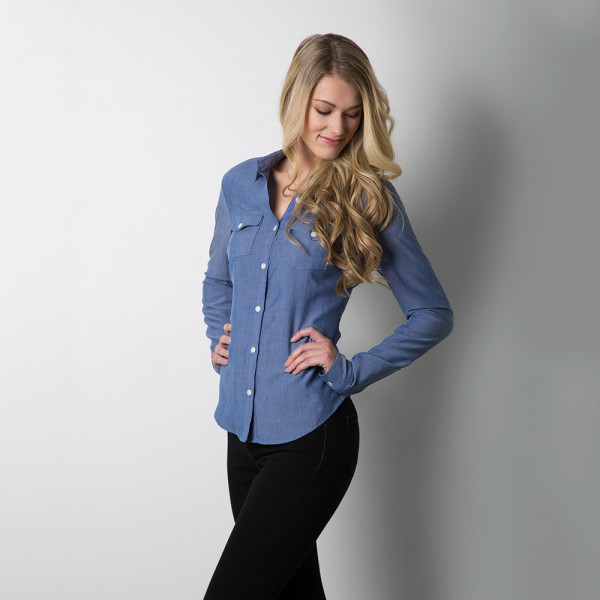 We worked hard on the instructions for this shirt pattern, and I'm especially pleased with the collar construction technique.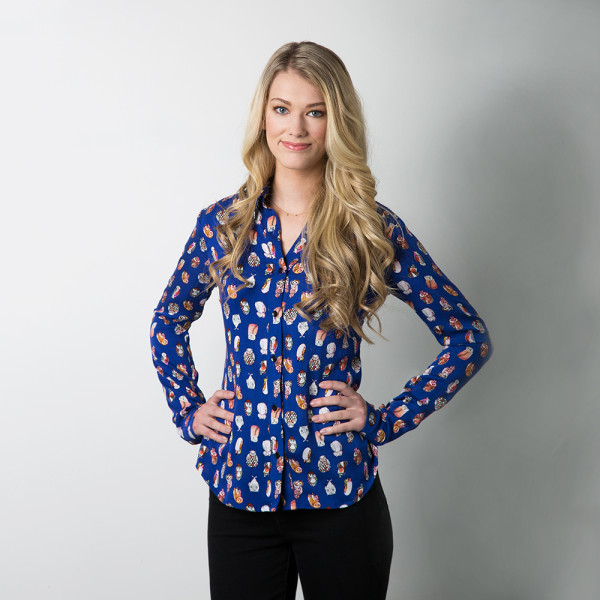 I hope you like it! Personally, I'm pumped about this one. Super excited! I've already sewn myself a few versions and know there will be more in the future! We have sewn a ton of shirts in developing this pattern and I'm still not tired of sewing it. I figure when I'm this excited about a pattern, there's going to be others that will love it just as much.
It works equally well in crisp shirtings as it does in drapier fabrics, like this royal blue viscose print.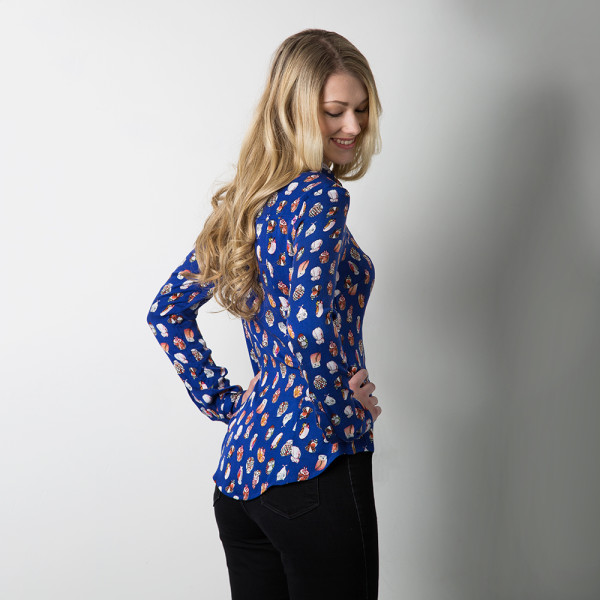 The name Granville shows up a lot in the Vancouver area, so it was a good fit for a classic shirt. There's a Granville Street, which runs north-south from the south end of Vancouver leading all the way downtown. There's Granville Island, a popular attraction with a market and shops, art supplies and artist studios, a theatre and restaurants. We took art classes there as children, my sisters and I. In Richmond, a nearby city where I grew up, there's also a Granville Avenue that leads to the mall. So it's a popular name for a classic shirt pattern, I'd say!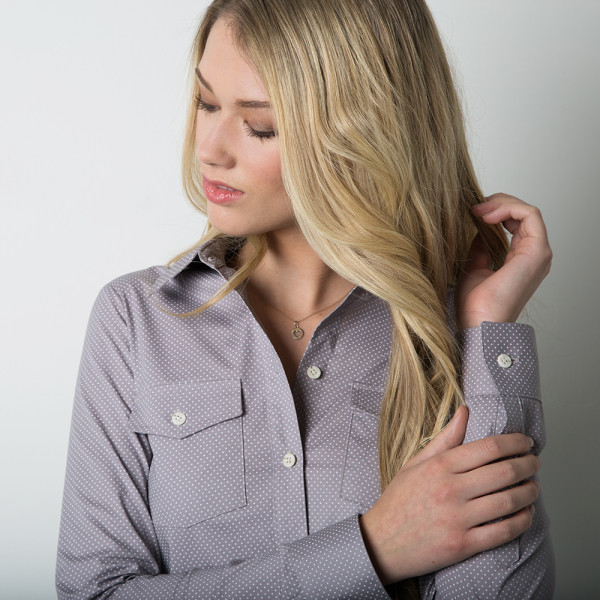 Pattern improvements
I mentioned them on Tuesday but thought I'd highlight them again quickly. Very excited that you're excited about these updates!
We now haves size 0-20 included. (Previously we had sizes 0-16; we added 18 and 20.)
We now have metric AND imperial measurements on the envelope back.
We have a PDF and printed version available. Our PDF version includes a copy-shop version.
We have French translations, available for free! Download them here.
And we have another new pattern coming – look for the announcement tomorrow!
Pick up your copy of the Granville Shirt pattern today! Here are quick links to the shop:
Thanks for your support, and I hope you like the new pattern!