I'm excited to announce the newest pattern from Sewaholic Patterns today… the Cambie Dress!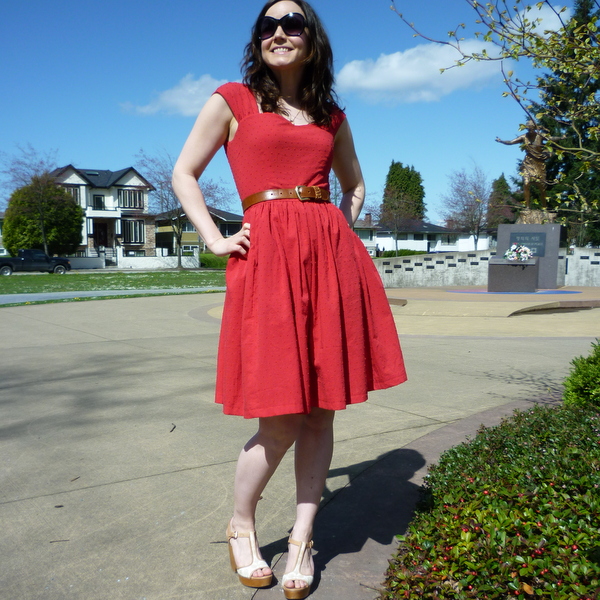 The Cambie Dress features a fitted bodice with a sweetheart neckline. Choose from two different skirt options: a swishy gathered skirt, or a simple A-line that's perfect for the office!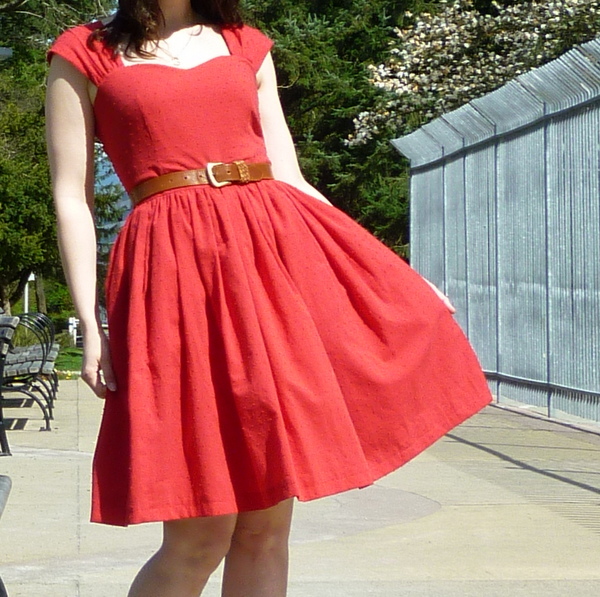 The built-in cap sleeves balance out wider hips and create a beautiful neckline to frame the face. Sweetheart necklines are often seen in strapless dresses, but I prefer a dress that's going to stay in place! So I've created a flattering sweetheart neckline on a dress with straps and sleeves.
Plus with the built-in cap sleeve, you get the coverage of cap sleeves with the comfort of a sleeveless dress. Perfect for summer, when you want to stay cool without baring it all. (And likely, you'll be able to wear your regular bra underneath, no strapless or special-strap bra required!)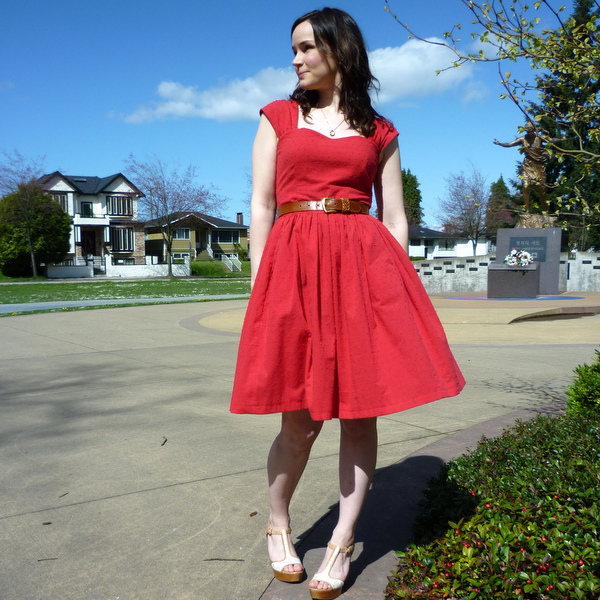 Both skirts have pockets for practicality!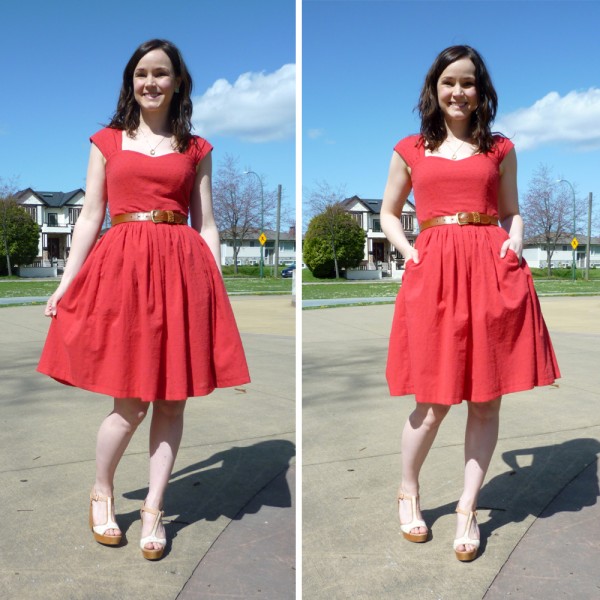 I wanted to create a dress pattern that works for the office as well as for weekends. It's all about the fabric! This pattern works with a variety of fabrics, from cotton voile to wool blends.  A navy wool blend says professional, while a red cotton dotted swiss is ready for fun. The softer the fabric, the better it will work for the gathered skirt. Fabrics with more body look better sewn up into the A-line skirt version. (I have more photos of this version coming up shortly!)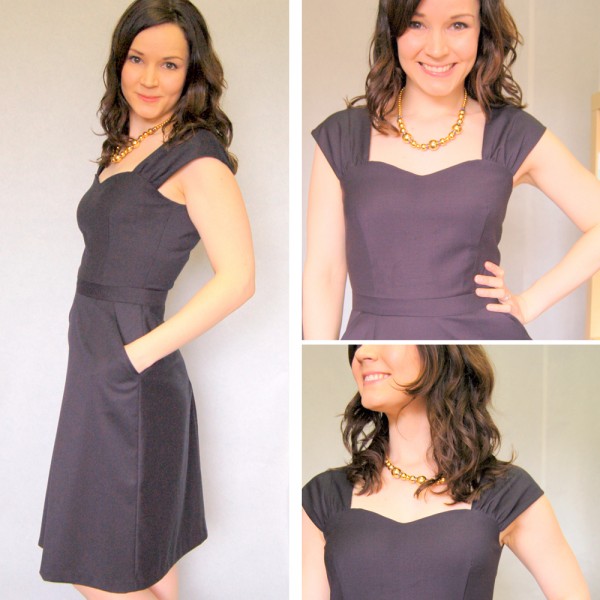 I also wanted to create a dress pattern for work that wasn't based on a pencil-shaped skirt. An A-line skirt is more forgiving to us with wider hips and wider thighs, skimming over those areas and pointing up to the waistline. If you're mostly sitting at a desk for work, a tight skirt can get uncomfortable by the end of the day! Why not choose a silhouette with a little more room? I feel better and more confident when my clothes hang nicely and I'm not readjusting my outfit constantly.
And if you know me, you know I love a full skirt! The full skirt has inseam pockets, shifted slightly to the front so they're easier to reach.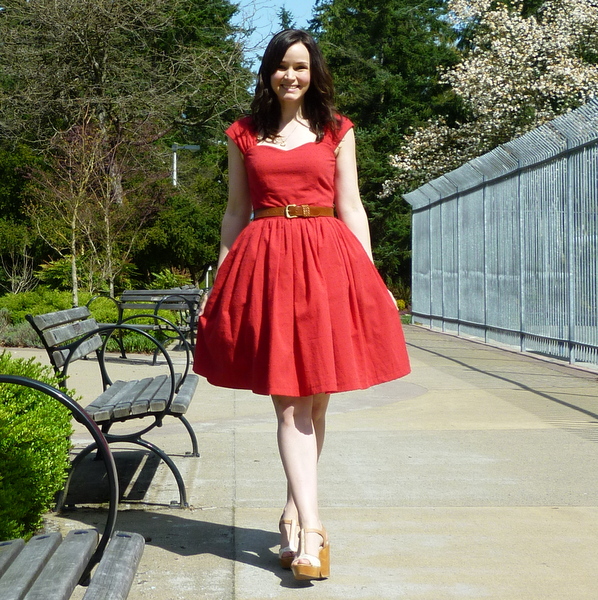 Having two skirt options with one bodice is time-saving (if you plan to make both dresses) because you'll only need to fit the bodice once!
Why Cambie? It's named for a street in Vancouver that stretches from the south end of the city all the way to downtown. Check out historic Gastown at the north end, enjoy a weekend brunch in Yaletown, or relax with a picnic lunch in Queen Elizabeth Park. The Cambie Dress works for a variety of occasions!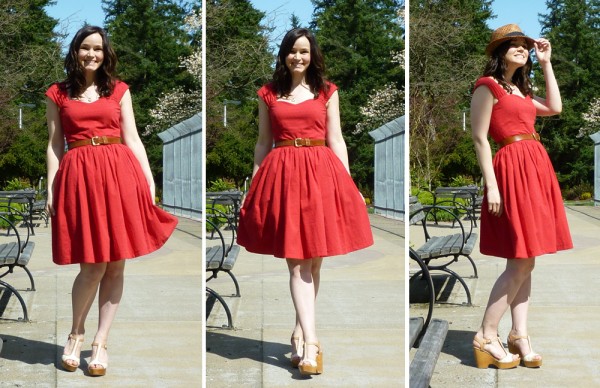 Stay tuned for more on this exciting pattern release! I'll be putting it up in the store shortly and let you know when it's in stock. You'll be able to see the envelope front and back, complete with fabric requirements and metric conversions. Patterns are expected to arrive by mid-May – so if you do get excited and place an order for the Cambie Dress, it will ship in a few weeks.
People on the mailing list are always the first to receive updates and to be alerted of pre-sales and deals. (Likely there will be a special offer coming up through the mailing list very soon… just saying!) Sign up today and stay in the loop.
Have a fantastic weekend, everyone!