I love to sew vintage dresses from vintage sewing patterns, but I don't buy a lot of vintage clothing. Mostly because it's pricey, and the measurements aren't always the same as mine, and I want to be able to sit on the grass or ride my bike and not worry about destroying a piece of fashion history.
Then again, sometimes the right dress just falls into your hands. (And when that happens it's hard to walk away!) I bought this gorgeous black eyelet vintage shirtdress while in Las Vegas. I mentioned that in last month's recap post, Mr Sewaholic was at a conference and I tagged along. I don't drink or gamble (not that there's anything wrong if you do, I am just way too attached to my money to put it in a machine that isn't guaranteed to give it back!) so I searched for thrift stores and vintage stores to entertain myself while he was conferencing.
I ended up at Electric Lemonade, a great little shop full of vintage dresses, vintage shoes and jewelry. (Lots of sunglasses and eyeglasses too.)
Here's what came home with me – a pretty cotton eyelet vintage shirtdress!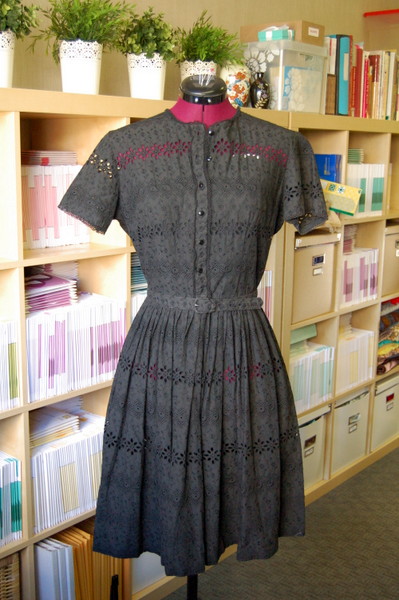 Because I love sewing, I always like to look inside clothing to see how it's made, and perhaps you do too! So here are some of the highlights of this piece.
Extra-wide hem. A hem this wide is great to weigh down your skirts so they don't blow away in the wind. You don't see wide hems very often in modern clothing because it's expensive. That's 0.1 metres of fabric that you could save by replacing it with a regular hem! When costing out garments, every fraction of a metre makes a difference to the final cost.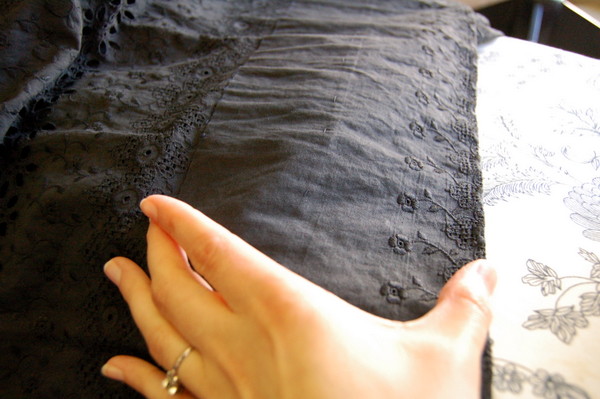 Now that I look at it again, the wide hem may be because the dress was hemmed shorter, but the person didn't want to cut the original garment. That might be what happened here!
Seams are simply pinked with pinking shears. This dress has survived 60 years without fancy seam finishes, sometimes simple is just fine.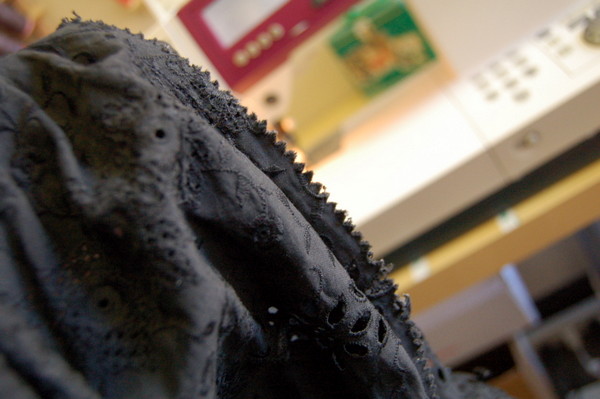 Built-in camisole. This is great. There's a little cotton camisole built in to the bodice of the dress. This would be such an easy feature to add to your sewing projects, it's not form-fitting but just sits in there loosely for modesty.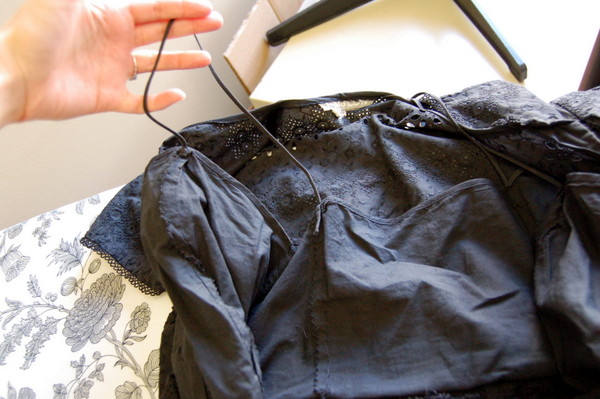 It's quite brilliant, as the top row of eyelets shows a peek of skin, but the area over the bra is filled. (I'm showing what it would look like with skin-coloured skin showing, instead of Diana's purple skin.)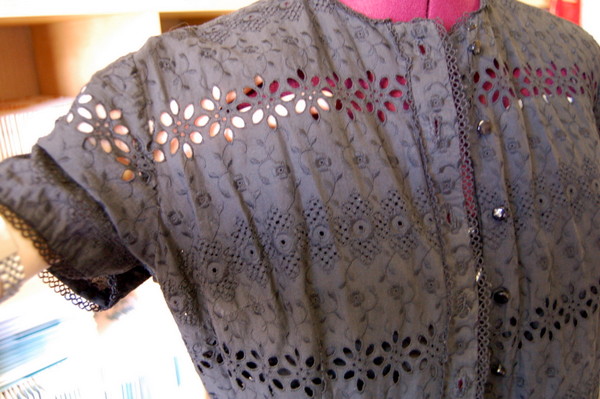 Pleats instead of gathers at the waistline. I thought that pleats would look bulkier than gathers, but they actually lay flatter than gathers over the high hip.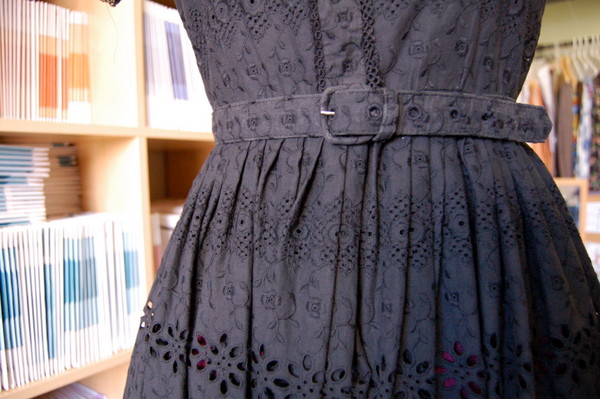 There is no zipper, instead there is an opening at centre front that creates a pleat when closed. It closes with hooks and snaps. This isn't a closure you see on modern garments. I'm guessing because zippers are way more popular now, and in the 50s this person would be wearing a slip underneath so there's less worry of having the opening gape and show something you don't want to show.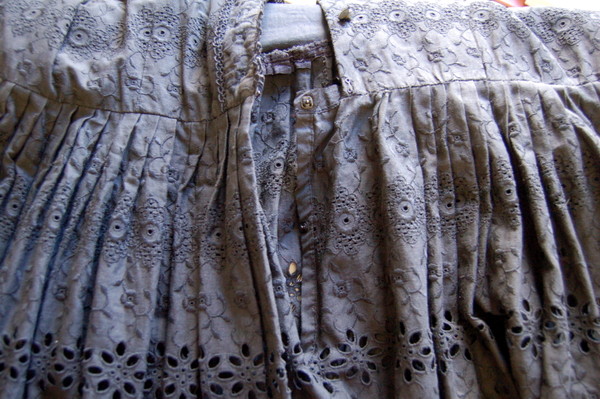 Pretty edging. I tend to play it safe with embellishments and if I'd originally designed this dress, I would have left the edges plain thinking the eyelet was interesting enough. However, this pretty little trim makes the dress even more special, and it would look less 'vintage' without it!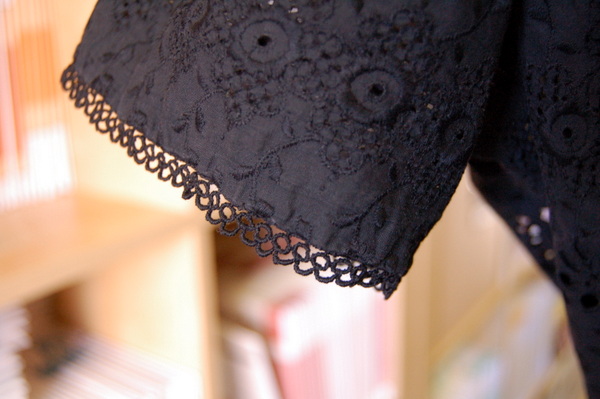 The label says 'L'Aiglon' and under it, 'Hand Wash.' I looked up the company and found this link on the Vintage Fashion Guild. My label matches the examples for mid-fifties dresses, so it's truly from the 1950s! (Not that I suspected anything else but it's neat to look at the label's evolution over the years and be able to place this one into a certain decade.)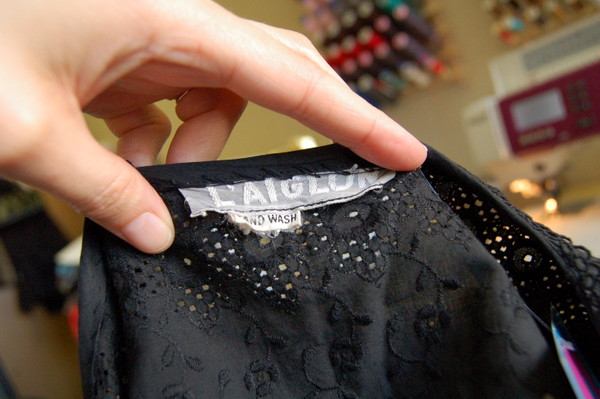 Funny things? There is no lining through the skirt, so you know that effect of skin showing through the eyelets at the top of the bodice? It happens all throughout the skirt. The designer is assuming you're wearing a slip or petticoat or something on the bottom half so it isn't an issue, but I noticed it in the store as soon as I saw my reflection in the mirror! Must wear a slip with this one.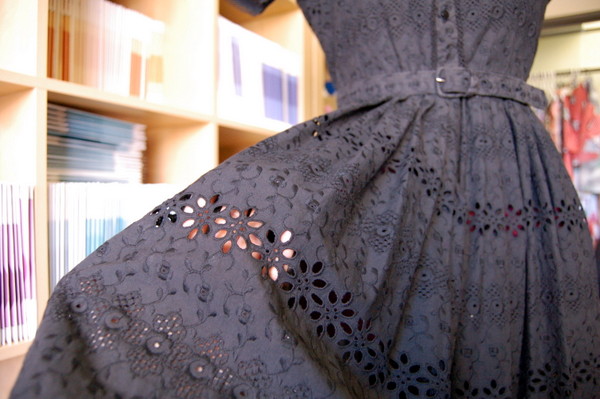 Upon closer inspection, I realized that the previous owner had let out the seams of the built-in camisole. Upon even closer inspection I noticed that she sewed the seams by hand, with tiny backstitches. She'd also let out the seams of the dress itself. This dress must have been a favourite of hers! (I re-sewed the seams with my machine to strengthen them. It's going to become a favourite of mine as well, I'm sure!)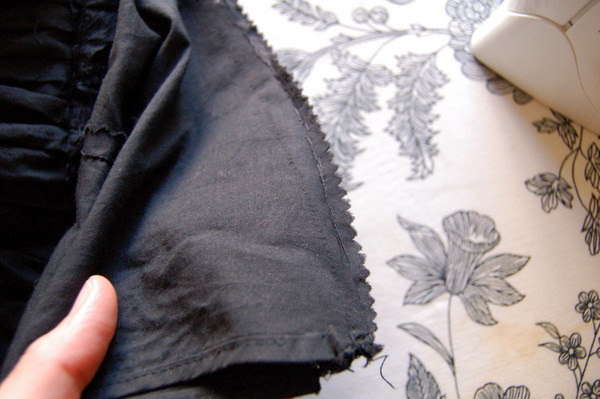 This is a very special dress, and I'm happy to give it a new home where it will be worn and loved!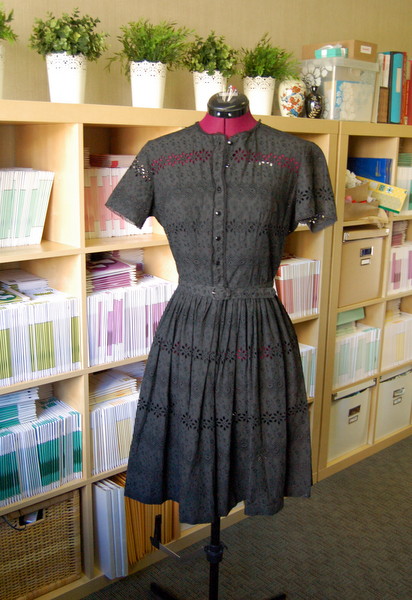 Next up – inside a vintage 1950′s wiggle dress! (Are you surprised that I bought a wiggle dress, given my love of full skirts? Wait till you see it!)