Hey everyone! I'm back from holidays. I had an amazing vacation and a much needed break, and it's always great to come back home afterwards. Thank you Caroline for taking over while I was away!
Right now feels like a perfect time to have a pattern sale. So let's have one!
This weekend, all sewing patterns are on sale. Take 20% off your entire order at the checkout by entering the code ENDOFSUMMER into the coupon code box at the bottom of your shopping cart.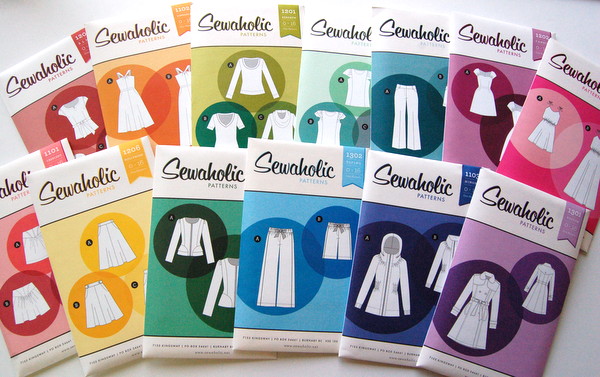 Also on sale are clothing labels, the Sewtionary book, and pink measuring tapes! (And kits if we have any left. Right now we have a few of the denim skirt kits in stock, get them before they're gone!)
The fine print: Sale applies to regular retail orders through sewaholicpatterns.com. All sales are final. Sale discount cannot be applied to orders already in the system. Sales ends Sunday, September 7th at midnight.

After you shop, want to hear about my holidays?
Well, when I posted last, I was completely burnt out. My original 'taking a break' blog post started out with a stressed-out ramble, which I changed to simply say 'going on holidays, back soon' after reading the first draft back to myself. I was overwhelmed and in need of a vacation and it was showing in my writing.
So I started my holidays right here at home! I finished a few work things that I'd started, then it was time to relax. I sewed for fun, making myself a few new outfits for the holidays. I hosted a sewing get-together with friends. I knit. I started running again. I read books that weren't business or sewing books – seven novels in total over the last month! I took an archery class with a girlfriend and went out dancing all night at a country bar. I got to see both of my sisters and my three aunts. My mother gave me the first sewing machine I learned on which was my grandmothers, a Bernina Record 530 from the late fifties. I realized that a philosophy of 'all work, all the time' meant I was missing out on a lot of other things and vowed to live a more balanced life when I returned to work.
And after I started to relax, then we went on our actual holiday!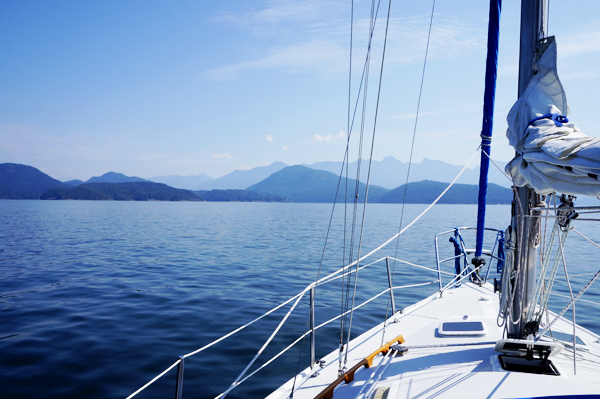 We decided to holiday in our own province, to support the BC economy for one thing, but also because it's absolutely gorgeous here in the summer. We started on Vancouver Island, drove up the coast of the island, then took a ferry back to the mainland and drove down the Sunshine Coast. This photo was taken on a sailboat in Howe Sound, off the Sunshine Coast. Isn't that beautiful? Also, I'm so not a boat person. Boats scare me. This is a testament to how relaxed I was by the end of our holiday, that I am calm and comfortable on a boat!
We started in Nanaimo, BC, in a place overlooking the harbour.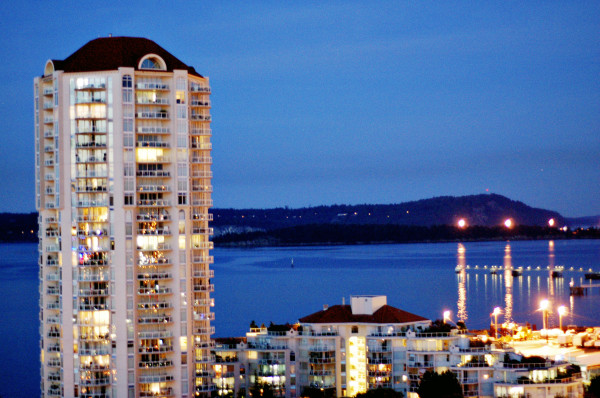 There's an island off the coast that you can only get to by boat, Newcastle Island, that has hiking trails, camping and beaches. (Perhaps the inspiration for Thread Theory's Newcastle Cardigan, another company using local place names for their patterns?)
This next photo is looking back at the downtown area, and that highrise on the left is the same highrise in the photo above. Neat eh?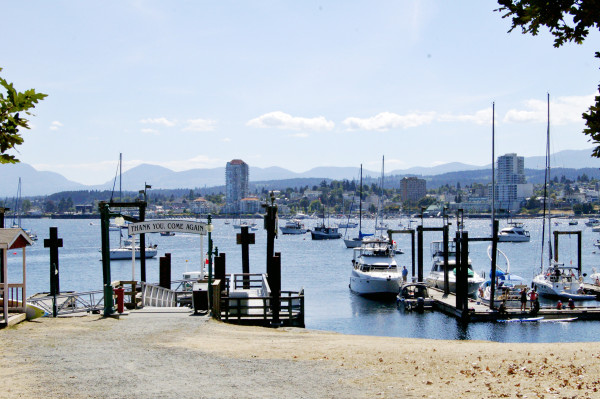 Check out this old advertisement for visiting the island – only 2 1/4 hours from Vancouver! It used to be a destination for company picnics and parties.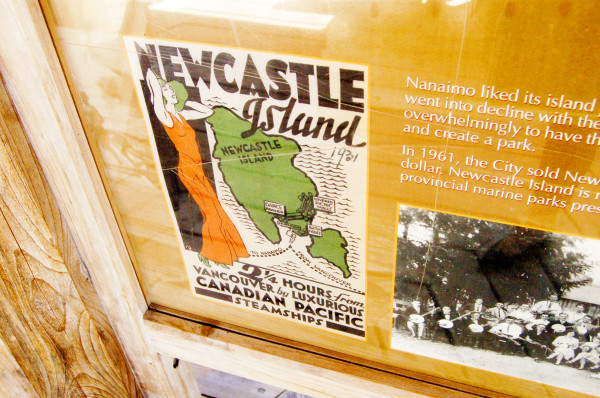 It's worth a trip if you are in the area and like walking through forests and lying on beaches.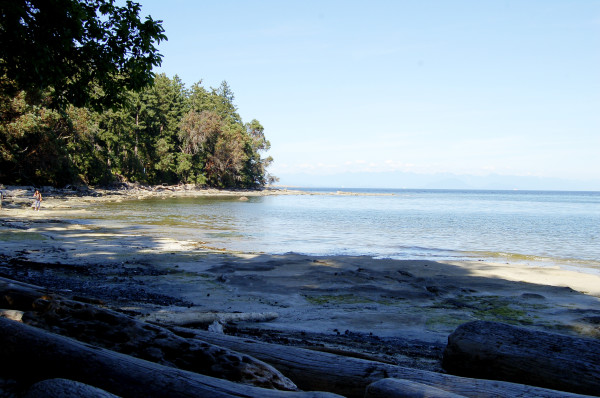 After Comox we went to Qualicum Beach, staying in a B&B that backed onto a nature preserve. We saw deer in our yard literally every day!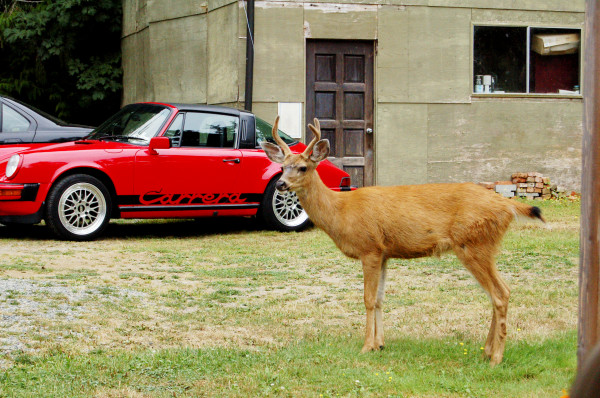 Not my Porsche – the owner of the B&B was a Porsche mechanic. We did get a tour of his workshop though!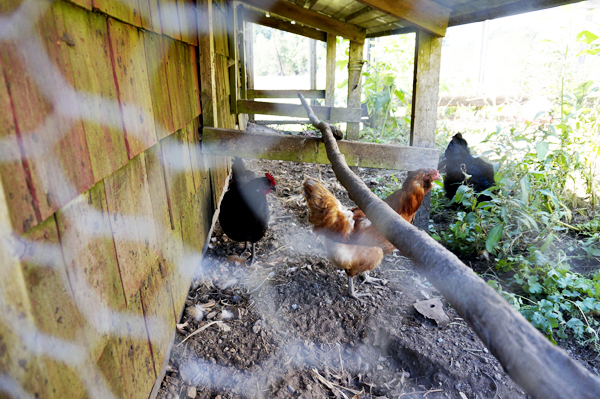 We stayed on an organic farm in Comox, BC and woke to the sounds of chickens in the morning! It was pretty awesome, as we're used to car alarms and sirens and partying neighbours as the sounds we wake up to. Chickens are better.
While in Comox I met Morgan and Matt from Thread Theory and they are just the nicest people. We had lunch that lasted for hours, there's so much to talk about with like-minded people! I wish we'd gotten a picture but we both forgot. So I borrowed this photo from their blog: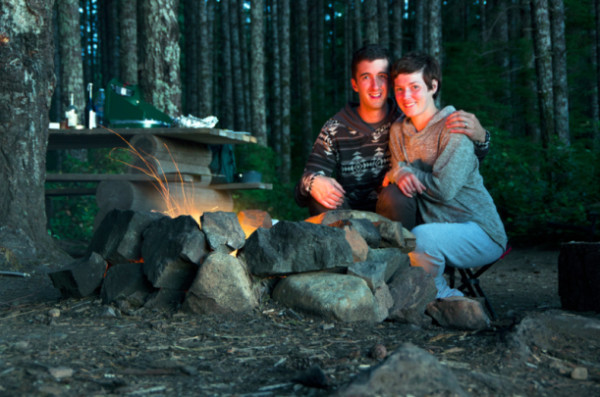 Yes, they are as adorable in person and so enthusiastic about what they do.
Most of the places we stayed were B&Bs and had no televisions. I brought my phone but forgot the charger, so it was a relatively unplugged vacation. We saw so many sunsets! This is in Comox, at Goose Spit, a place Morgan and Matt recommended for making a campfire and watching the sunset. (Most of the province is on a campfire ban but for some reason, this place allowed fires.)
Here's us, testing the 'smile sensor' on Mr. Sewaholic's camera. Got to love technology! The camera has a setting where it waits until it senses a smile, and then takes the photo.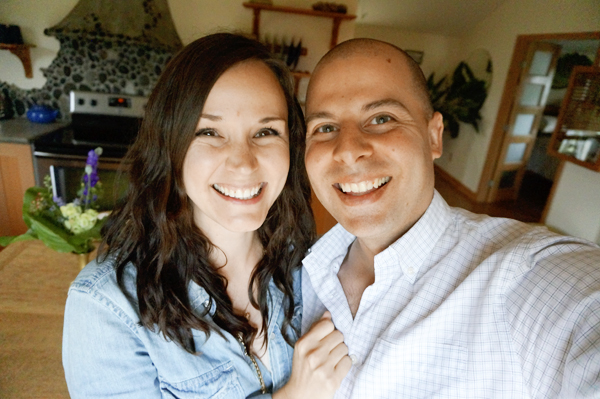 Those look like two relaxed and happy people, don't you think?
I won't bore you with too many vacation photos but I'm grateful that I was able to get away. It's not easy to take a holiday when you're a small business owner. It made it easier knowing that Caroline was taking care of everything while I was away. (Thank you, Caroline!)
The benefit of taking some time away is coming back to work refreshed and able to look at it from a distance. It's like a chance to make a fresh start every time you leave and come back. I'm looking forward to working again with renewed enthusiasm!