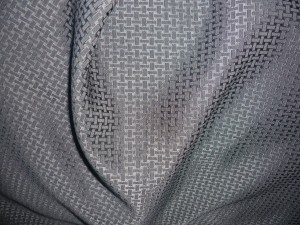 Now that the Statement Coat is finished and in my closet, it's time to get on with the next item on my Top 10 Sewing Projects list.
I'm super excited to make a basic black skirt, as it will give me plenty of outfit possibilities for Me-Made-May! The fabric I have was a whopping $50 per metre – and it's Armani. No, seriously. Fabricana carries a selection of actual designer fabrics, and they're delightful. They're also expensive, but when you compare the cost of buying the fabric and making it yourself, to how much it would cost to buy the finished garment, it's a steal!
Let me check, how much is an Armani skirt to buy? The first one I found in a similar black fabric, was $475. Makes my $50/metre at 1.5 metres look pretty reasonable, doesn't it?
Ok, it's still expensive. But it will be a one-of-a-kind designer skirt and I'll wear it forever. And the fabric was a gift. (Thanks Mom!) Plus, it's on my Top 10 list. I'm planning to make this skirt again (McCalls 5803) as I loved the flattering fit, practical pockets and swishy-ness of this pattern.
Here I go….take a deep breath, measure twice, and cut!
ALSO: I'll be downtown Vancouver again tomorrow, so there's a good chance of wandering into Button Button again while in the neighborhood. I've just signed up to volunteer for Dress for Success and my first shift is tomorrow, how exciting! I believe I'll be "sorting" on my first day – which means picking through the donations and deciding what's office-appropriate or not. Fun!
AND: my Vogue Patterns order finally arrived! It only took 23 days, well worth the wait though. I can't wait to start reading the instructions and figuring out how all the little details come together…