The knitting world is so organized about yarn. You can buy the same yarn, over and over. You can read reviews of other yarns, and only buy ones that suit your preferences. The same yarn is available in a rainbow of different colours. And the same rainbow of colours might even be offered in different weights and thicknesses of yarn! And the part I like best? You can buy the same yarn, years later, and it's more or less the same. You can literally see someone make a project, buy the same yarn and pattern, and replicate it for yourself! We can buy red fabric inspired by someone's red dress, but it will never be exactly the same.
Another cool part? You can order little yarn books, showing the different colourways. It's perfect for matching knitting yarn to your sewing projects! (And for a little thrill when you shouldn't be spending a lot of money.. it's so fun to open up a package of beautiful coloured yarn swatches!)
Why bother with the yarn card? Well, I can't tell colours that well on my computer monitor. The window's right behind me so it's really hard to see accurate colours because of the brightness behind it. Also, I like to see how the yarn will look with things I'm sewing – particularly the wrap coat. I want the right teal to bring out the blues in the coat fabric! I'd want a not-too-greyish cream colour, and the right shade of brown. I also prefer warmer colours to cooler tones, and reds especially are hard to see on-screen.
Here's my little collection of yarn books: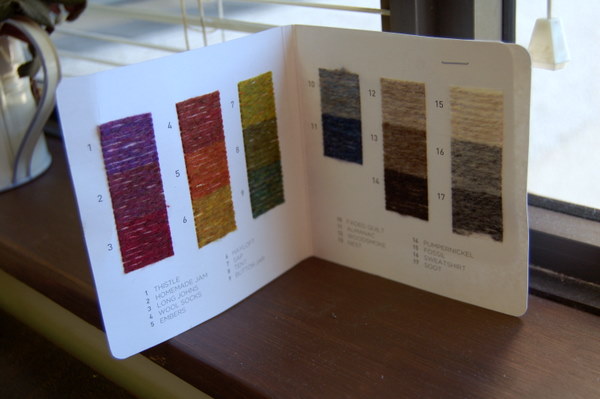 This is the Shelter colour card – I was thinking of the Autumn Leaves Stole originally, as something to wear with the Lonsdale dress. (The plan was to finish knitting the wrap for the tail end of summer, but now we're definitely past that point and into fall weather!) In the end I picked a less expensive yarn from my local store, and still haven't finished the wrap. I still love the earthy, rustic look of the Shelter yarn though!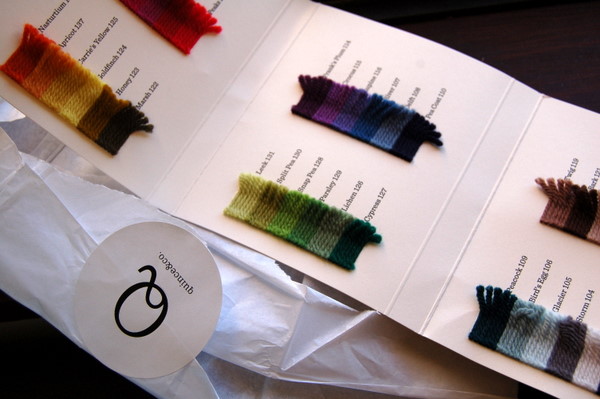 For the Quince yarn, I was trying to choose a teal colour (Peacock) for a cowl to go with the wrap coat. I wanted to be sure it wasn't too navy or royal – and it's not, it's perfect! It's darker than the actual teal in the coating fabric, which is exactly what I was hoping for. Peacock is the right colour for wearing with camel, with brown, with mustard – love it! The Egret colour is a really nice cream too – not too beige, not too pink, a nice fresh-looking creamy white. It's so much easier to imagine when you can see the colours in real life. Looking through computer monitors just isn't the same. The colours are very accurate to what I can see, but call me old-fashioned if you want, I still like to touch and feel things.
Don't you wish there was something like this for fabric? Besides ordering a swatch, where you're not guaranteed to have the same thing in stock later on, there isn't the equivalent for fabric. We get cotton twills, but they're all different cotton twills, varying in weight, stretch, washability and colourfastness. If you find the perfect cotton, you may never find it again! (Maybe that's why we like to hoard fabric…) I wish we had stock of wools, coatings, cotton twills, cotton voiles – in a range of solid colours. There's something like that for quilting – stocked, solid colours of basic cotton – but not for apparel.
I'm not sure how it would work exactly, but it's an interesting concept to think about. Imagine the possibilities! You could make your favourite skirt pattern in this imaginary in-stock cotton twill and know exactly how it will wash, wear, shrink or stretch out. No fear of cutting into a precious piece of fabric – you can simply order it again! Wished you'd made that perfect length of navy wool into a pencil skirt, instead of a flared skirt? Buy another length and make another. Do you think it would lead to more fabric buying, or less because we know we can always get what we want?
In-stock fabrics in a complete rainbow of colour options – a girl can dream! For now there's yarn books.
Happy sewing and knitting, everyone!