Hello, everyone! I thought I'd post something different today instead of more outfit posts, and ask a question!
With sewing, you're always learning. Even I'm learning new things, and I've been sewing for twenty years, maybe more! That's the wonderful part about hobbies – you're always exploring, testing new ideas, and improving your skills. (Speaking of learning new things, did you hear Julia Roberts is learning to sew? Love to see sewing making a comeback – even celebrities are doing it!)
So my question is: when it comes to sewing, what do you want to learn more about?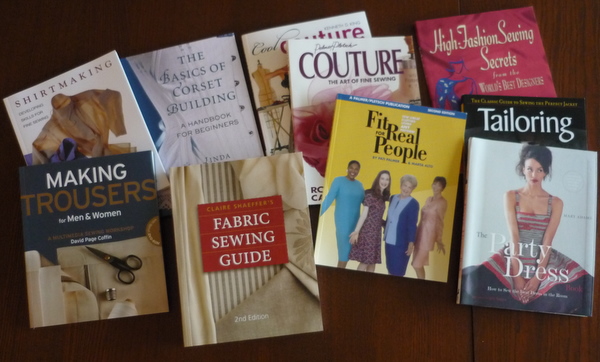 Here's what I want to know more about:
Sewing with Knits – I dislike sewing knits, and I'd like to find a way to like sewing knit fabrics
Sewing Trousers – that David Page Coffin book in the photo is such a great read, I'd love to try out his suggestions
Tailoring – especially when it gets closer to Fall
Sewing Lingerie – both the tricky, slippery fabrics and the more constructed pieces like bras (!)
Planning and Sewing a Wardrobe, instead of just fun single pieces. Too many pretty orphans in my closet!
I'd like to explore and experiment sewing with knits, making pants, and sewing lingerie in the future – and of course share what I learn on the blog! I thought this would be a good time to see what you're interested in as well. And see if any of you are secretly experts on knits, tailoring or lingerie! (Guest post, perhaps?)
What do you want to know more about? Are you interested in these things too, or is there something else sewing-related that you want to learn about? I'd love to know what you think!