One last orange sweater. I think I finally have enough orange sweaters! To be honest, I thought this yarn was more red when I bought it online. In some lighting it looks red, in some it looks orange. In these photos it looks quite red, but in real life it looks more orange!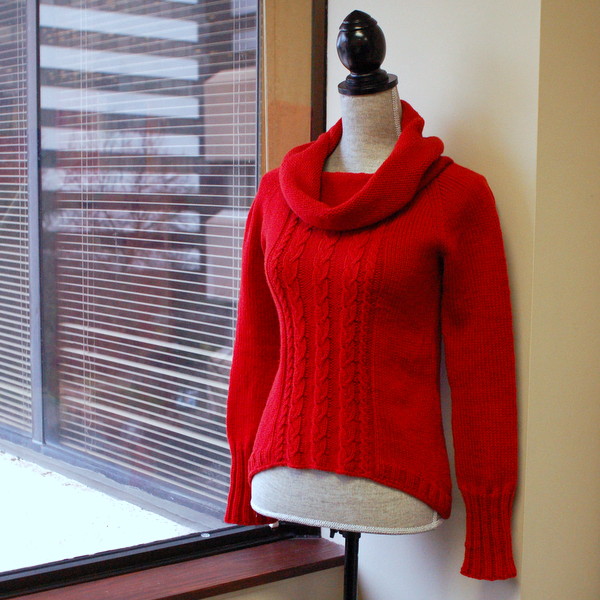 Ravelry notes here. Yarn is Quince & Co Lark, in the colour Poppy. The pattern is Braeburn, from the book Knit with Me. This book is all about mother-daughter knitting, with patterns ranging from pre-teen to adult women sizes. I think it's a really sweet idea and love the idea of mothers knitting with daughters, passing on their love of knitting as well as their experience and skills. Of course, I knit it by myself, that works too!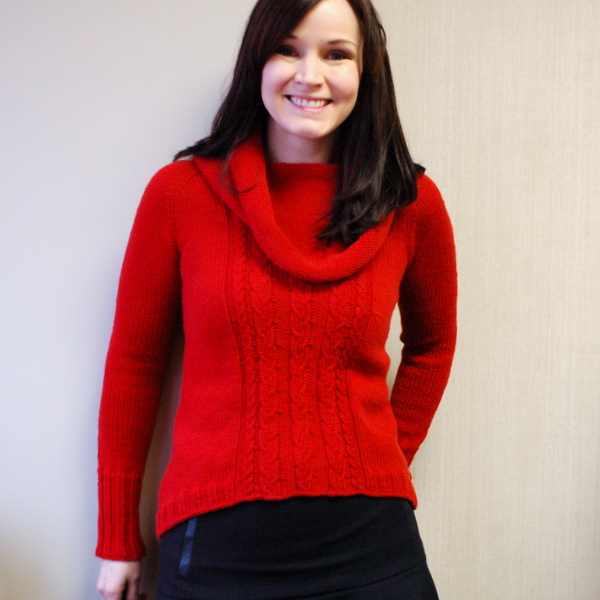 I like a sweater like this with a graphic print skirt, maybe a black and white or brown and ivory print. Or denim. Red/orange with jeans is a great combo. Or olive! Tomato red looks great with olive. (I keep wearing the same black skirt in most of my recent sweater photos though.)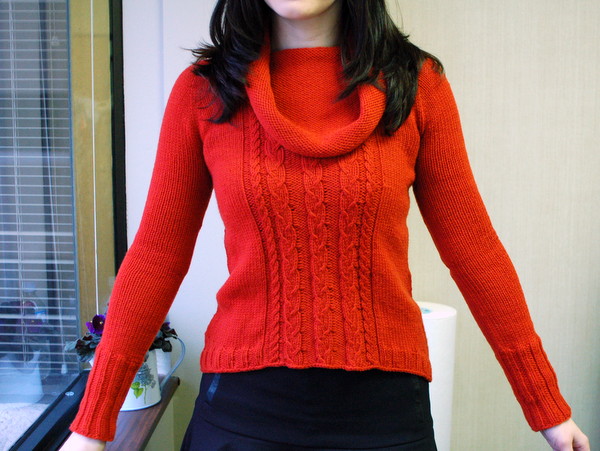 On this project, I learned to cable without a cable needle, sort of. I didn't use a cable needle for these cables, following the directions to slip the stitches, let the stitch to be cabled just hang there, and knit it as a loose loop. That technique scares me a little as I'm worried about losing the stitch altogether. But! I did it on this sweater, no problem at all.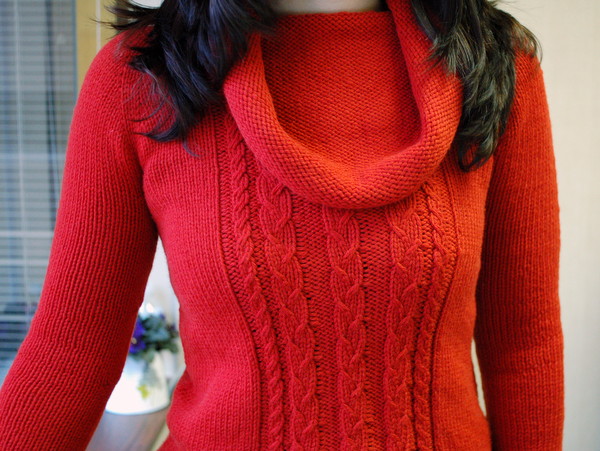 I love how it's longer in the back than the front. You can really see it from the side here.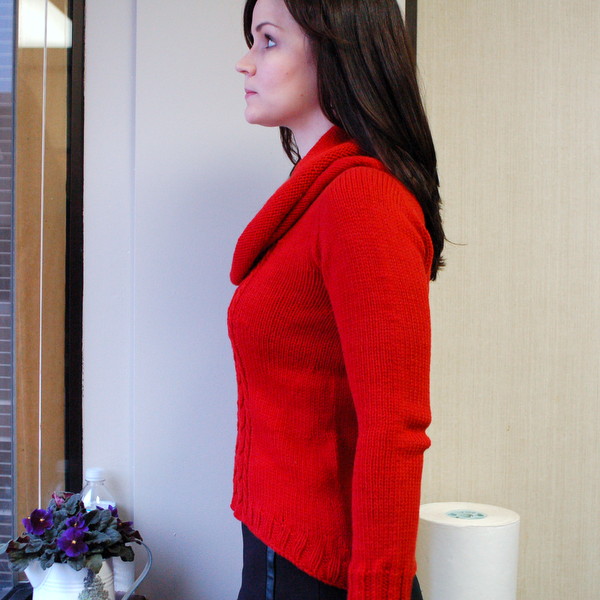 Here's the back view. It sits really nicely at the back, with a slightly rounded hem.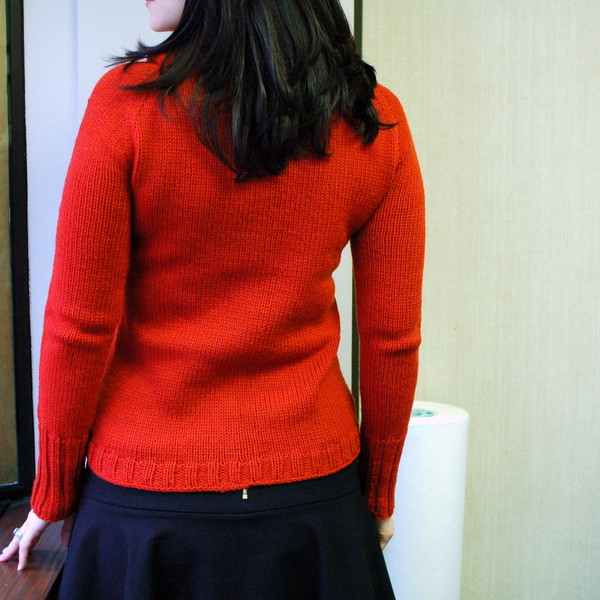 The shaping on this sweater is surprisingly an A-line shape, but you can't really tell because it's snug fitting. I have probably knit it too small, smaller than the designer intended anyways. It looks pretty good, I think, but if I were to make it again I think I'd size up. Just so it doesn't cling so much.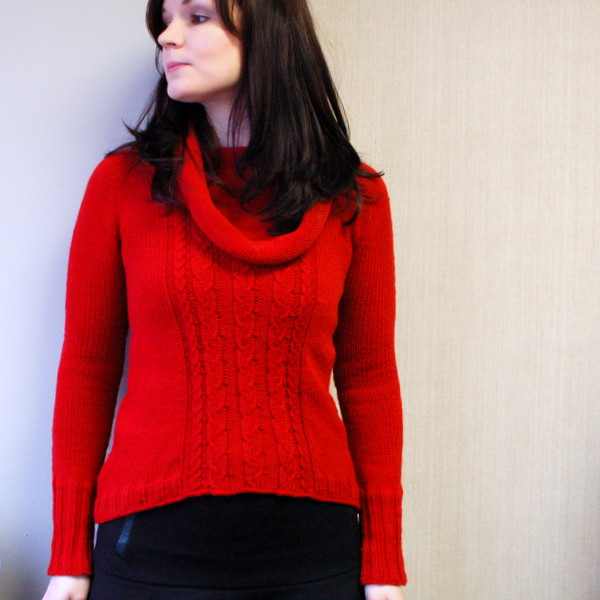 I am a little worried about this yarn pilling. It's soft and it's relatively affordable, so I'm concerned it might not be durable. Anyone knit a sweater in Lark before, and how did it hold up?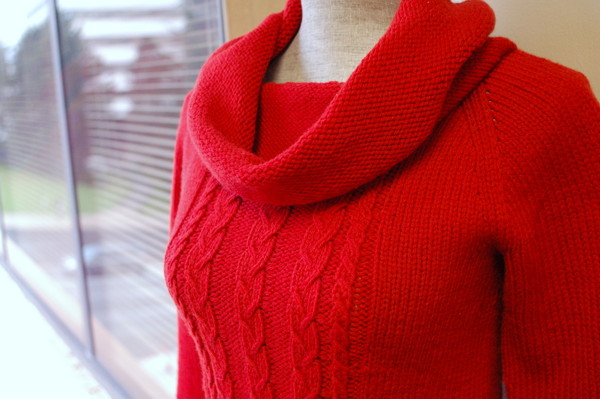 This sweater looks great under jackets. In the photo below I'm trying it on before it was finished under a leather jacket and it looks really nice. (It looks more orange here, so does my hair!) The only thing is the high-low hem, it's a bit short in the front for these jeans. So I'm layering it over a lace camisole. On skirts, this isn't an issue.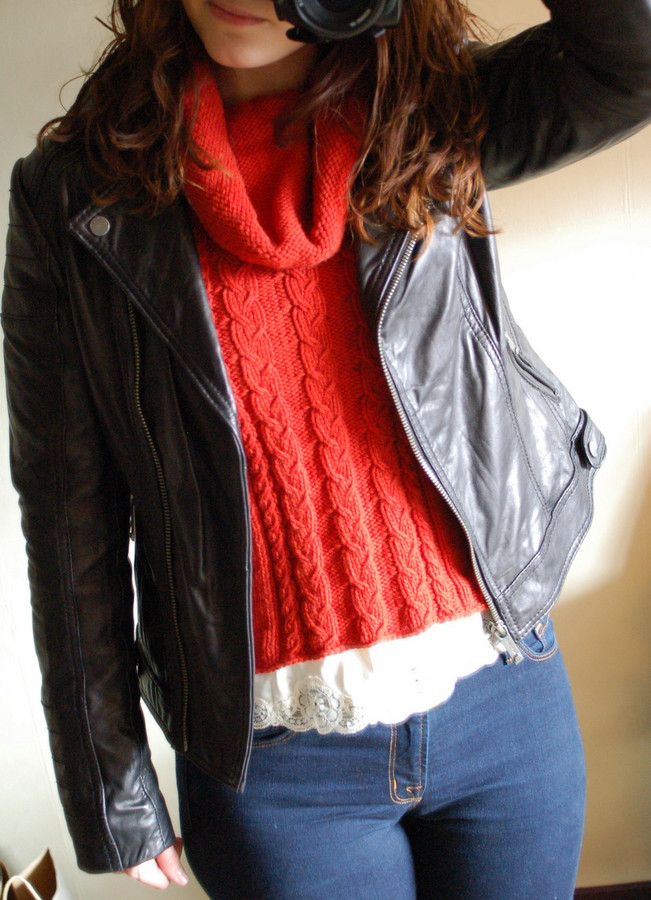 This is the last orange sweater I'm going to knit for a while – my orange sweater needs are completely fulfilled now!
PS. I know there has been a lot of knitting and not as much sewing posted, but we've definitely been sewing! Before the end of the month we'll be releasing a new sewing pattern, just as soon as everything is ready to go! Plus, Caroline and I spent the weekend at a sewing workshop making something neither of us has ever sewn before. (Any guesses what we might have sewed?) Can't wait to show off what we made and of course, announce the new pattern!