Here's a piece of clothing you haven't seen yet this month! Not because it's new, but because I forgot about it. And after wearing it all day, I remember why it gets pushed to the back of my closet.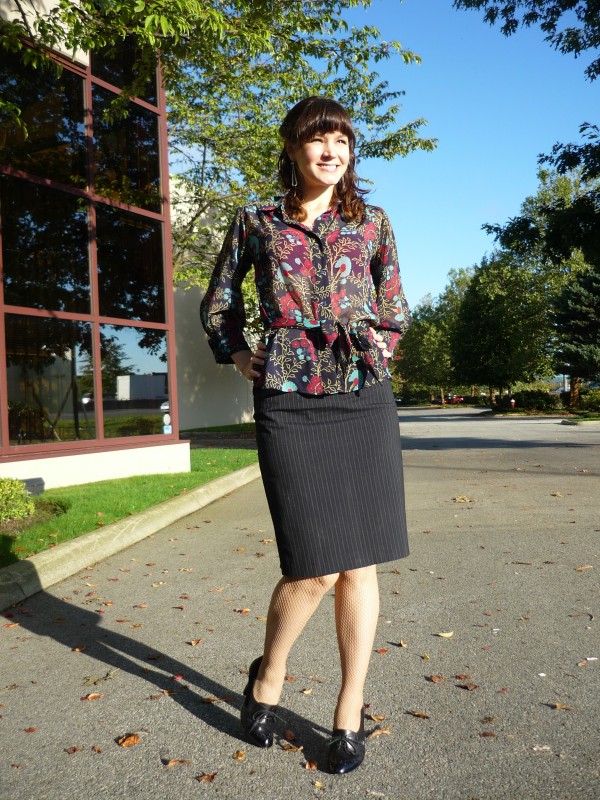 What I'm Wearing, Day 29:
Self-Stitched Blouse: Simplicity 2807 in floral polyester
Skirt: Plum, Christmas 2007
Shoes: Ellen Tracy, purchased from Winners last fall
(You can't see this blouse in more outfits, since I haven't worn it at all this month!)
Now before you jump in and defend the blouse, let me tell you what I like and don't like about it…
Likes:
The print, it's the number one reason why I bought the fabric! I love the floral, viney print.
The colour combination: raspberry, navy, turquoise and yellowy green. Pretty! It's feminine without being obvious.
Dislikes:
The polyesterness. It's either too cold when it's cold, or hot and sweaty when it's hot. There's no happy middle ground with this blouse!
The styling. I feel a bit conservative and not modern at all in it. I think it's the pouf at the shoulder combined with the pouf at the cuff, and the bow belt. Too floppy, resulting in floppy, floral polyester. It's not my most 'me' item in my closet.
The loose fit. My top half is my small half! And yet it looks swamped in sleeve and pouf and floral-print. I picked a photo with my hand on my hip just so you can see the space between my body and my arms. Otherwise, it's one large box of floral on top of my skirt. With a band of sag around the waistline.
Today I went to work, ran errands, and went to a fashion show. Not my most fashion-show-worthy outfit! Ah well. It was clean, and it was self-stitched, so I threw it on. And all day I wished I was wearing something else..
Don't get me wrong, I like the idea of this blouse. I loved the fabric, and I knew that I wanted the fabric to be a blouse. It's just when it all came together, somehow it wasn't quite the elegant, drapey blouse in my mind. Paired with the pencil skirt, I feel older than my age. Yikes! I tried to make the look more fun and sexy with the fishnets but I think it went even further into the frump category. (Too bad I didn't wait – this fabric would have made a pretty Pendrell blouse!)
You know, the last time I pulled out this blouse was Me-Made-May – and only to fill in the holes in my self-stitched wardrobe, not because of a burning desire to wear it! So even though it's well-made, and doesn't have anything glaringly wrong with it, I think it's going out in the next wardrobe purge.