How do you tell if a fabric is waterproof or water-resistant? I bought a piece of fabric from a discount store recently, and was told it might be waterproof. It was so cheap ($4/m) that I didn't mind if it wasn't officially waterproof, as it would be just as cute as a windbreaker-style jacket. I took it home and did some tests to see if it was waterproof. I thought I'd share some ways to find out if your piece of fabric will repel water or not.
If you're buying fabric for a rain jacket, or any waterproof sewing project, here are a few tips to check if it's waterproof!
Ask! Sometimes the staff will know, especially if you have a store with helpful staff. Or if your fabric store is really small, the salesperson might also be the fabric buyer and might remember selecting the fabric for its waterproof qualities. Depending on your fabric store, this might be a good option, and then again it might not.
Look for special hangtags. Really technical fabrics will have special tags listing their technical properties. Ever been at an outdoorsy store and seen a bunch of fancy tags hanging from the jackets? Sometimes, you'll see the same tags on the bolts of fabric too. Or look for big signs on tables, advertising this group of fabric as waterproof.
Check out the inside of the fabric. Often waterproof fabrics will have a milky coating on the inside, or a rubbery interior, or a layer that looks like shrink-wrap on the inside. If the fabric is coloured on the outside, but white and opaque on the inside, that's a good sign it may be waterproof. If you can see a thin layer of shrink-wrap-like rubber on the inside of the fabric, it's probably waterproof too. These rubber layers (called membranes – ew) are what makes ordinary fabrics waterproof or at least, water resistant.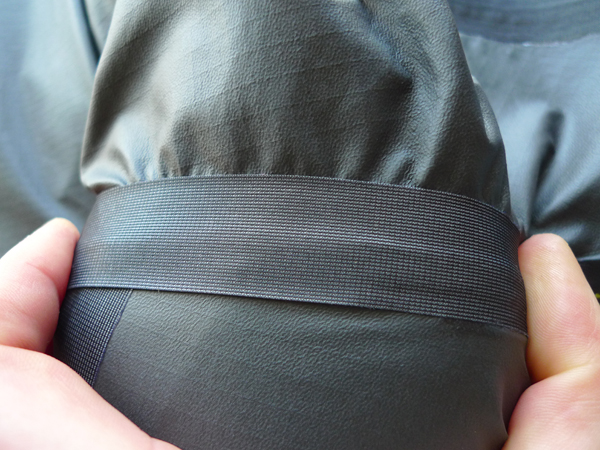 I borrowed this photo from Caroline's guest post on sewing waterproof outerwear – you can see she's used a fabric with a coated interior.
Blow through it. This isn't always a sign of true waterproof-ness, but it is one way to check. If you can't blow through it, and the fabric puffs up like a parachute (reach forward and poke the fabric in front of your face to see) then it's likely waterproof, or at least water resistant. (If air doesn't get through, there's a good chance that water won't, either!) If you can feel your breath through the fabric, it may still be waterproof, just treated to be both waterproof and breathable.
Water test. Literally, drip water on the fabric and see what happens. If it soaks through and spreads (much like a paper towel) then it's not waterproof! If the water stays on the surface of the fabric, looking like big dewdrops or bubbles, then it's waterproof. Leave these water bubbles on the fabric for a while and see if they eventually soak into the fabric or stay on the surface.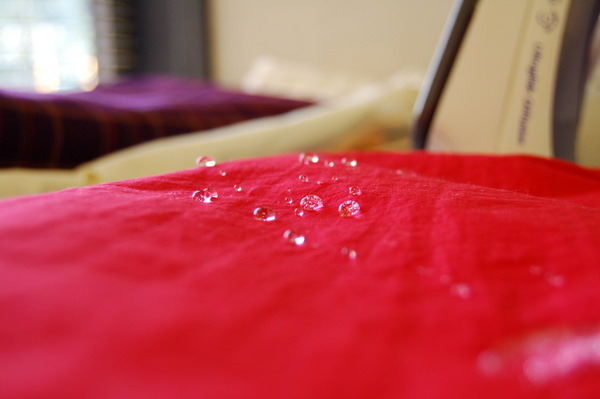 Here's what it looks like when water forms beads on the surface of your fabric – a good sign of what might happen when you're out in the rain! Let's compare that to the cotton canvas I used for my orange sample jacket: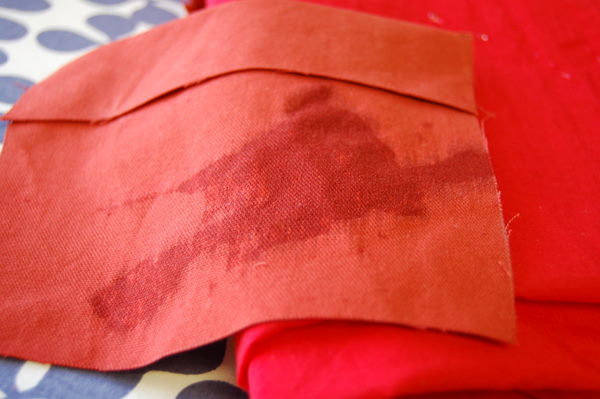 This can be hard to do in a store. You could always bring a water bottle and give it a try – or don't. I don't want anyone to get kicked out of a fabric store! If your project must be waterproof, then buy the smallest amount you can (most stores will let me buy 0.1 metres) and test it at home.
Final thoughts? Even if it's labelled as waterproof, it might not be. Especially if you shop in discount fabric stores, or the type of store where the staff don't sew. (You know the kind I'm talking about.) The water test is the most accurate, as it's the best way to see what will happen when water hits the surface of your fabric.
Any other tips on finding waterproof fabric, and testing it for waterproof-ness? Leave a comment below!