So, I FINALLY added the buttons to my unfinished Beignet skirt. Yay!
While I was marking the buttonhole placement, it took me a while to get started. It had been so long since I'd made buttonholes! As I was marking I thought 'This is a pretty quick way to mark buttonholes – does everyone do it this way? If not maybe I should do a quick write-up…'
So, here's what I do. You'll need the finished skirt – or finished to the point where you need to mark buttonhole placement – and the pattern piece. Also, pins and chalk or marking pencil.
Step 1 – Align the pattern piece over the buttonhole area. Remember, your finished skirt will be slightly smaller than the pattern piece, as the pattern piece has seam allowances.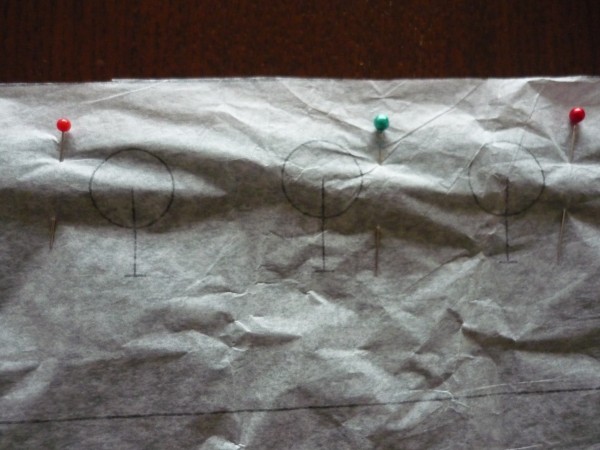 Step 2 – Pin the pattern piece to the skirt in between the buttonhole markings. I used one pin in between each buttonhole.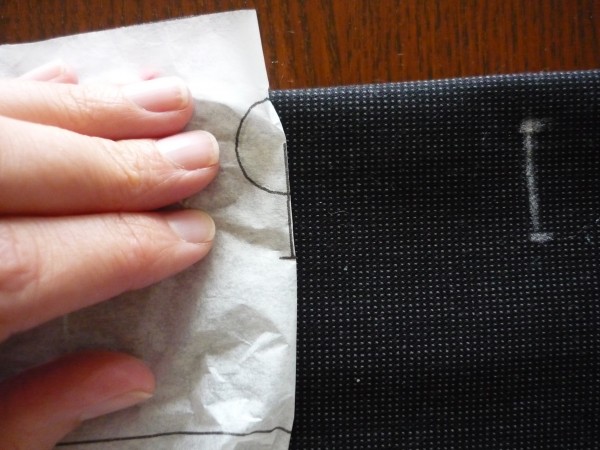 Step 3 – Now, remove one pin and fold tissue back along buttonhole line. Mark along placement line with chalk or marking pencil.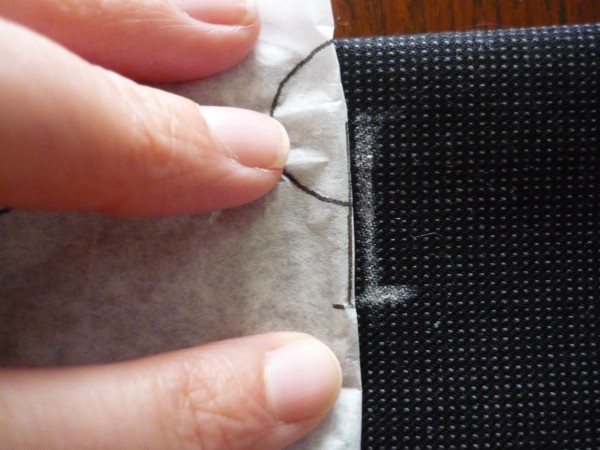 Step 4 – Take out the next pin, and repeat!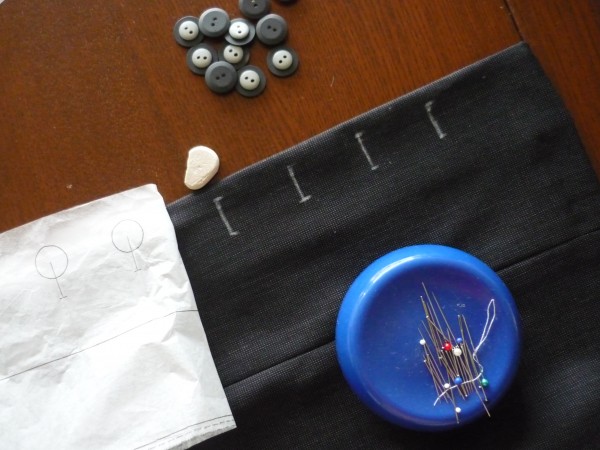 See – easy!
Ok, after the buttonholes are done, you have to mark the button placement. Now, when sewing this skirt, I have to admit I went quickly and didn't make a muslin or check the fit first. No worries, I overlapped the skirt more where it needs it, and placed the buttons accordingly.
This is very tricky to do by yourself! I can usually sweet-talk Mr. Sewaholic into helping me but this time I was alone. And I really, really wanted to finish this skirt! So, let me share with you how to mark button placement on this skirt alone. (Caution: strange-looking photos ahead taken from my point of view looking down!)
First, try on the skirt. Wrap the button side on top of the non-button side and pin closed at the waist.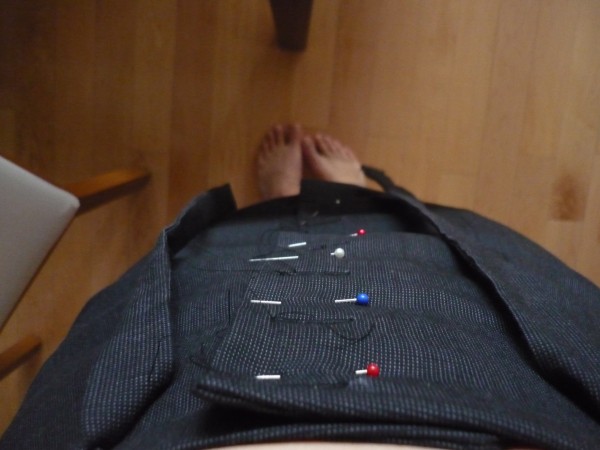 Now, pin the skirt closed all the way down the front. Remember, when you bend over to pin the skirt closed, it will pull open. Stand back up and check the skirt in a mirror. Does it hang straight?
If not, release the skirt to get rid of pulling, or tighten the skirt to get rid of humpy-ness. It took me a few tries to get this right on myself. Small waist plus wide hips plus I made the same size pattern at the waist and hip means a very uneven overlap!
Next, take a pin and pin 1/8″ into the buttonhole. This is approximately where the button will sit when it's sewn. When you pin, try to avoid catching the buttonhole fabric or stitching.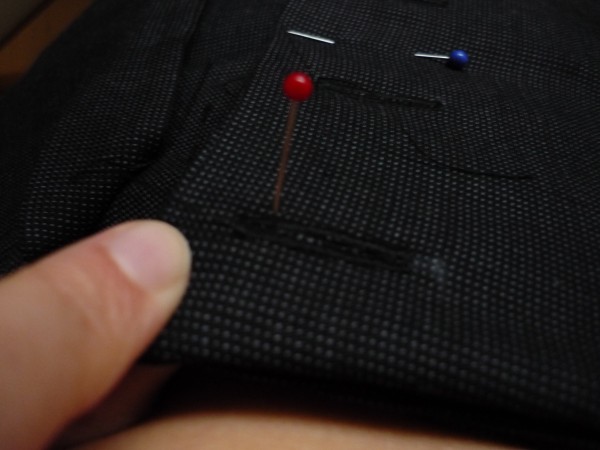 Then, undo the buttonhole, slipping it carefully around the pin. The pin should be in the perfect spot to place a button!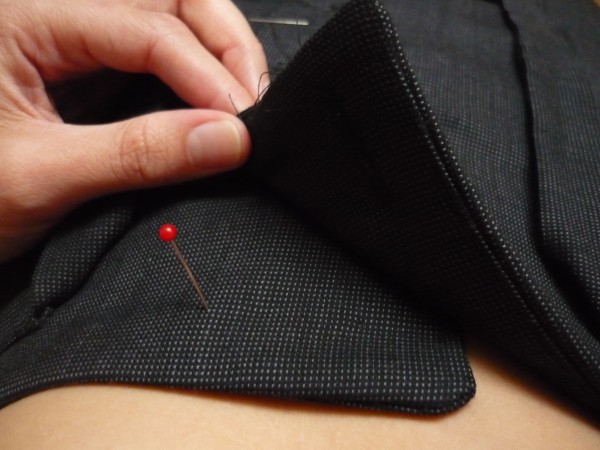 Repeat for each button. Once the skirt is open below the hips, you should be able to take it off and continue the rest of the marking on a table.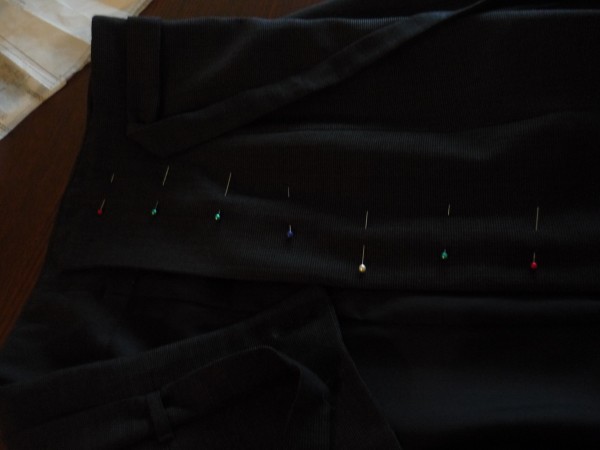 Open out the skirt and sew buttons where the pin markings are. Trim loose threads and you're done!
Other buttonhole tips:
Make a few test buttonholes. Test to be sure you have the right size buttonhole, by pushing your button through the test hole. Get a few nice ones turned out before making the buttonholes in your actual garment.
Make sure your bobbin is full! There's nothing more disappointing that sewing a perfect buttonhole and running out of thread when it's ninety percent sewn.
Sew at an even speed. Don't hammer on the pedal when it goes forward and slow it down going backwards. This can end up in your ends of the buttonhole not lining up.
Use a buttonhole knife to cut open your buttonholes – quicker and more accurate than scissors!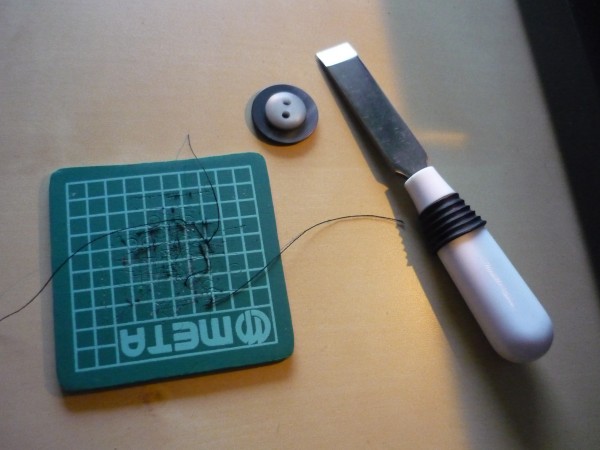 Do you have any buttonhole tips? Do you have a slight buttonhole phobia, too? Share your tips & tricks in the comments so we can all conquer our buttonhole fears for good!