If you have a Crescent Skirt or a Pendrell Blouse pattern in your stash, you've probably noticed the colourful, pointy-looking barcode at the back of the pattern. Does anyone know what it's there for?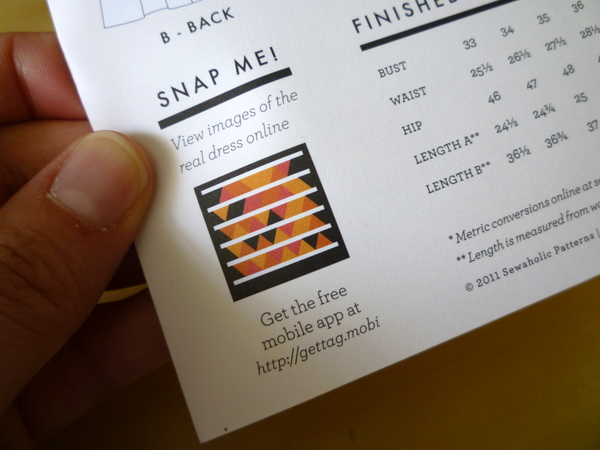 I wanted to put illustrations instead of photos on the envelope cover, so that it was easy to picture the pattern in a variety of fabrics and colours. How often are you swayed by the fabric choices and garments on the cover of a pattern? Or worse, turned off because of the fabric that's used? Fabric and colour are such personal choices, and I didn't want my own favourite colour and fabric choices to affect your imagination.
On the other hand, I know how important it is to see what patterns will look like, all made up! So I wanted to have both options available, both the photographs and flat illustrations.
If you click this barcode, it will link to a Photo Gallery of finished garments using this pattern. Isn't that cool? Let me show you how it works!
Here's how it works:
You'll need the free mobile app (get it here at http://gettag.mobi) and a mobile phone with internet access.
First, open the app on your phone. Then, centre the barcode in the middle of the screen.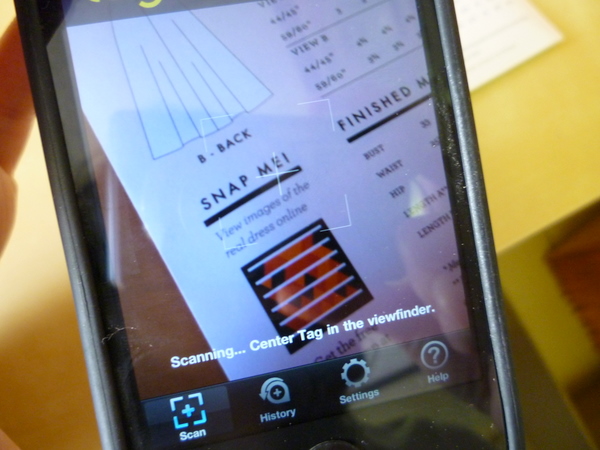 Right away, a browser window will open to the Photo Gallery, showing photos of the finished dress.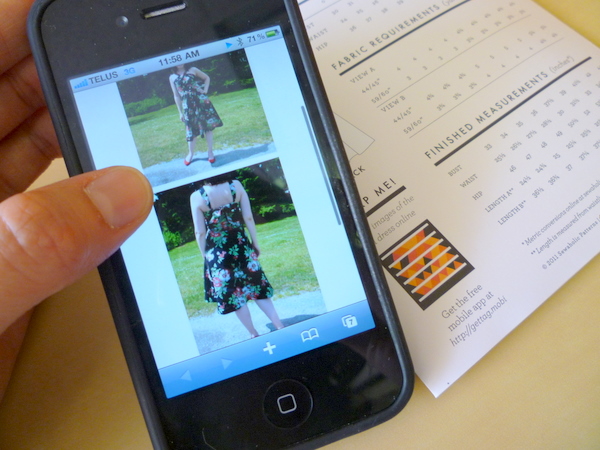 Isn't that cool? Technology is amazing! If you're browsing in a fabric store and wonder what the pattern looks like, whip out your mobile phone and click the barcode to see! I can update the photos in the photo gallery, continue to add new images, and keep them looking fresh.
Have you seen these type of barcodes before? Now you know how they work!