This question came up in a comment a while back – how does your partner feel about your love of sewing? Or knitting, or quilting, or whatever your hobby of choice happens to be? Does your spouse, boyfriend/girlfriend, husband, or partner encourage you to embrace your creative side, or mostly complain about the mess it makes? Do you argue about how much time you spend sewing? Does your sewing interfere with date night? Does anyone's hubby take their blog photos regularly? (Does anyone's partner sew, too?)
I'm really fortunate to have a wonderful Mr Sewaholic who encourages my love of sewing. He knows I'm happiest when I'm making something, or learning a new technique, or finally finishing up that second sock. I wouldn't be me if I ignored that urge to create things!
I don't know if he fully understands why I like to constantly keep my hands busy, as I'm just about always knitting when the TV is on these days. But he doesn't try and stop me from doing it, and I appreciate that. For me, my love of sewing extends to clothing, colour, silhouettes and how it all relates to the image we present to the world. It's not just about making myself pretty things! That's a hard thing to explain properly but I think he gets it and knows it's not just about making new clothes.
Although, he did kick me out of the second bedroom (nicely) when it started to take over what used to be his office. (Now it's his office again and he couldn't be happier! And I'm much happier too, now that I've been in my little office for over six months and get to ride my bike there and back every day.)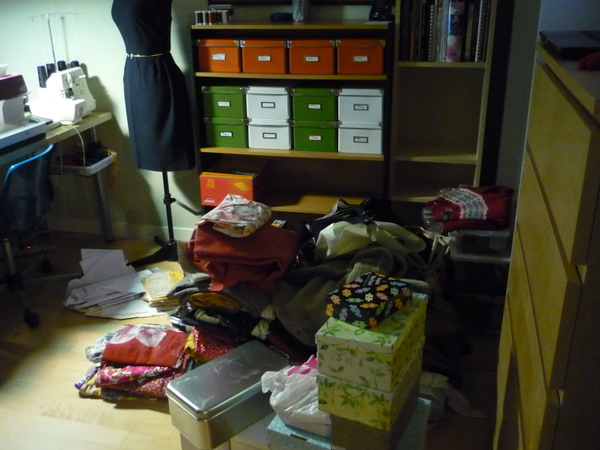 (perhaps this photo explains why I was asked to get my own office!)
And what's even better is that he doesn't demand that I make things for him. Sure, he did steal his Christmas present four months early. But he didn't make me make it, I knit him the hat because I wanted to.
And how about those people that are only happy to support your hobby if they get something out of the deal? I'm extremely stubborn, that kind of guilt-trip never works on me! Even worse when the person has no idea how much work is involved in one sewing project. Someone I was not dating or related to once asked me to sew them a suit jacket and pants by the weekend. (On a Tuesday – although it doesn't really matter what day it was when the request is so crazy!) It's even more bizarre, when they think they're doing you a favour – you 'get' to sew me a suit!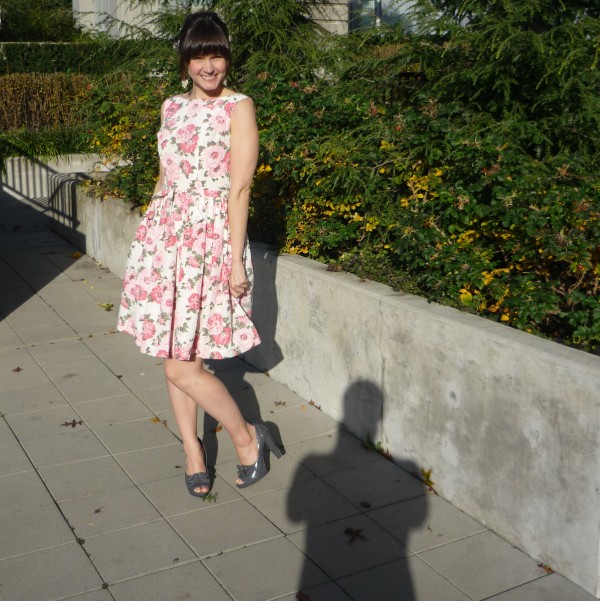 (back when I was working from home, he'd even help take blog photos when I asked nicely!)
So I have nothing to complain about. My husband-to-be (!!!) is supportive, encouraging and never demands I make him anything. He'll even accompany me to fabric stores on vacation, and if I'm really lucky, he'll help me stuff envelopes and build office furniture. Is he supportive of not only my love of sewing, but my sewing business venture? Absolutely! Maybe that's part of it, I've made it more than just a hobby. I've taken my love of sewing and turned into a business, so it's easy to understand why I love doing what I'm doing.
So I'm curious, what about you? Does your partner understand why sewing is so important to you, or do they just know to stay out of the way, especially when things start going wrong? Is your sewing habit a source of constant arguments? Can you only sew when you're alone? Does your 'other half' wonder why you don't just go shopping instead, and save yourself the trouble of making clothes? Do you get sweet-talked into sewing things for your partner, just to keep them off your back about the thread bits and fabric scraps on the floor? Do you end up doing their mending and hemming? Are they supportive, or just tolerant?
How does your partner feel about your love of sewing? Share in the comments, I'd love to hear what it's like for you!