Happy Monday, everyone! A while back, Lora left an interesting comment about her fear of having her sewing projects look home-made, and not the good kind of homemade. Here's what she said, in her words:
I had a block of time (years) where I sewed very little while I worked and went to school. I am getting back into the creativity of sewing and fear my projects look home-made. After spending hours on a garment, it is the curse of death that it looks that way. Perhaps you could pose the question "What are some tips you have to make home-made look store bought and/or better?" sometime this year. I am graduating this spring, and would like to sew classic office attire that looks professional. My goal this year is to find out how to do that.
I like this comment as I think it's something we all can relate to. When someone asks 'Did you make that?' how many of us worry that a mistake has given us away? After all, if it were truly a nice garment, wouldn't someone just say 'Love your skirt!' instead?
So I thought and thought about how to cross that bridge from homemade to professional. I know that some of my projects are more obviously made by me, and some could pass as store-bought. (Which in Lora's case, is the goal – store-bought quality or better.)
Here's what I'd suggest to make sewing projects look less home-made:
Expensive-looking fabrics. See how I said expensive-looking and not necessarily expensive in price? It's all about how the fabric looks, and drapes, and feels. You can find some nice polyester prints that aren't expensive and have the appearance of silk or rayon. Rayon is less expensive than silk and has a lovely drape and texture.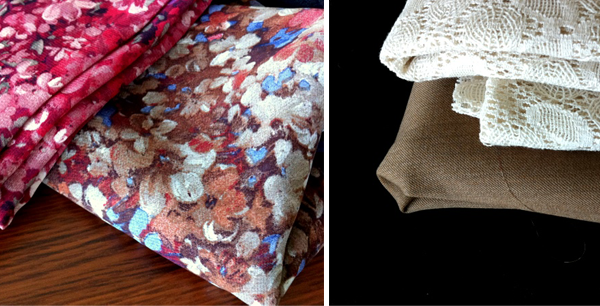 (the printed fabrics on the left are polyester but are nice quality! wools and lace on the right are an example of matte fabrics with texture)
I find that shiny fabrics appear less expensive, are harder to press, and draw attention to any imperfections with shiny wrinkles and drag lines, so I'd say look for matte fabrics instead. (Especially for classic office wear.) I prefer natural fabrics myself, wools and cottons and rayons, but there are some very nice quality suiting blends that have the appearance of wool at a lower price point.
Texture and surface interest can make a fabric look more expensive as well. Look for tweeds or textured wovens, something with a little bit of interest without a lot of shine or sparkle. Even cotton twill, which is normally a casual wear fabric, could make a great office skirt in a simple style and conservative colour.
Attention to pressing. In my mind, careful pressing can take a well-made garment from good looking to great. Crisply-pressed hems and facings look sharp, and make the whole garment appear properly finished. If left unpressed, thick, lumpy facings or puffy hems are a sign of something home-made.
So when you're sewing, and it says to press after each sewing step, do it! It will make a difference in the quality of the finished garment. Press as you go, press seams open when it says to, press facings and collars and press anything that you have to turn, like a collar or a cuff or strap.
When the last sewing step is complete, and the buttons are sewn, take the garment to the iron for a final press. Press everything smooth and flat, using a ham or seam roll to get into tricky areas and curves. Press the hem especially – fat hems look sloppy! (Unless it's intentionally part of the design.)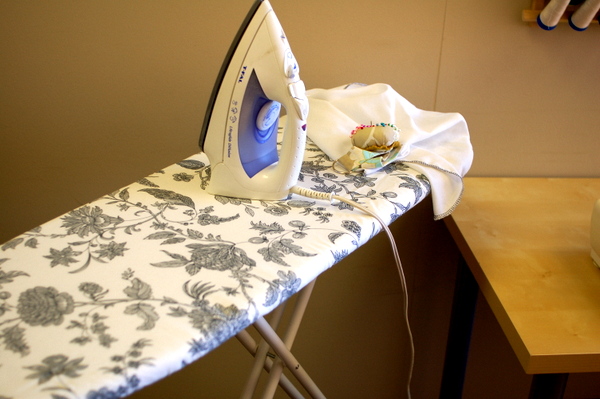 (set up your ironing station close to the sewing machine to make it easier to press in between sewing steps!)
Choosing projects that suit your style. Let's say you're a high-end leather purse kind of girl, and your usual handbag is well-cared for with shiny gold hardware. If one day, you start carrying a colourful printed cotton tote, people will be more likely to ask you if you made it because it's out of character. If it's not something you would likely buy, then it may be more obvious as something you've made. Especially if you have mentioned your new interest in sewing!
So if you're working sewn items into your regular wardrobe, choose things you'd like to buy at the store. Try not to get distracted by the exciting prints and bold colours at the fabric store if you'd never buy something that loud in real life. You'll enjoy making it but may not wear it as often as you like!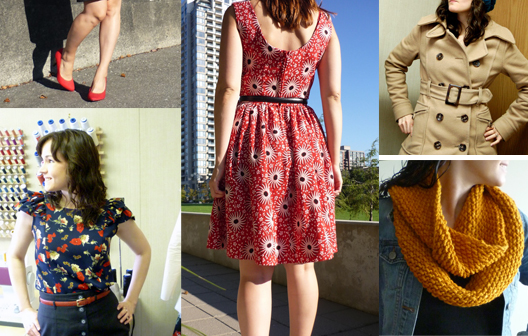 (from my Five Favourites post – five items that I feel define my style)
If you're finding it hard to imagine what a fabric might look like in a whole garment, do a little window-shopping at your favourite store (or online store) and make notes of which prints and colours you like best. Then look for similar fabrics at the fabric store! Your projects will look more professional because they're closer to what's already available in ready-to-wear.
Keep it simple. I know, this is rich coming from me! But if you make a beautifully pressed, well sewn navy pencil skirt, people will notice how well you're dressed and not necessarily notice the skirt itself. If you make a wild printed dress, with embellished trim and contrast stitching and maybe an exposed zipper, your clothing will be so noticeable (and so unique!) that people will notice the clothing first before they notice you.
If you're sewing a new work wardrobe and the thought of all that grey and navy sounds boring, add secret colourful details like contrast linings for fun! Your clothing will still look very professional, and only you will know about the fun colours hiding underneath. Or add tone-on-tone detailing, such as black lace on the hem of the black lining of your black skirt. It's understated, but it makes a simple skirt a little more special.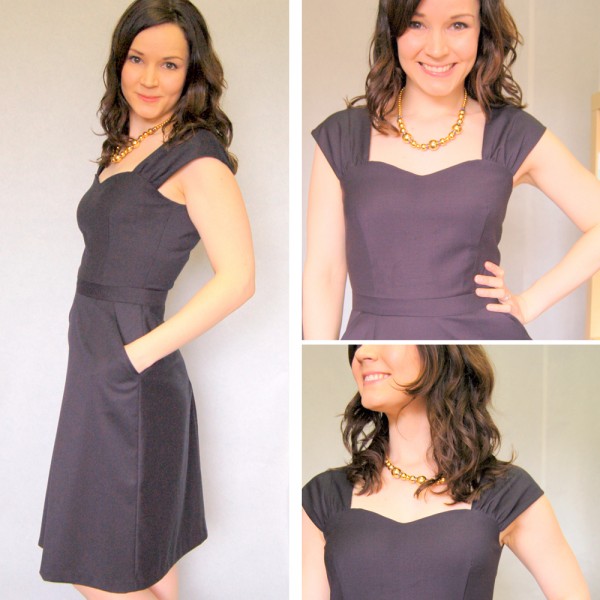 (this version of the Cambie Dress is simple, perfect for work!)
Keep it simple applies to choosing patterns as well. A simple blouse pattern, like the Pendrell or Alma, is quick and easy to sew, and allows you to make the same pattern several times for work without it looking like it's obviously the same design.
A classic skirt pattern, like the Hollyburn, is easy to make and works well for sewing multiple garments. You could make a solid navy Hollyburn skirt and select three printed top fabrics that coordinate with navy for a quick mini-wardrobe! Add a pair of Thurlow Trousers and now you have even more outfit options. If you sew with a plan, it makes it easy to build up that work wardrobe with pieces you know work well together, and even easier to get dressed for work in the morning!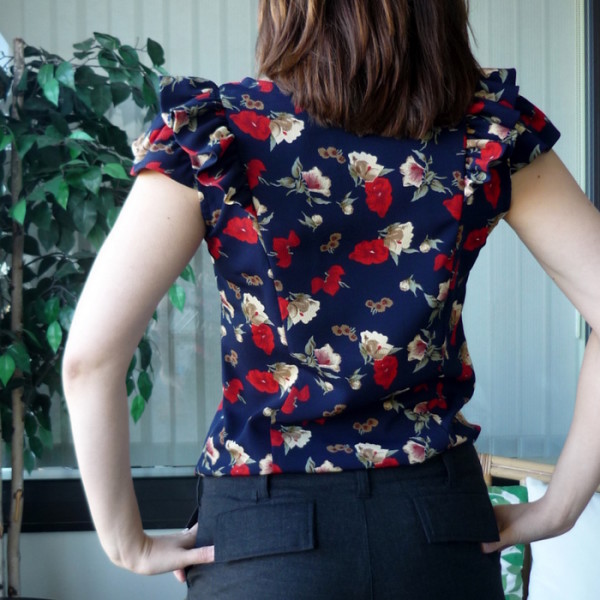 Being asked if something is handmade isn't always a bad thing. If people know that you love to sew, they may be just making conversation, or admiring your outfit! It's when you feel like it looks handmade, and wish your projects looked more professional, when it matters at all.
Ok! Your turn. What would you suggest for Lora to make her project look more professional, and less home-made?