So, you might be wondering where the next Minoru Sew-Along post is. After sewing the lining, I've run out of thread! (It's all that triple-topstitching, taking three times the normal amount of thread.) Cycling to work means it's a lot harder to get around once I'm here. It would take hours out of the day to bike to the fabric store! Even driving to the store takes at least an hour or so, return trip. There's no fabric store within walking distance, or even reasonable cycling distance from my house or office. I sure wish there was at least one fabric store close to home!
Which got me thinking – how close is your nearest fabric store?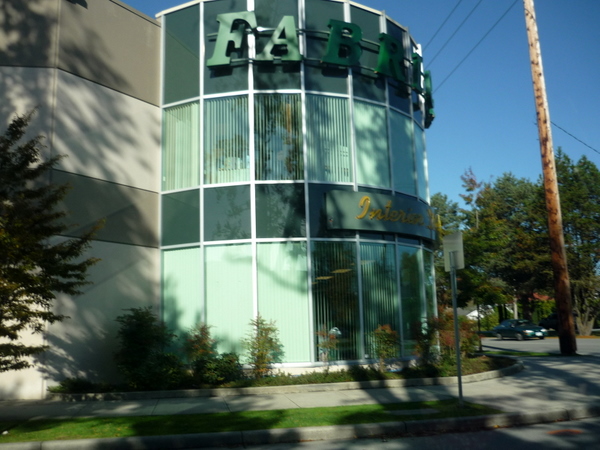 (Fabricana Richmond – an hour round trip by car, even longer by transit, probably three hours by bike!)
I live in a big city, with little cities connected to each other by bridges and tunnels. There are two million people in the Vancouver area. And yet, I can't get to a fabric store from my house by foot or my bike! (I could, but it's about 40 km by bike. I'd be too tired to sew by the time I picked up thread!)
It doesn't matter as much for fabric and project supplies, because I can plan for it. It's less convenient when it comes to the little forgotten things, like thread. When I get thread to finish the jacket, it's either a half-hour train ride from the office downtown, or a hour round-trip by car to Fabricana. (Which we all know is going to take way longer than that – who can walk into a fabric store and just buy what they came in for?)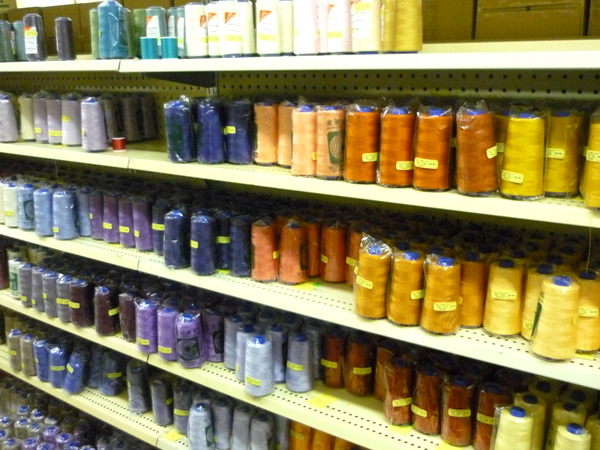 (thread at Dressew – half hour train ride from the office, even longer train ride from home)
There are less fabric stores in town than when I was growing up. When I was a little girl, there was a small fabric store next to the grocery store! Fabric was more of an essential, in the same little complex as the drycleaner, the butcher, the barbershop, and the bakery. If you ran out of thread, it was a convenient five-minute walk to the nearest fabric store, plus you can pick up bread and milk at the same time!
And if that's what it is like for me, living in a big city, I wonder what it's like for you guys? Some of you have mentioned driving three hours to the nearest fabric store, or having to buy all of your fabric and supplies online. If sewing supplies are hard to locate, what do you do when you run out of thread? (Substitute a close-enough colour? Buy twice as much thread the first time around, to be sure you won't run out?)
How close is your nearest fabric store? Ten minutes away, an hour away, three hours away? So far away that you order everything online? I'd love to hear what it's like for others around the world!