Happy Monday, everyone! It's Thanksgiving Monday here in Canada, so happy Thanksgiving to you as well, wherever you are!
Why is this post called 'Home Ec Teachers Are Awesome?' Because they are! Last Thursday I was invited to be a guest speaker at Charles Best Secondary in Coquitlam. The lovely Denise, who reads and comments on the blog, invited me to come speak to a group of home ec teachers about what I do. Pretty exciting, right?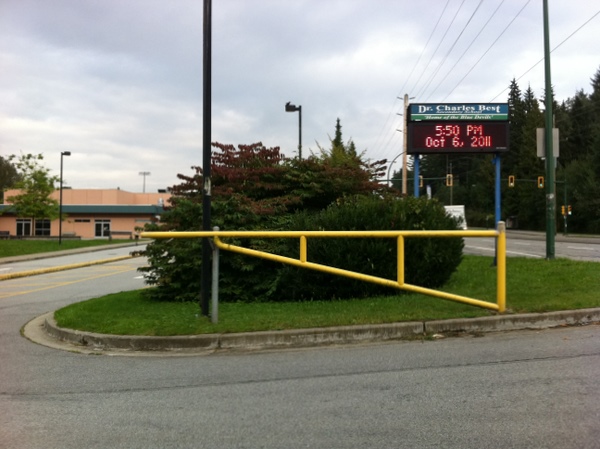 (I took a quick photo outside the school so I'd have something to put in the blog post.)
You probably have heard the quote, that people are generally afraid of two things in life: death and public speaking. And for many people, public speaking is number one. Over death!
Well, like anything that's scary, getting started is the hardest part. And as soon as I started talking, the rest was easy!
I started off talking about taking high school home ec (loved it!), what it was like going to college for fashion (fascinating) and what happened at my first interview out of college (I got the job and worked there for eight years).
My experience in high school home ec was fantastic! I had a wonderful teacher who encouraged me to tackle challenging projects. She was so cool, she even let me hang out in the sewing lab when I was supposed to be in other classes. When there wasn't enough space in the sewing room to cut out big projects, she let me cut out in the hallway. Sure, there were snotty girls in the back of the class who'd whisper to each other, sew nothing but one wrap skirt all year, and ask me ridiculous questions like 'Hey, did you sew your backpack? Did you sew your jeans? Did you sew your shoes?'  But for the most part, my sewing class was my all-time favourite place to be. I could make anything! Regardless of what the popular girls were wearing (knee-highs and plaid miniskirts, like Cher from Clueless) I could sew whatever I felt like, and it would fit me, and I felt proud wearing it. (Did you take sewing in home ec? What was your experience like?)
I talked about how I dreamed of starting my own pattern line, and just as I was gearing up to launch my first pattern, I was laid off from my job. That was the turning point for me – do I go for it, or do I look for work? I decided to throw myself into the business, full-force, and it's been an amazing adventure ever since then! It's been under a year and I have three patterns (with a fourth coming soon!), my patterns are sold in 16 retail stores, and I was thrilled to be featured in Sewing World Magazine. The online sewing community is full of wonderful, enthusiastic, helpful people – and the best part is, it's growing! Sewing is cool again. (It was always cool to me, but more and more people are figuring it out!)
It was really fun to speak to a group of people that appreciate sewing! It's great to be talking about the freedom that sewing brings – how you can make anything, regardless of trends and colours in retail stores – and see people nodding in agreement. And I liked being able to say that high school sewing classes led me to pursue a career in fashion, and later on, my own business in the sewing industry. So home ec sewing was really the start of it all!
I'm really excited to go back to the schools, and talk to students next. Yes, I was invited back to talk to sewing students! I may also get to be a guest speaker for a high school entrepreneurship class. (Lucky! I wish I'd had Entrepreneurship as an option when I was in school.) I'm so flattered and look forward to doing more public speaking in the future.
Thanks to Denise, Charles Best Secondary and the Home Ec teachers of the Coquitlam area for inviting me to share my story!