Hello, everyone! I'm back from holidays and excited to be home again, both in my house as well as my online space. I've missed blogging! It's good to be writing again and I'm looking forward to sewing again too.
Where did I go? I went to Iceland, the Netherlands and Belgium! Three different countries with three different adventures. I'll try not to bore you with too many travel pictures. Just a few highlights for the curious, in case these are places you wanted to visit at some point!
Iceland
I've always wanted to visit Iceland. When you tell people you're going to Iceland they either ask you 'Why Iceland?' or tell you they've always wanted to go, too!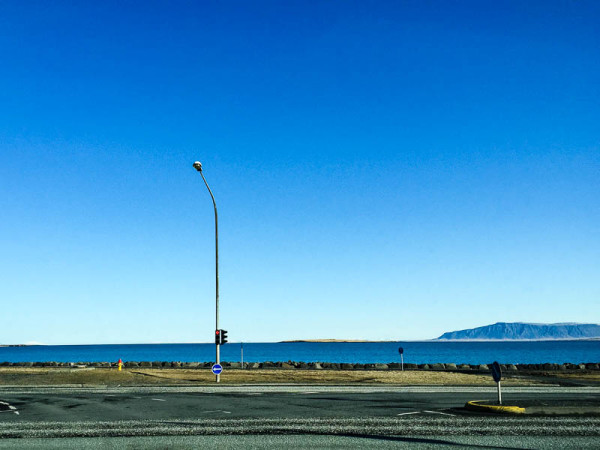 Renting a car is a great way to see the sights outside Reykjavik. You can drive right to the edges of the island, like the photo above.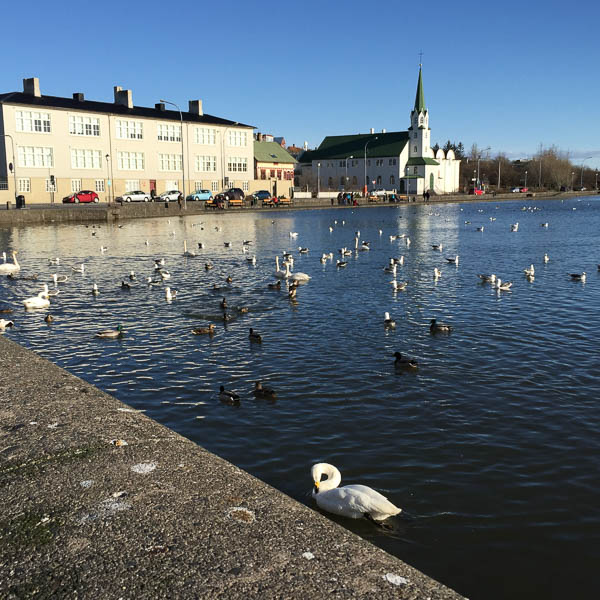 I can't believe how lucky we were to have sunshine every single day. Makes for really beautiful photographs. Here's a view of Reyjkavik from the top of the church tower.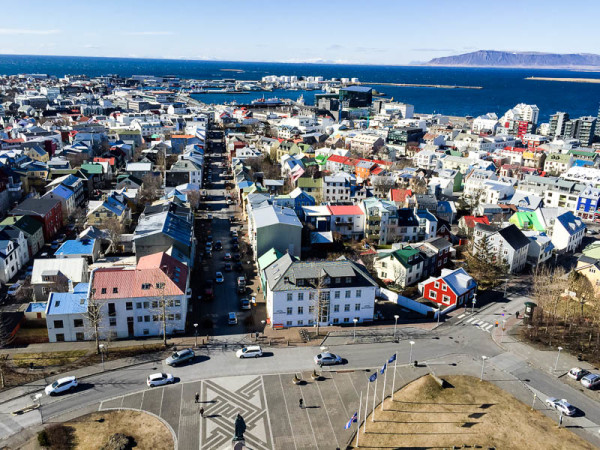 In Thingvellir National Park – hard to tell but we're standing on a cliff, overlooking the valley with the river and church below. We'd just walked up from that church to the top of the mountain.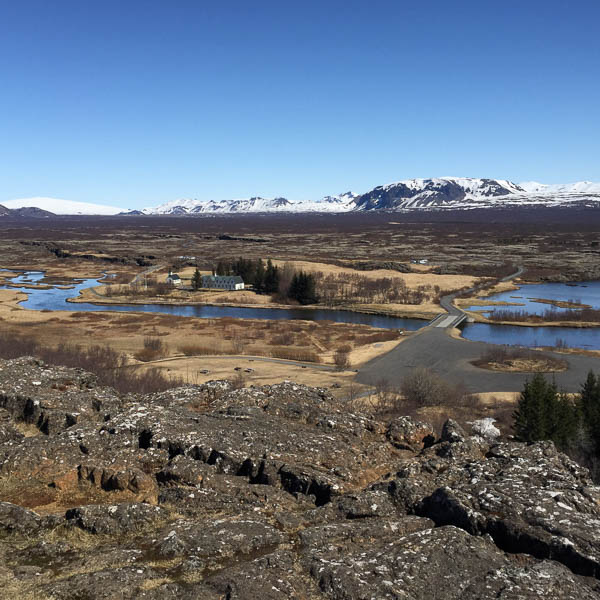 This is the geyser Strokkur erupting! About every ten minutes it explodes in a burst of water, like this. Much cooler in real life.
A while back, I knit an Icelandic-inspired sweater pattern called Strokkur, now I know where the name comes from. The water is about 100 degrees and the air was just above zero. (You can see a video of the other, non-erupting geyser here. Just bubbling away!)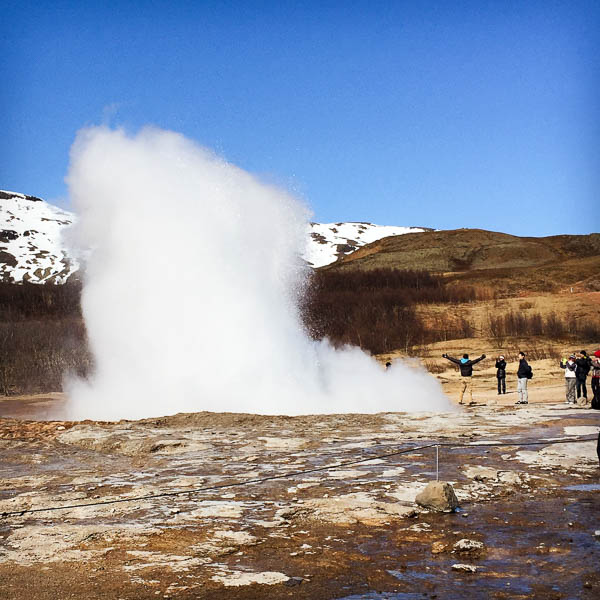 Gulfoss, a massive waterfall. You visit it from the top so you can really see its magnitude!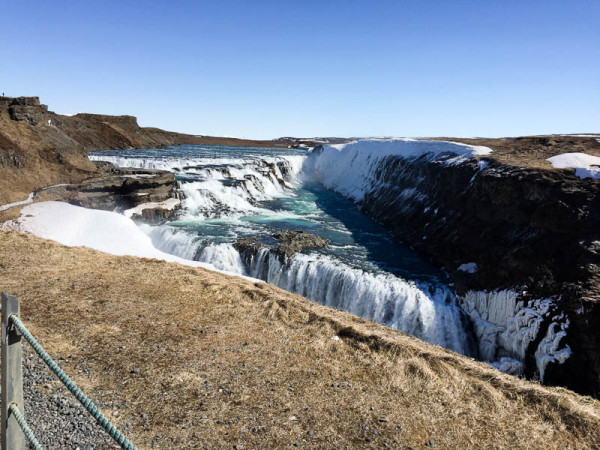 Selfoss, another waterfall. You can see the mist coming off the falls, look how far it reaches! For some reason I didn't think it was going to be that cold in Iceland. Possibly the silliest sentence I've ever typed, but I thought in May it would be somewhat summery. Not so much. It was just above freezing every day, I lived in my Strokkur sweater, toque, lined gloves, all my winter gear.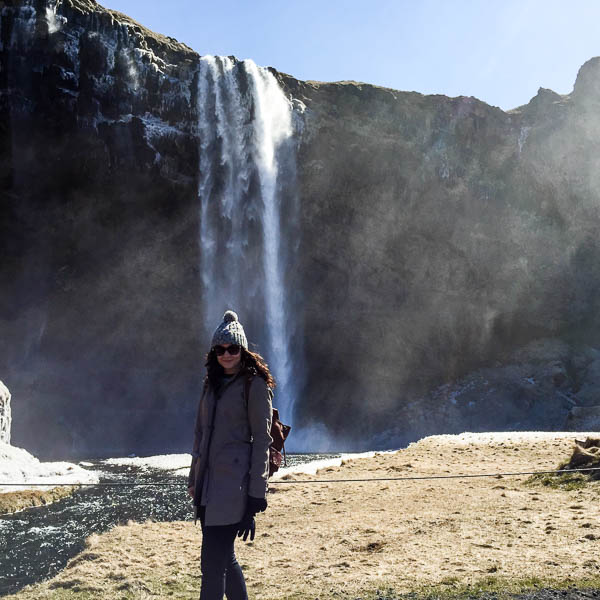 It's a cool experience driving around Iceland. You drive on two lane highways where you might not see another car for an hour or more, towards what looks like the edge of the earth, and then turn the corner to find a little town nestled into a valley.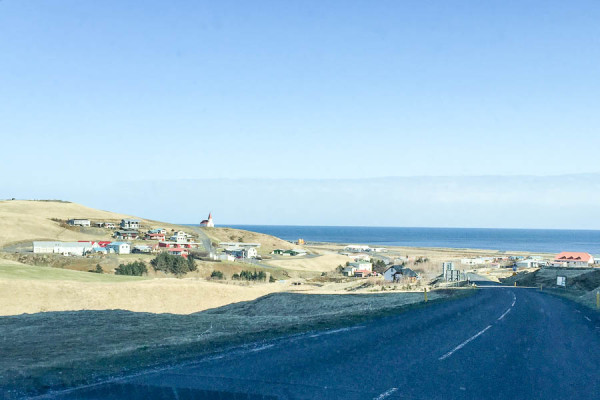 I didn't make it a priority to visit fabric stores in Iceland but you can buy yarn everywhere.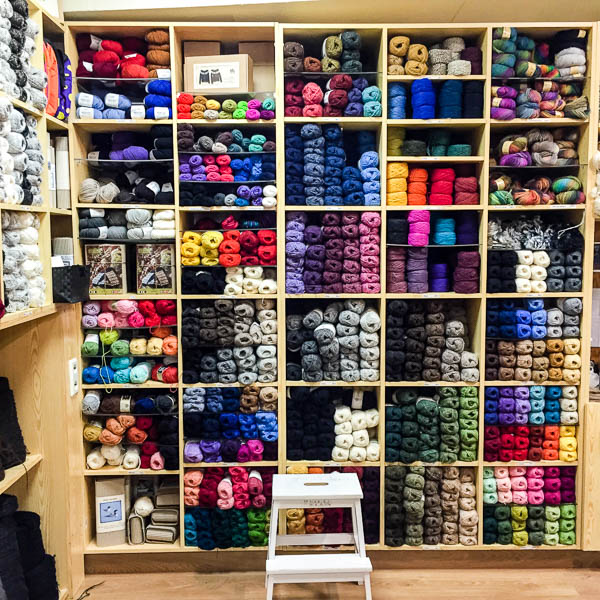 Everywhere includes the grocery store, the airport, the tourist shop – everywhere! You can even buy knitting needles and row counters in the one grocery store in the small town in the last photo, too. Very cool.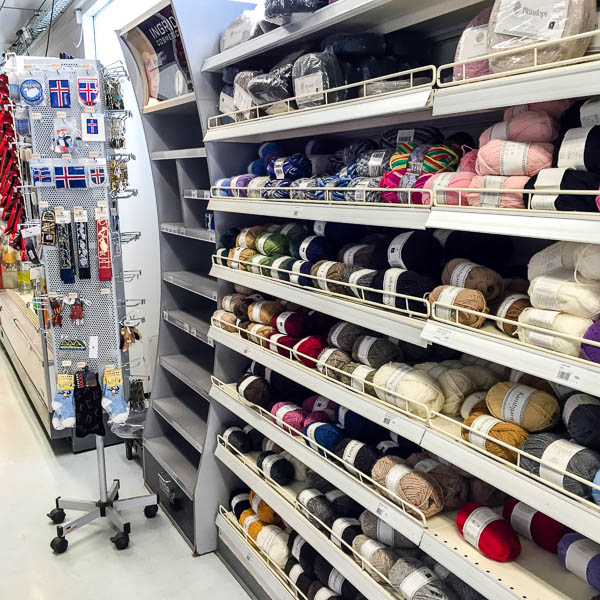 All in all, an amazing place to visit. All of the flights we looked at to go to the Netherlands had a stopover in Iceland, and we figured, why not stop for a while? That's the intention I believe, to increase tourism to Iceland if you're already taking a flight across the globe.
Netherlands
The highlight of our trip in the Netherlands was a seven-day cycling tour around the country. Each day you get up, punch in the day's route on the GPS and go! In total we cycled 250km, with the longest day being 67km.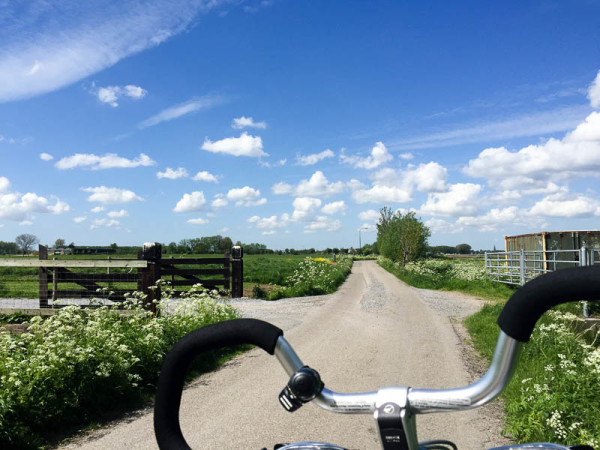 Now, I cycle 6k to work and 6k home. I thought, that's only ten times my daily bike ride, how hard could it be? Turns out, it's quite challenging in that your body isn't used to being on a bike that long. You learn quickly to ride differently, standing when you can, shifting more weight into your hands, and taking breaks. It sure was a beautiful way to see the country and bike through different towns. If you're interested, the tour was booked through Dutch Bike Tours, they were great to deal with! (We did the Beaches and Towns tour.)
The Netherlands is truly a cycling paradise. You get to ride on a separate path from the cars and often a separate path from pedestrians too.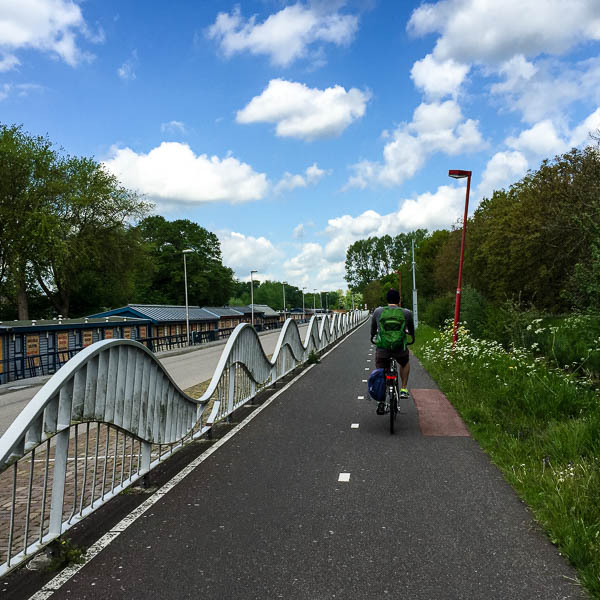 Look at this glorious path! No cars. Just bikes. Beautiful scenery.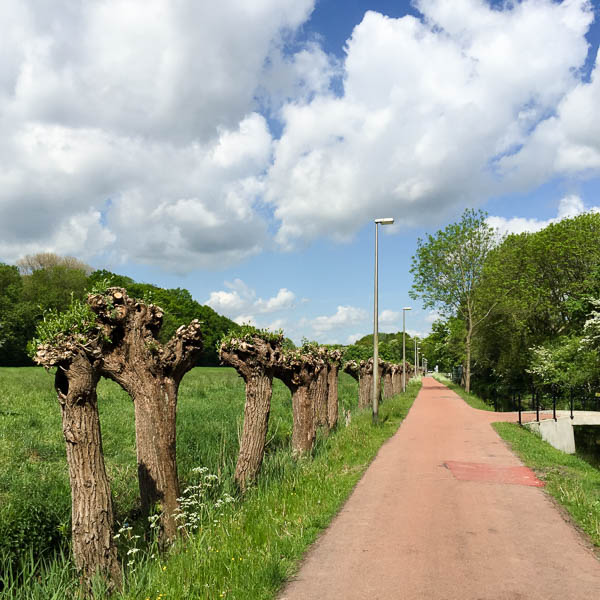 In Vancouver, there are bike paths but not a lot of them. When there's no bike path, you cycle on the same road as the cars. I felt spoiled, having these great paths all to myself! Sometimes you do ride on the road, but it's quiet and feels safe.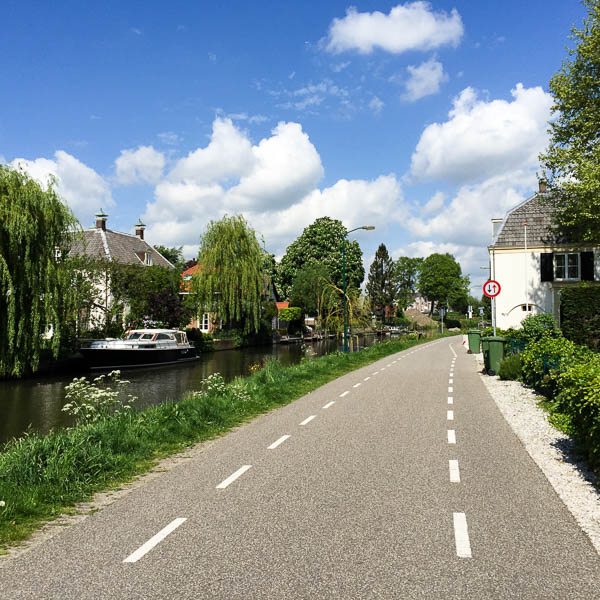 I took a ton of photos on the first day of the bike trip! After that, we speeded up the pace and I took a lot less. What was cool was the variety of landscapes and scenery as we crossed the country. Day one was farmland and waterways, day two was forested, day three took us through sand dunes and beaches!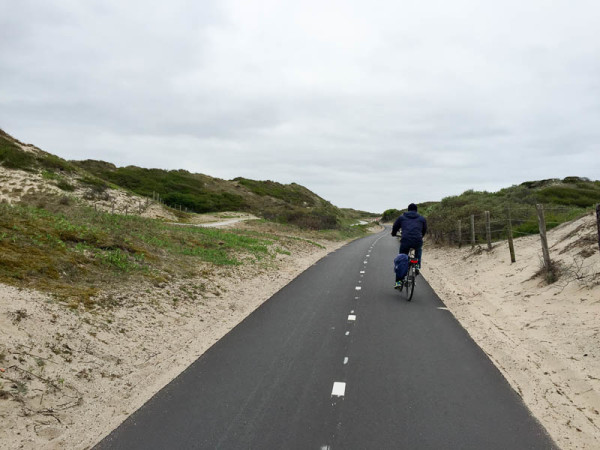 Totally different views. Which is nice, you feel like you've covered a lot of ground this way.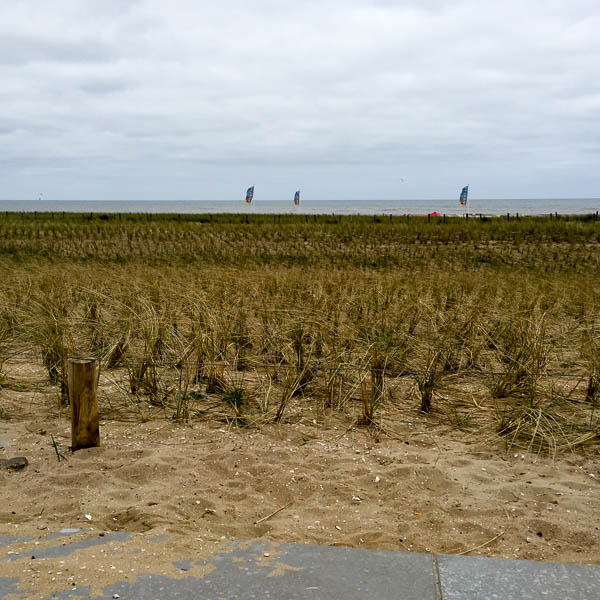 Day four rained and I took zero photos. I'm just thankful we only had one day of wet cycling! Day five was more farmland, heading back to our starting point.
Good to know if you want to do a bike tour: a seven-day tour means five cycling days, the first and last days are just arriving and leaving days.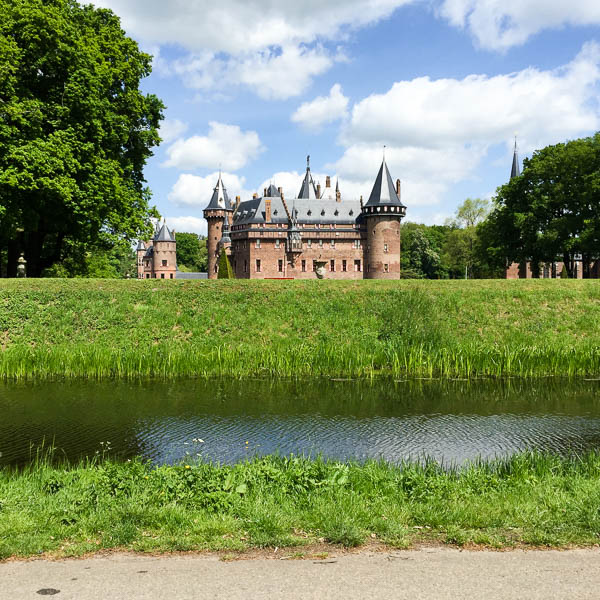 Castles! Ok, it is hard not to post a hundred photos. It's just such a beautiful place. Bikes are everywhere you go. Hundreds of bikes fill the racks outside each train station.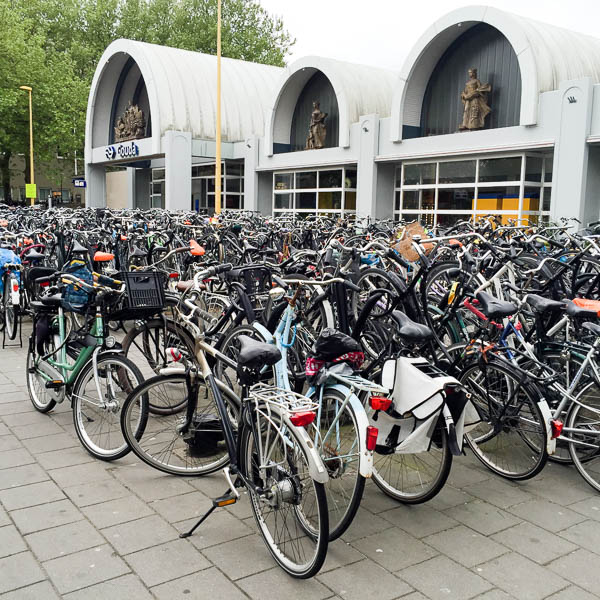 People even hold hands on bikes! Tried it, it's not that easy. (These are our friends, in case it looks like I'm photographing adorable strangers!)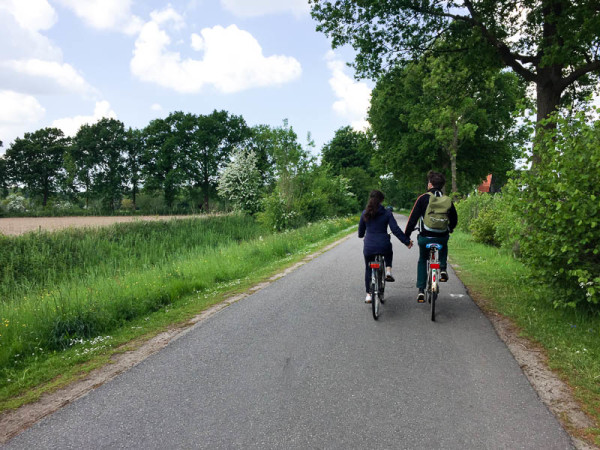 I knew the Netherlands was bike-friendly but wow, it's really a part of everyday life. It's definitely inspired me to get out and cycle more! And possibly create some sewing patterns designed for cycling.
I went to a sewing meetup in Amsterdam and met some fantastic people. I'm nervous to go to a meetup in general, even more so in a different country where I only know a few words of Dutch! Luckily, everyone was wonderful and very friendly. As long as you have sewing in common, the rest is easy! I met Becca (of Becca's Cambie wedding dress!), Janou, Rachel, and Caroline for lunch, fabric shopping and dinner. We went to two places, a quick stop at a fabric store in Amsterdam (A. Boeken) and the famous lingerie supply shop Kantje Boord!
Kantje Boord
This place is fantastic. I'd heard about it on sewing blogs, when I started sewing lingerie, and looked forward to checking it out! It's not right in the centre of Amsterdam but a 40-minute tram ride towards the edges of the city. It's rather unassuming, you can barely make out the sign on the left side of this photo.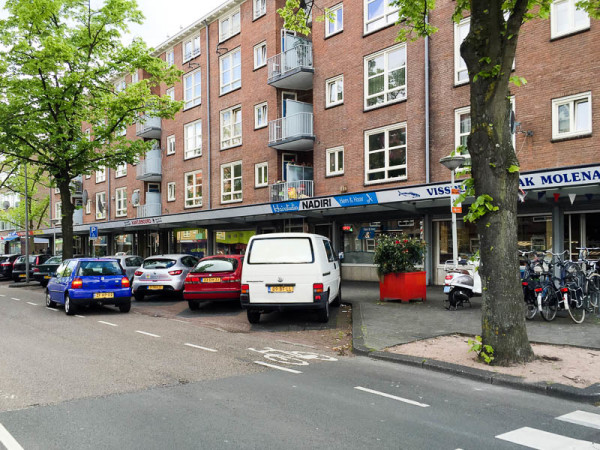 Once you get inside, it's lace heaven!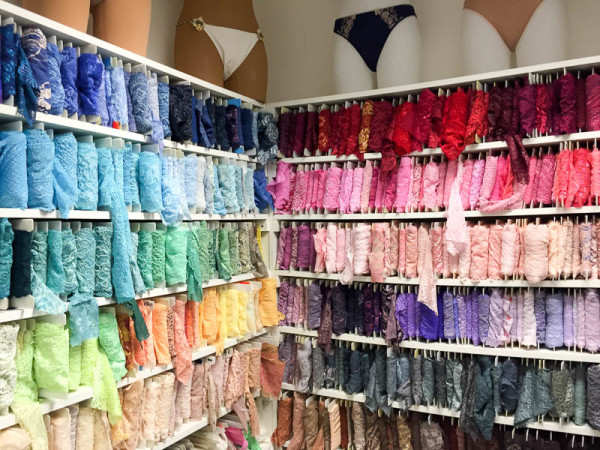 Step back and there's even more lace. That's all wide lingerie lace, most of stretch and some of the more detailed embroidered ones are non-stretch. You can see lingerie samples on the mannequins for inspiration and ideas.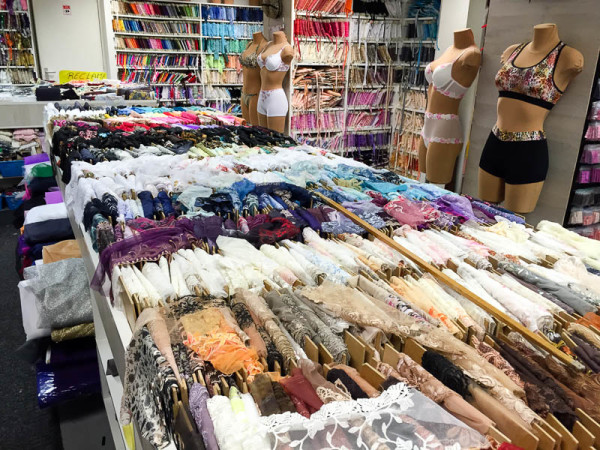 It's hard to make a decision, there's so much to see! Come with a plan and a shopping list, or make it easy on yourself and buy the prepackaged kits. There's a sale lace section where prices are 1 euro per metre. I mostly focused on lace and lingerie kits, but there's everything: elastics, bows and appliques, fabrics by the metre.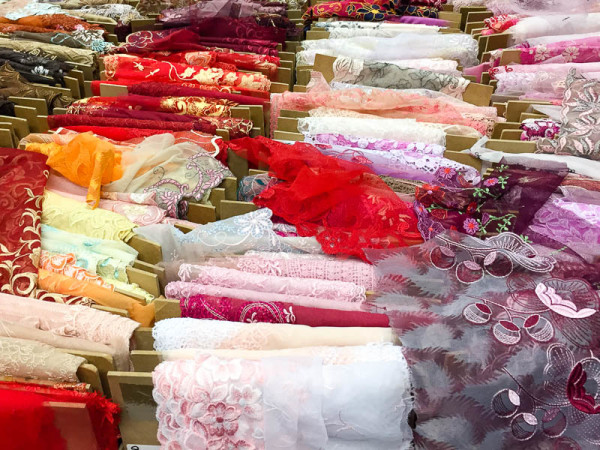 I bought a handful of kits, some are gifts so I haven't taken them apart yet. Once I have ones to keep I can take one apart and show what's included, if anyone is interested.
Some important things to know:
We arrived later in the day and didn't know about the cash-only policy, and needed to run to a bank machine, blocks away! Luckily they kept the store open until we came back, even though it was past four o'clock when they closed. That was nice. Well worth the visit if you're interested in sewing lingerie, swimwear or activewear.
Belgium
We spent a few days in Antwerp and one of them was a sewing meetup day with even more friendly sewing people! We went to the Dries Van Noten fashion exhibit, walked through an underground tunnel to have lunch, then shopped so many fabric stores I lost count. It was at least six and probably more, all within walking distance. Big thanks to Lieke, Anneke, Hanne, Stephanie, Anske, Caroline, Janou and Hilary for a fun and memorable day!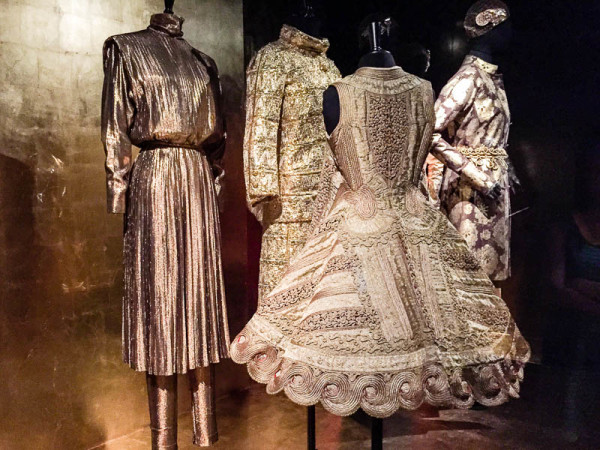 This is in the fashion museum – we were crouching down to look up the skirt and see what makes it stand out like that. You know you're with your kind of people, when everyone wants to see the insides of the couture garments as much as the outsides! I was mesmerized by the videos showing how the garments were made: the beading, the handwork, the careful crafting and attention to detail.
The one place I bought fabric was Julija's Shop, out of the many fabric stores we stopped in! It's a beautiful store.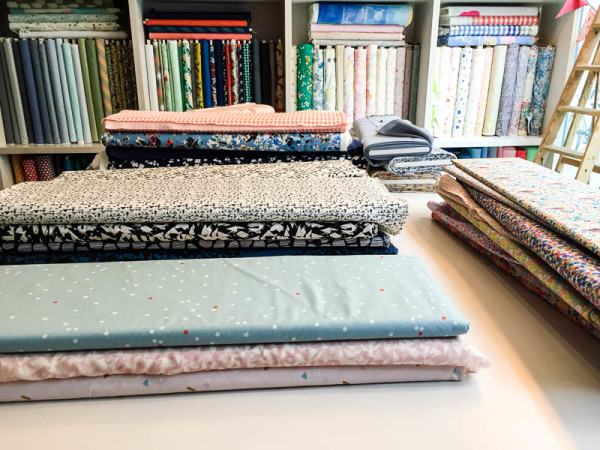 This will make a cute skirt: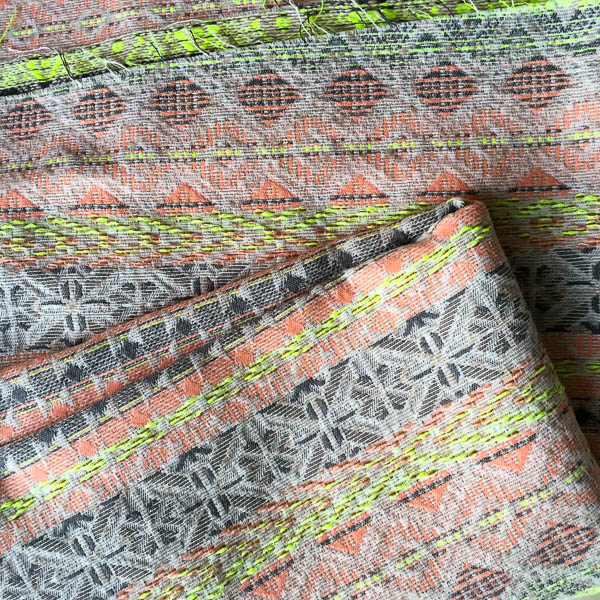 and this, a Granville shirt!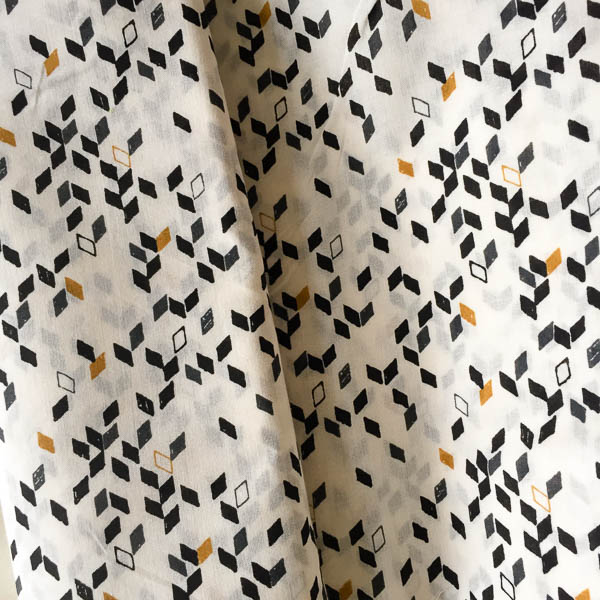 For cycling, Antwerp is a little less bike-friendly than the Netherlands, but they do have a bike-sharing program! I got to ride one of these cute red bikes at the start of our sewing meetup.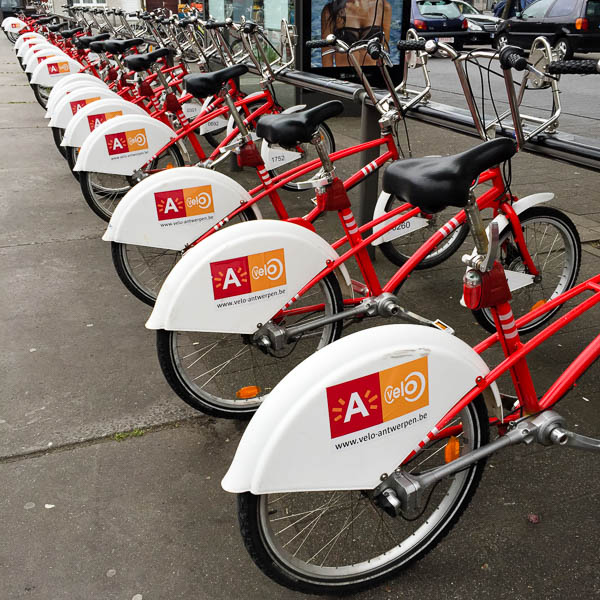 Our time in Antwerp was short, but it was unforgettable because of the people we met. I'm really fortunate and thankful that through sewing and blogging I was able to connect with people across the globe and make new friends. The internet is wonderful that way, bringing people together over one common interest, people I'd never have met otherwise!
Crafting on Holidays
I didn't bring a knitting project to save space. I thought that was a smart choice, so I'd have more room to bring back souvenirs and such. For the first few days I was fine, but even on holiday you have downtime or waiting time. After six days of no creative activity, I picked up needles in a grocery store and cast on with the Icelandic wool I'd bought as a souvenir. I'm the sort of person who likes to keep busy, even when I'm supposed to be relaxing!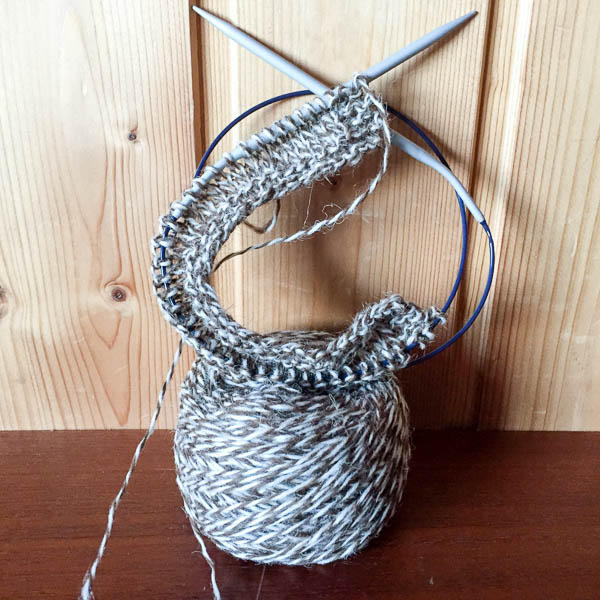 I did bring a notebook to record design ideas, garment details and inspiration. There's always a notebook in my purse or bag at home, and I knew it would be nice to have a place to write and sketch when ideas come.
By the end of the month I was so excited to get back to sewing! Plus now I have a notebook filled with new ideas. Spending time with people who sew gets me totally inspired. Creative people are inspiring to be around, and that's how I'm feeling – creatively recharged.
Three Travel Tips
Forever map! My number one travel tip. It's an iPhone app with an offline map that shows your position in real time. Download the country or city you're going to and favourite your hotels and attractions while you have internet access. Then even without internet you can find your way home, or from place to place.
Duolingo to learn languages. It's another app that teaches you a new language, but in a fun way like a game. I love learning new things, especially something I can try out right away, so I started learning a few words of Dutch. I can translate most of a menu, apparently food is my priority for learning words.
The Google translate app lets you photograph text, like a menu, then it scans for words to translate. Super helpful for menus, street signs, posters. It also saves the things you've looked up offline, so if you see a familiar word that you know you've translated before, you can access the translation in your history. (We were often without internet so having things available offline was super helpful.)
More holiday photos on my personal Instagram account here, if you want to see more!
I've felt this before but there's nothing like a holiday to remind you of the beauty of your hometown. Vancouver truly is gorgeous! You forget when you see the same mountains every day, see the green trees and forest areas, feel the cool fresh air. I'm lucky to live in a beautiful part of the world, even if I appreciate it most after being away.
Next up: back to sewing, working on our summer patterns, and catching up on things. It's starting to get nice here and I have summer sewing on my mind. If there's anything you want to know about Iceland or bike tripping in the Netherlands, feel free to ask!