Here I am – a Friday workday outfit of pencil skirt, shiny blouse and fitted jacket. Oh and, super-high pumps. My self-stitched item today is a refashion, it's almost cheating on the rules but I'm letting it go today. It's Friday! (Or, it was..)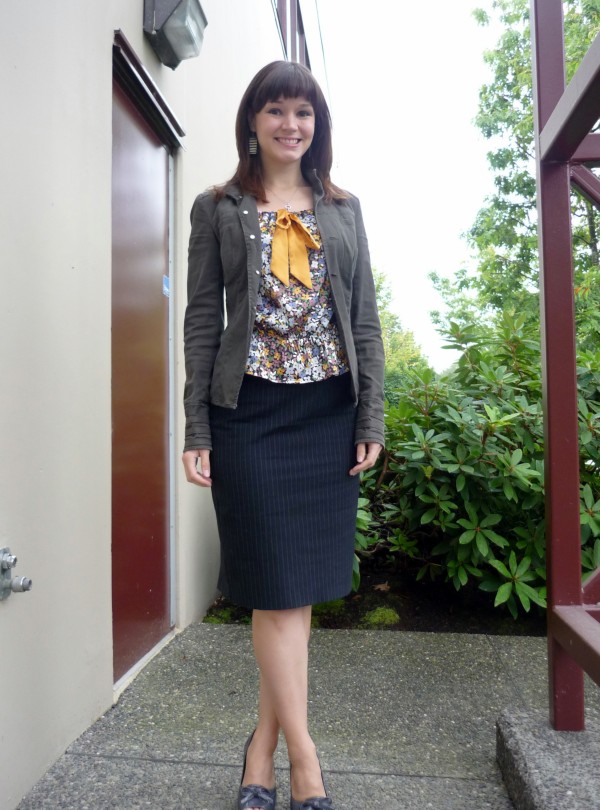 What I'm Wearing, Day 24:
Self-Stitched Top: a refashion of an H&M dress. It was super tent-like so I cropped it at the hip and added the elastic waist.
Skirt: Plum, bought around Christmas 2007.
Jacket: Smart Set, one of the oldest things in my closet! I know I bought this before 2005 but it could even be older than that.
Shoes: Nine West, purchased January 2008.
See the top in another outfit here! (Ok, it's the same skirt. Basically the same outfit!)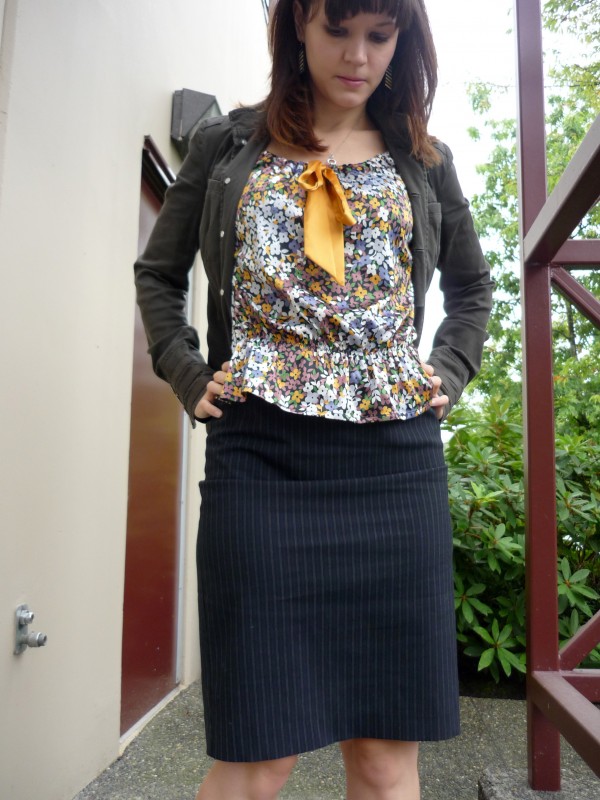 I feel like I'm losing steam on Self-Stitched-September and I'm wondering why? Is it the gloomy wet weather? Is it because this is the second time I'm participated in a challenge like this? Or, is it because I'm not prepared with a wardrobe full of Fall clothing, so I feel like I'm scrambling to put something together in the mornings?
I'm betting the trick to success at a challenge like this is to have plenty of options that work for the season. But it's not just that, it's also sewing items that coordinate well. Shannon is a wonderful example – she's sewing a beatifully coordinated wardrobe! Every skirt has a top to go with it, she can even mix and match her items together. So smart!
And then there's my sewn wardrobe, a mish-mash of summer floral dresses and a few solid skirts I've relied on this month. Oh yes, and a few pretty Pendrell blouses in the mix. If I were to do another cold-weather challenge, I'd definitely prepare with warmer pieces! A coat or two, more solid skirts and dresses, and even a pair of pants or two would sure have helped. Ah well! More reasons to get back to the sewing machine then.
How are YOU doing with Self-Stitched-September? Gung-ho and ready to rock every morning? Or wishing you had more _______ in your closet – fill in the blank with the item you're lacking… Overall, has it inspired you to sew more and build up your handmade wardrobe? I know I'm pumped to sew more but that's no surprise! How about you?