Hey everyone, I'm back! I'll start posting regularly again starting this week. I missed blogging and hearing from all of you guys!
What have I been doing? All kinds of things! I didn't really take a break from working, but I did enjoy some quieter time to think and plan.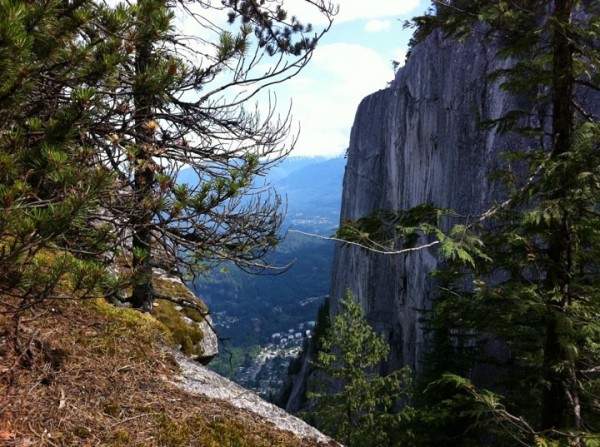 I hiked up a mountain! My sister and I climbed the Chief, a beautiful but intense hike just north of Vancouver. See that cliff there? We're on the other peak and literally, we're at the edge of a cliff. You have to climb a ladder and pull yourself up with a chain to get to the peak. I'm a little afraid of heights, but I did it! This is a really rewarding hike. Afterwards, you're so happy that you did it!
I've been thinking about Sewaholic Patterns and what I want it to be. I've set some ambitious goals for the business, and have several exciting plans in the works. Stay tuned for more!
I did what Jessica suggested and sewed something just for fun! Here's a sneak peek: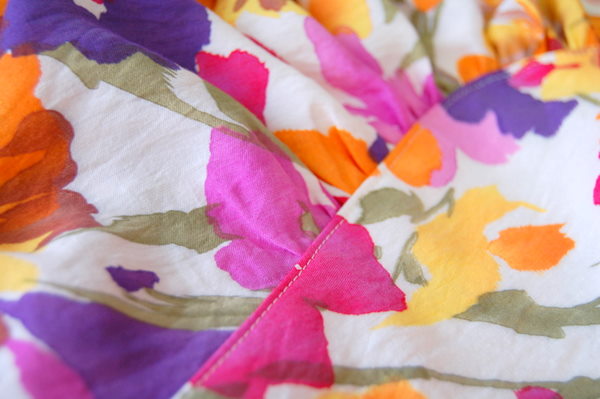 Doesn't give you much of a hint, does it? Can you guess what it is? I love the colours in the fabric! (A floral print! Are you surprised?)
I've also been knitting. Want to see what I've been making? Can we talk about knitting projects on a sewing blog?
I've been thinking about sewing for fall and planning Fall projects. I really enjoy sewing for fall! Wools, textured fabrics, tweeds and corduroy are so luxurious and fun to work with. I'd say it's my favourite season to sew for, but I equally love sewing for Spring – bright colours and light fabrics are so refreshing after a cold and rainy winter! It's the change of the seasons that I enjoy.
Speaking of sewing for spring and summer, I loved looking at all of your finished Lonsdale dresses linked in the comments to this post. So many gorgeous projects! So many great ideas and inspiration if you haven't sewn up a Lonsdale dress yet.
September is just around the corner and I'm debating whether to participate in Self-Stitched September. Would you be interested in seeing self-stitched outfits (along with other posts of course) during the month of September? Are you participating?
That's it for now, but there's certainly more to come! Happy sewing, everyone!