Here's a story about how amazing the internet can be. It started with a simple question, and ends with me receiving these absolutely gorgeous 1950's dress patterns!
First, the patterns: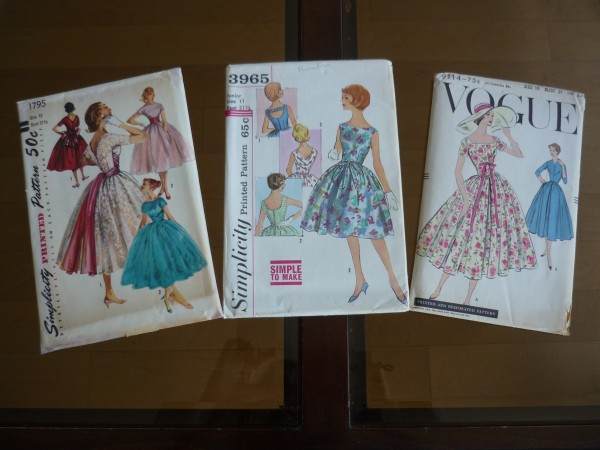 Three beautiful 1950's dresses! From left to right, Simplicity 1795, Simplicity 3965, Vogue 9114.
The first dress on the left has the most fabulous dramatic sash. Love it! My sister's going to make it first, as someone's vintage-inspired wedding dress. I hope I'll get to see photos of the finished dress!
The middle one is a simple, full-skirted style with back neckline variations. I've just started watching Mad Men and this is such a Betty Draper dress. (Such a great show – I'm hooked!)
The last one's my favourite! Look at the pretty bodice details. For once, I've picked a pattern that would be equally gorgeous in a fall fabric – lightweight wool crepe, maybe a tweed, or a muted fall floral print. Of course, I still absolutely love the floral print with a big contrast bow!
Ok, so how did I end up with these lovelies?
When I first announced my 100 Follower Giveaway, I received an email from Heather, asking me if I could give her directions to Button Button for the next time she was in town. I replied with detailed directions by transit, and we started chatting back and forth.
And then the best part – she says: would you be interested in an exchange? Vintage patterns for vintage pound bags of buttons?? Turns out she'd acquired a collection of vintage patterns and the puffy-skirted ones weren't her style. (Lucky me!)
We worked out a deal: I'd pick up her buttons and send them to her, in exchange for these three patterns. Pretty sweet, don't you think? Uncut, factory-folded vintage patterns, in my size. It was meant to be!