I whipped up a cute little dress this weekend! It's a vintage McCall's pattern from 1965, purchased on Etsy from this lovely seller. It was the open-back detail that sold me on this one, that and the little bow belt. So cute!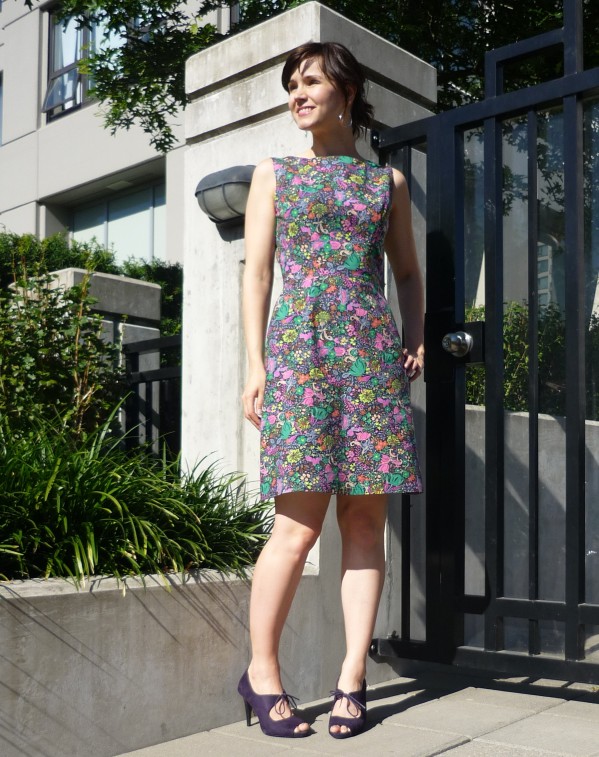 The fabric is vintage as well, also purchased on etsy from this seller. I'm thinking I may have a slight Etsy weakness. I love getting packages in the mail! It's even worse than regular fabric shopping, because everything seems like the last great deal! Get it now or never, is what I hear. I choose NOW! Anyways, even though I bought the fabric long before the pattern, it reminded me of the cover illustration fabric so it was a good choice.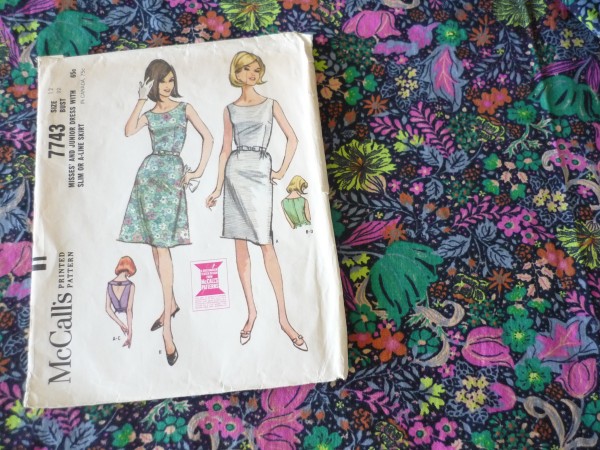 Look at the cute button-tab detail! If you look closely, you'll notice it's the only place where I've topstitched. Well it wasn't supposed to have topstitching, but I made a mistake. Technically, I didn't make a mistake.. I was so excited that I skipped reading the instructions, figuring it was so simple I could put it together on my own! Turns out, I could, but not in the way it was meant to be constructed.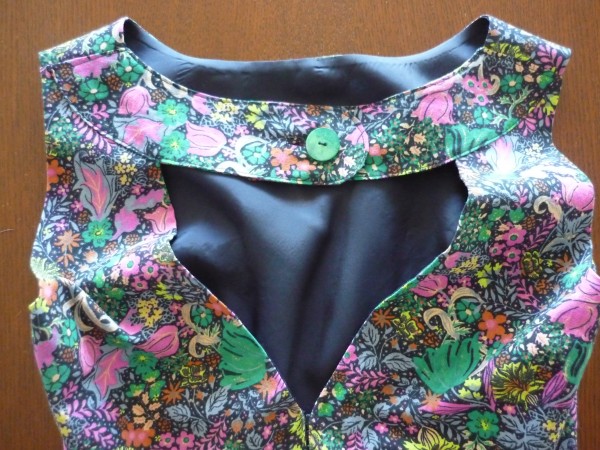 I was supposed to sew the tabs only part of the way, and leave them open to be sandwiched around the bodice edges. Instead, I got a little overexcited and sewed all around the tab edges. I had to unpick the seam (which was already trimmed and clipped!) and topstitch the tabs on.
Once you start 'improvising' none of the next steps work, either. I did some creative construction work getting the shoulder seams done too. When I make it again (and I will! it's too cute) I'll be sure to actually follow the instructions next time. I'm lucky I chose a busy print for my trial run!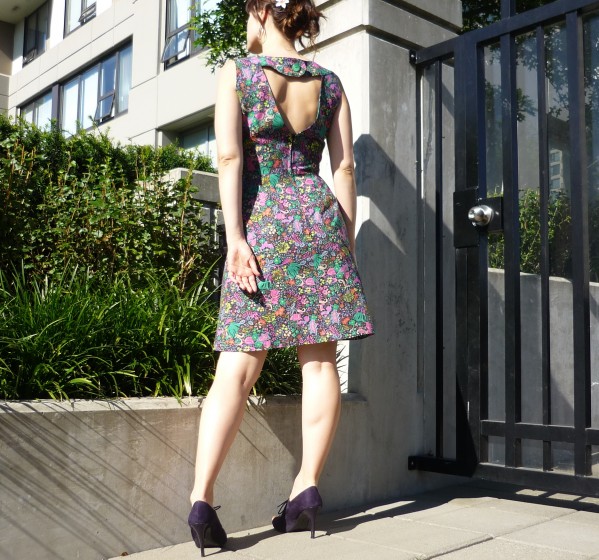 Bound buttonhole again, too! I love that all the vintage patterns ask you to make bound buttonholes. Especially if there's just one, then it's not too tedious, and adds such a tidy professional look!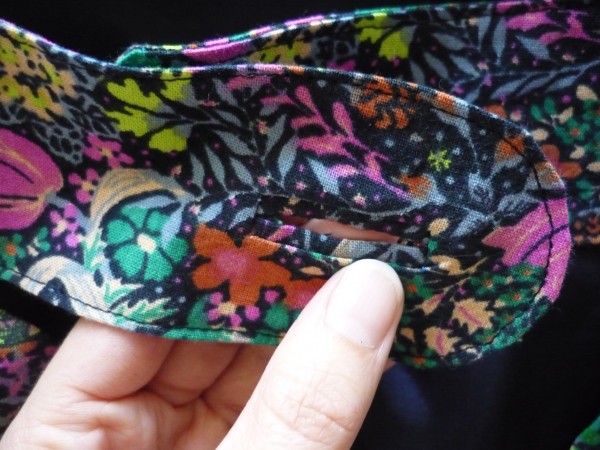 You know you're addicted to sewing when you're up before the sun, sewing a bound buttonhole before heading off to work…yes, that's how this one happened. It's also how the 'mistake' happened. Early-morning sewing can be dangerous!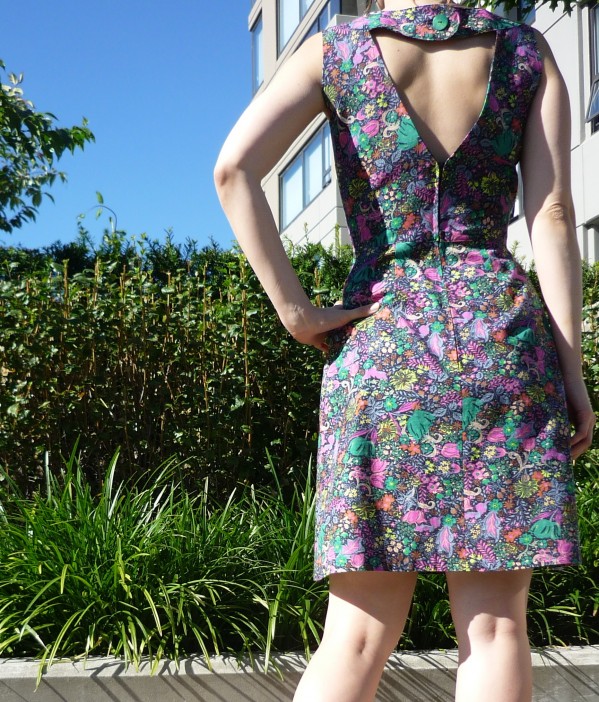 Actually, the button is vintage too! My apologies to the vintage purists who are reading this, as I have probably mixed different decades together. Although, the pattern is for sure from 1965, the fabric is estimated to be from the 60's, and the buttons could be 50's or 70's. So I'm in the ballpark at least.
I started to make the bow belt because it was cute, but decided it was a little over the top. It was the one detail that took the dress from modern interpretation to almost a costume. The dress itself looks great with a belt… just not this one. Do you agree?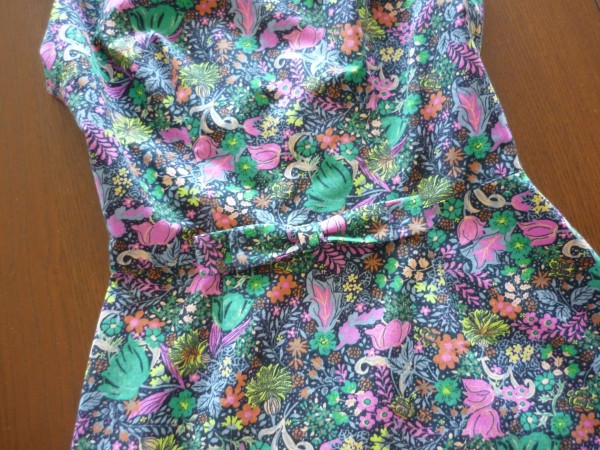 I still think the bow part is still super pretty. I'd make the bow belt next time on a solid colour version, maybe something super classic like a black and white print, with a red belt.
The person who made this pattern first made the A-line version like me, but without the open back detail. I wonder what kind of fabric she used?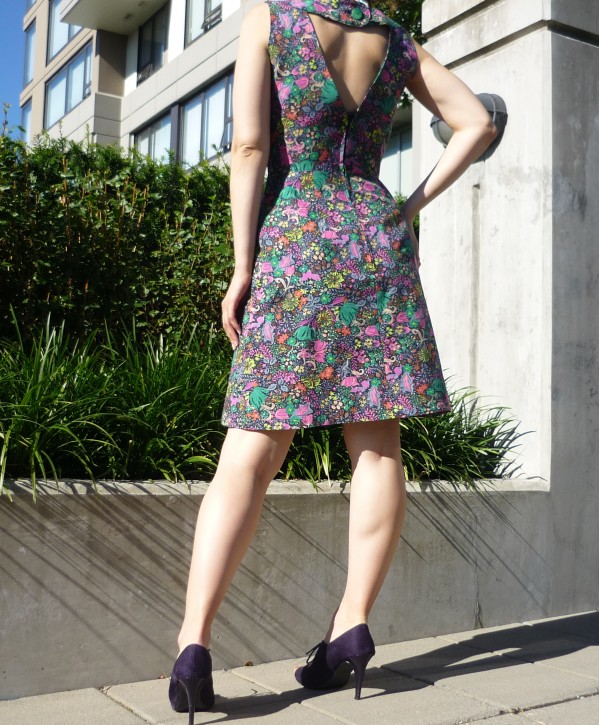 Also, I thought about using an invisible zipper in this style, but you can't! (Not if you follow the instructions anyways.) The lining is sewn to the bodice and turned along all edges, including the centre back seam above the waistline. So when you pull back the zipper seam allowance, you see lining! It's a different way of doing it, but looks quite nice in the finished dress, and works well if you want to hand-pick your zipper. Which I did!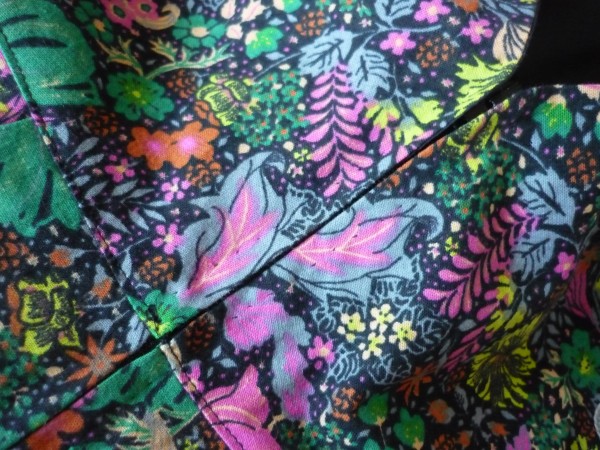 I admit, I zigzagged the skirt seam allowances because I was too lazy to change the serger thread. Is that bad? It was on white, and I was planning to use white for my next project, and the bodice of this one was fully lined so it was just two seams that needed to be serged. (I can hear my mother right now. "Tasia! Change your serger thread, don't be lazy!" Ok, she probably doesn't actually say the 'don't be lazy' part but I'm sure she thinks it. She may be right, but she wasn't there.. so I zigzagged.) The one thing to note is that compared to serging, zigzag is slow. Next time, I'll serge.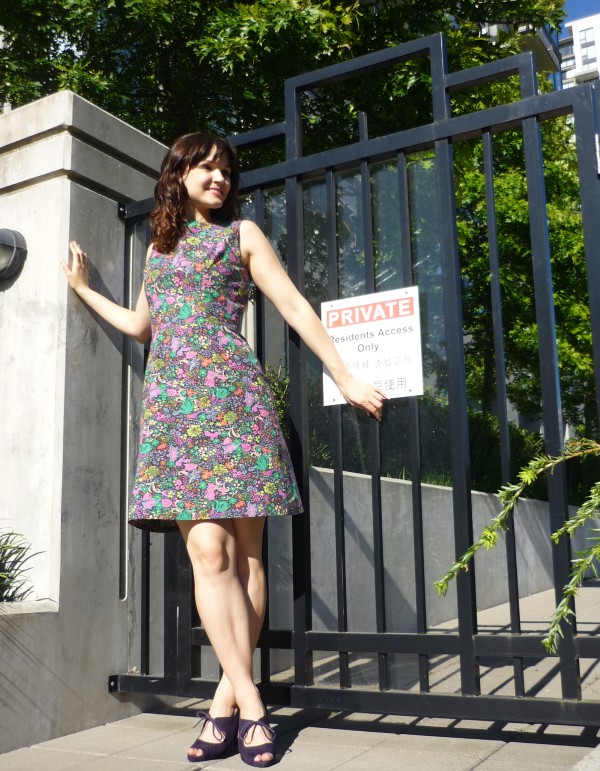 The only change I made (besides the adventures in topstitching) was to shorten the skirt by six inches. Wow, I'm short! I'm especially short in the legs, sadly, so anything mid-calf length looks very frumpy on me.
I love this pattern, it's a simple shift dress but it has a few key things that make it worth making again. The fit is really good, I'd make a few minor tweaks but overall it's quite flattering. The open-back detail is fun and sexy on an otherwise simple dress. And it's a great little dress pattern to use smaller lengths of fabric.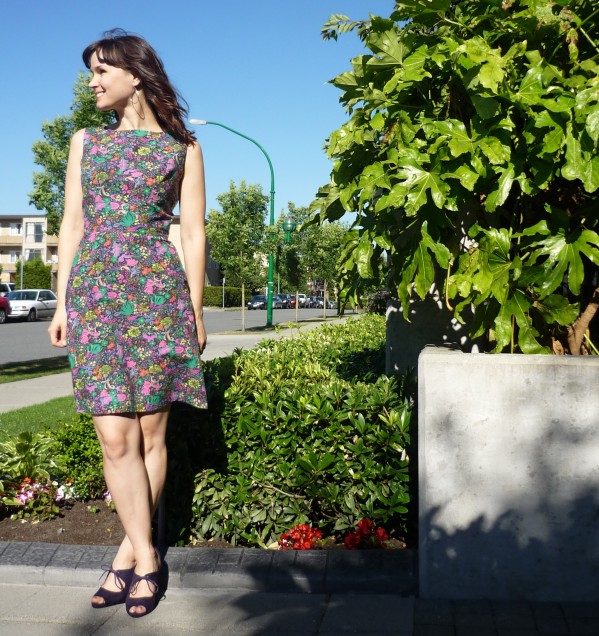 Even though I seem to always sew crazy bright prints, this would be a perfect dress in black, or red, or coral. I love the idea of choosing just one awesome button for the back closure. Simple in the front, then turn around and surprise! A sexy little peek of skin and one great button on the tab closure.