When I saw this fabric, all I could think about was making it into a skirt. A cute, flippy quilted skirt, with interesting texture that makes an outfit look cool and modern. When it arrived, I was supposed to be working on pattern instructions, but I took a break to sew up a cute quilted skirt.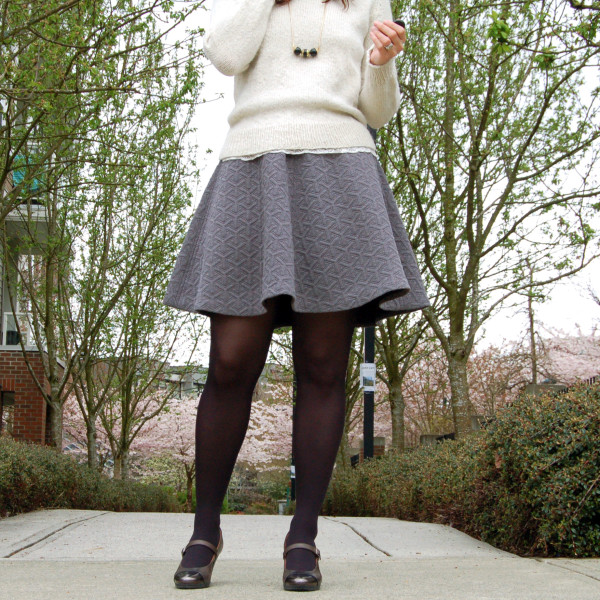 Fabric is from Telio. It's soft, like a knit, but with a thick quilted texture. (Kind of like paper towels, which why it's best not to buy these types of fabrics in white.) It's 82% polyester, 16% rayon, 2% spandex so it stretches! Though I wouldn't want to make a tight-fitting quilted garment. Or would I?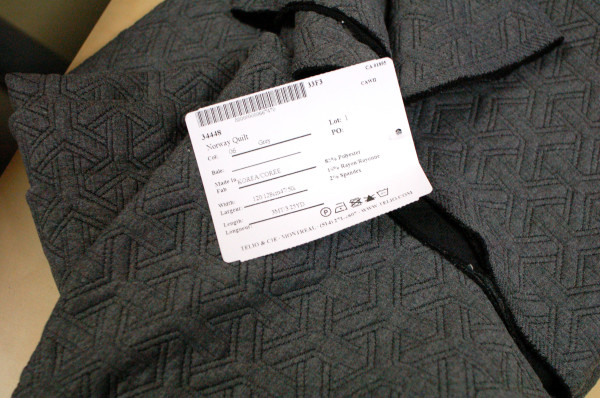 You can cut this fabric with scissors, but it is a bit hard to cut through. You can also use a rotary cutter, though I had to press harder than normal, and it pulls and moves as you cut due to the stretch.
Here's my original inspiration: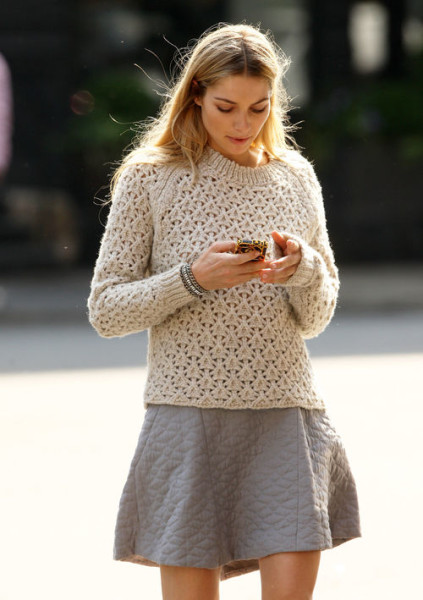 I feel like I found it somewhere knitting related, talking about the sweater, but I liked the skirt too. I like the whole outfit, neutrals with texture.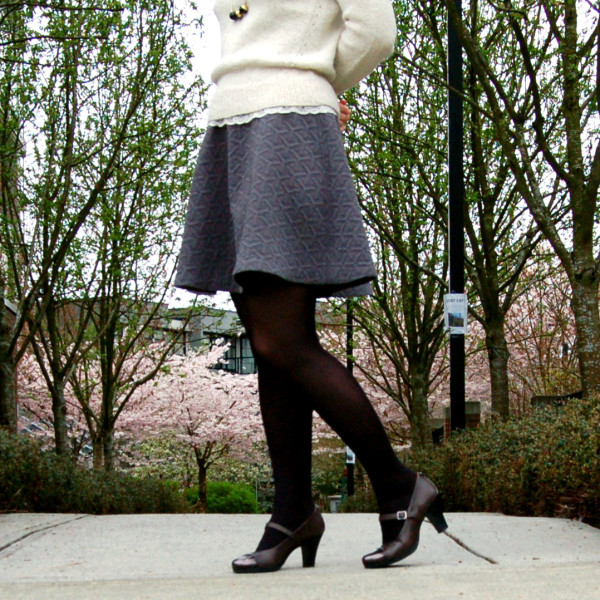 It's the Hollyburn Skirt pattern, View C, sans pockets. I felt like they'd be too thick and lumpy in this fabric.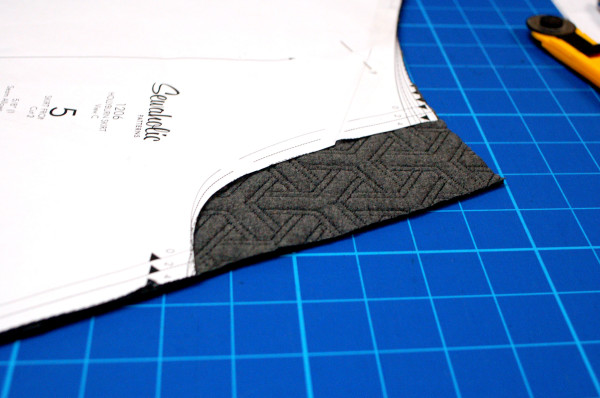 If you remove the pockets from the Hollyburn skirt and leave off the side tabs and belt loops, it becomes a very simple pattern to sew! Even simpler than the original design, which isn't complicated at all. Three pattern pieces – front, back, waistband – and only simple seams to sew.
I went with black thread because the inside of the fabric is black.
This fabric is spongy, and doesn't press well. So I topstitched along either side of the seam. I tested it out on scrap before topstitching the skirt itself because I was concerned topstitching wouldn't blend well with the quilted texture. Luckily, I think it's all right, and it keeps the seams open so they don't look unpressed.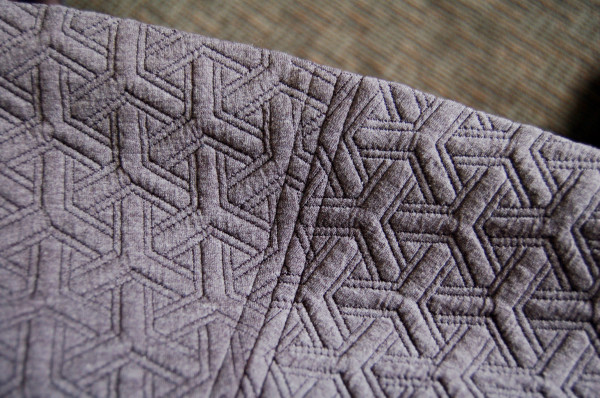 If you have a fabric that won't press well, topstitching is one option to keep seams in place. Just make sure you finish the seam allowances BEFORE topstitching. I'd imagine on many fabrics, you won't need to finish them if you plan to topstitch because the line of topstitching will help reduce fraying. Test on a sample before deciding on a plan.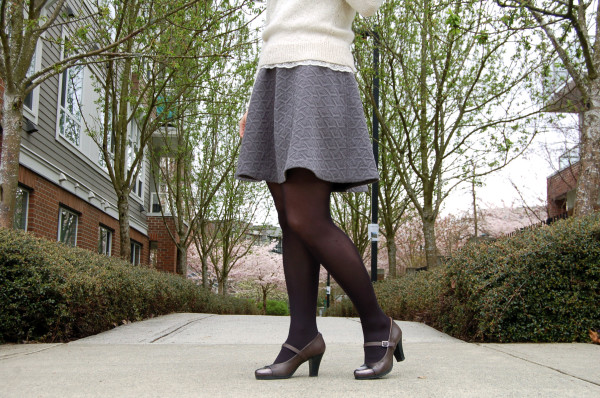 I'm still not 100% certain I like the topstitching, but I didn't want lumpy seams, and there would be seamlines no matter what with half-sections of quilted lines. I could have cut the skirt front on the fold, eliminating the centre front seam, but then the flare and silhouette would change. And I really like it the way it is, in a thick spongy fabric like this, there's a risk of it standing straight out in an exaggerated A-line. Likely I'm just being overly critical because it's my own project, if I saw it on someone else I'm sure I'd love it!
I also pressed the waistband seam open. This is pretty unusual, but I remember reading about it in Making Trousers by David Page Coffin. He talks about reducing bulk a lot and one of the ways to keep your waistline smooth is to press your waistband-to-trouser seam open. This will also make the zipper easier to insert, more so than if both seam allowances were pressed in the same direction.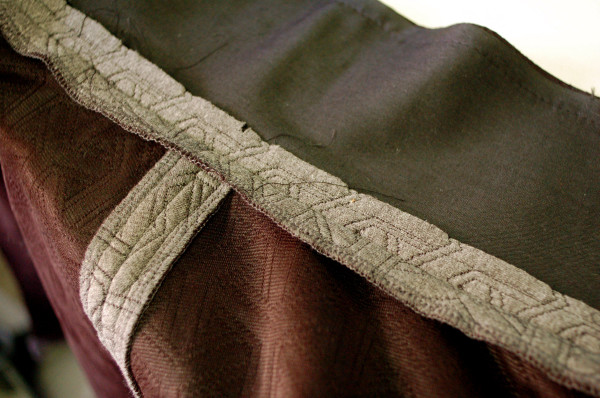 I finished the lower edge of the seam after pressing it open. The upper edge was going to be enclosed in the waistband, so I trimmed it down to reduce bulk.
I also trimmed the seam allowance at the zipper. It would have been even better if I hadn't caught the edge in the serging, but I can really feel the difference before and after trimming.
Definitely baste the zipper first, in a fabric like this. Unpicking is hard to do when your stitches sink into the fabric's surface.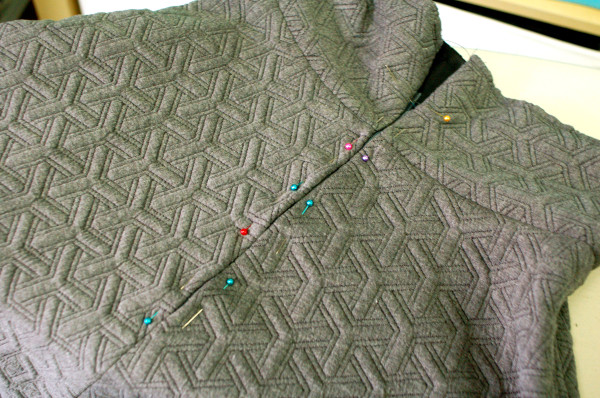 Then I realized: I'd topstitched all of my other seams, why not topstitch the centre back seam from the bottom up and just keep topstitching along the zipper opening? It worked so well! What an easy way to set in a back zipper.
I finished the top edge of the waistband, and when I went to fold it to the inside, realized it would line up nicely with the other finished edge. This also meant I could stitch in the ditch to close the waistband. In a fabric like this, the stitches would definitely sink into the ditch!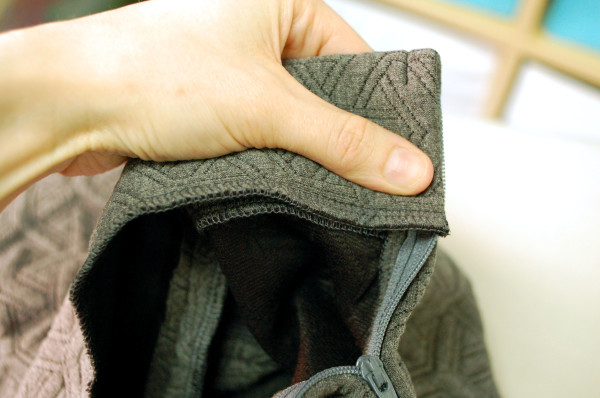 I pulled the lace trim when I sewed it to the hemline, so the edge of the hem would curve without puckers. I can't say exactly how much I pulled, I went with my instincts. It worked quite well! If you wanted to be exact, you could press up the hem, and then measure the circumference of the skirt where the hem edge falls.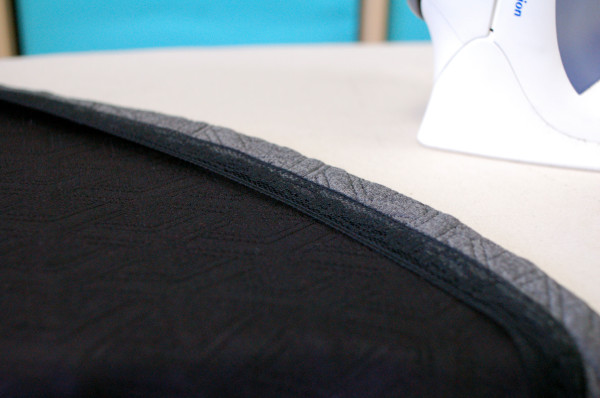 I wanted to topstitch the hem for speed, but knew it would look so much better without visible stitching. So I hand-stitched it. Actually, I started hand-stitching it but it was turning out very round and puffy! So I ripped out my hand-sewing, inserted fusible web into the fold of the hem and basically glued the fold flat. Kind of wish I'd thought of this before closing the waistband as it would have looked nice with a good crisp fold on top. Also, now that I think of it, it would have held my seam allowances down too! Ah well. Live and learn, at least I can record the information for you and for my future self.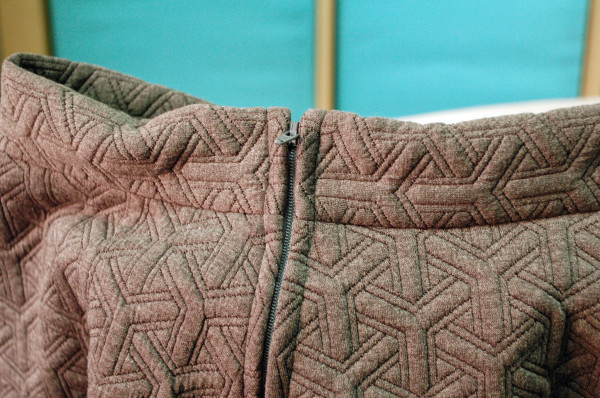 Handling this puffy fabric required a little extra thinking, but I really like the end result!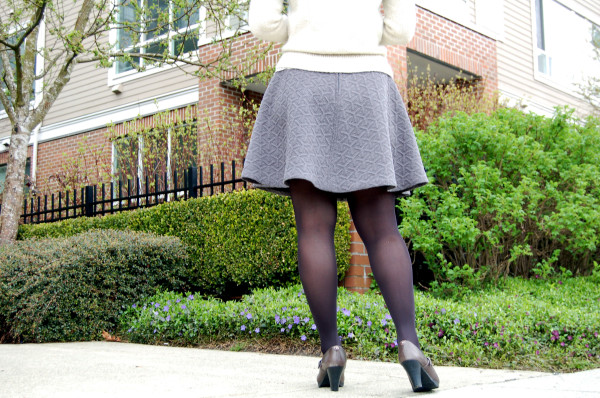 Wouldn't it make a cool bra? Maybe I'm just obsessed with bra-making but I can totally see a long-line bra sewn in black and quilted grey panels. Black straps and elastic, maybe?
I think this is my way of sewing basics (cake, if you will). I can sew simple styles in versatile colours, but there has to be a little something extra to hold my interest. In this case, it's the texture of the quilted pattern. It's a grey skirt, but it's not a boring grey skirt.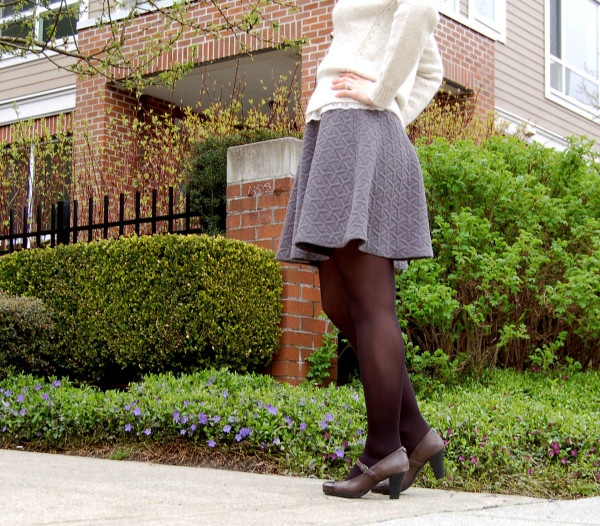 I was hoping for a modern, cool textural look. Something a little out there, but still wearable. What do you think?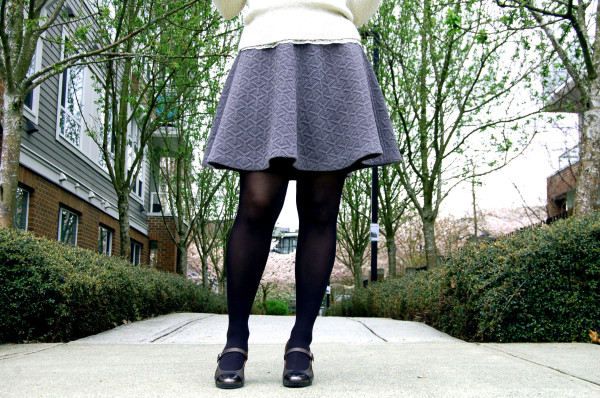 Ps. I made the sweater in these photos! More on it later.