Hello wonderful readers and fans! (Can I say fans? Ok, my readers and family then!) Tomorrow I'm going on a much-needed holiday with the love of my life Mr Sewaholic, who is likely never going to be named by name now that I've started calling him that! And technically he's not officially my "Mr." yet – can I say yet? Ok. You can see I definitely need a vacation, I'm rambling!
I didn't want to leave you with a picture-less post – so here's a shot of Vancouver and the Lower Mainland from an airplane, departing from YVR (Vancouver International Airport.) Pretty! We're leaving during the daytime, so it will look much like this tomorrow. Oh man, I'm excited. Just looking at this photo is getting me pumped up to leave!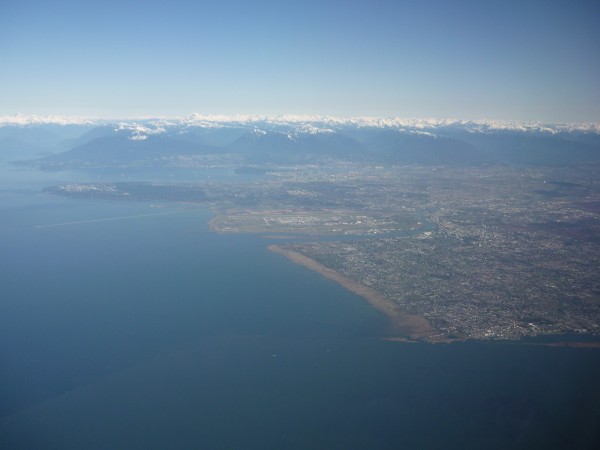 I had so many things I wanted to make and wear on holiday. In my mind, I was going to churn out a mini-vacation capsule wardrobe of coordinating pieces that didn't need drycleaning or a lot of ironing. And yet somehow, here I am getting ready to leave without that well-planned wardrobe. Oh well, that's life! And really, can I complain? I'm going away with my favourite person, to new and exciting cities across the continent. I don't have to work (hurrah!!!) for almost three weeks. And it's August, the tail end of summer, which is always the best part. I want to soak up every last moment of summer before the fall weather (rain, rain and more rain) hits.
And, I'm taking my sewing machine in for a tune-up while I'm gone! It's the only way I can bear to be apart from it. I haven't had it serviced ever, so at least seven years. Yikes. When I come back it will be in fine working order – and may even be able to do buttonholes without eating my projects. (See, Clare, I'm taking it in!)
I've planned a few posts to go up while I'm away, and if I can I'll try and post from the road! (The hotel, the pool, the fabric stores… wherever.) But I won't be reading or replying to comments until I get back. I'll miss hearing about your sewing adventures and look forward to the million updates when I'm home again.
Take care everyone! I'll be back officially on August 23rd.