My favourite era for fashion has always been the 50's and 60's because of the full skirted dresses and defined waists! But if you look at coat patterns from that era, most were cut straight up and down, with little or no waist definition. Quite the contrast to figure-hugging 'wiggle' dresses or full-skirted hourglass shapes!
When I was looking for coat inspiration for this fabric, I found myself leaning towards dramatic collars, wrap styles and belted, defined waists on long coats – features you find in seventies coat patterns! And then I started thinking of other fall styles on my mind. I've been searching for the perfect chocolate brown floppy felt hat – also very seventies! I love a good vest (like my Simplicity 2556 glencheck vest), and the most flattering pants and jeans on me are cut with a flared leg. The more I think of it, the more I realize I do like seventies fashion! Tie-neck blouses, vests – even the Lonsdale dress has a seventies-sundress vibe.
So this pattern worked perfectly into my Fall plan! My favourite cover model is the middle one with the faux-fur collar. It's so glamorous and cosy-looking!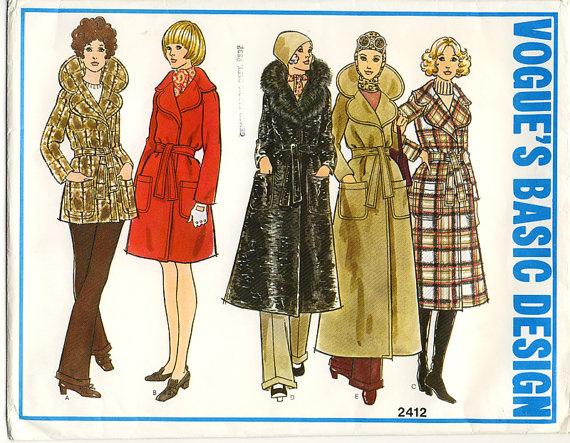 And remember the fabric? It was an awesome Christmas present from last year, that I can't wait to wear and love this fall!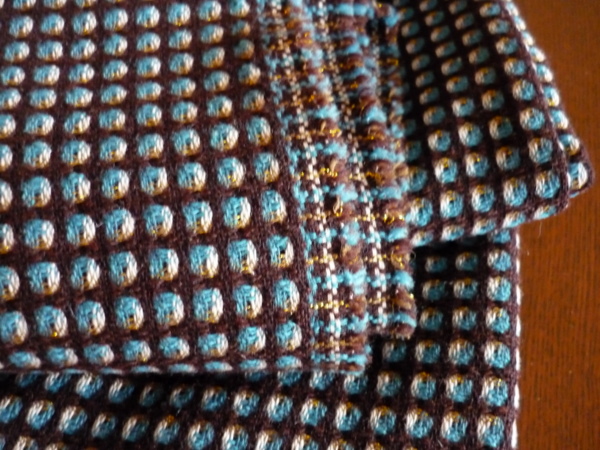 Pretty! I think this fabric will suit the wrap style, plus there are no buttons or buttonholes to worry about. Not that I tried to avoid buttonholes but it does means I'll finish  the coat faster! Someone in the comments of my first coat post said wrap coats can look like a bathrobe – I'm really hoping that's not the case. (That's why I'll most definitely be making a muslin for this project!)
What do you think of the patch pockets – yay or nay? I'm on the fence. Do you think they'll draw too much attention to the hips, or blend in to all the texture and colour? Again, that's why it's a good reason to make a muslin – it's a chance to check design details as well as fit!
That's my big fall personal-sewing project – fabric is ready, pattern chosen! The pattern just arrived yesterday, so I'm excited to get started and see if the muslin looks as good as it does in my imagination. I can't wait to open up the pattern and read through the instructions, and see what all the pieces look like! The fun part about big projects is that once you've settled on the design, it's easy to come up with small projects to match. I see a brown skirt, a teal knit cap, a cream scarf – so many possibilities!