This is quite possibly the most beautiful and complicated thing I've knit so far!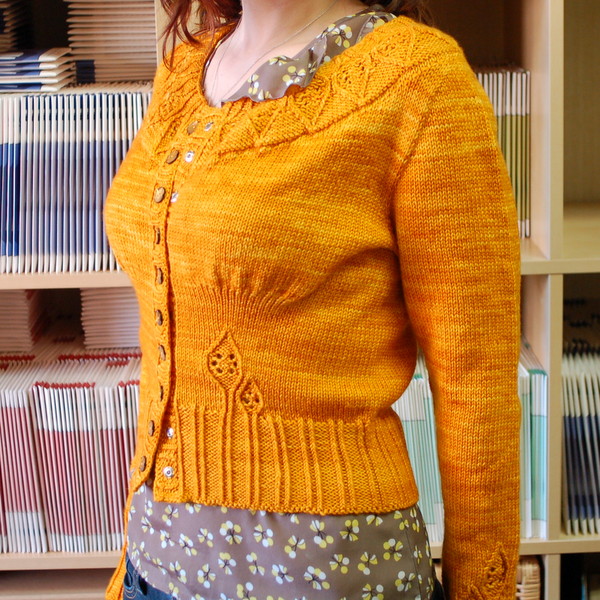 Lauriel is the pattern, the yarn is Madelinetosh DK in 'Gilded.' (Ravelry notes here.) It's a gorgeously bright and sunny yellow! I am drawn to happy colours, and this is definitely a happy colour in my book. (Totally my colour, I know I'll wear it lots!)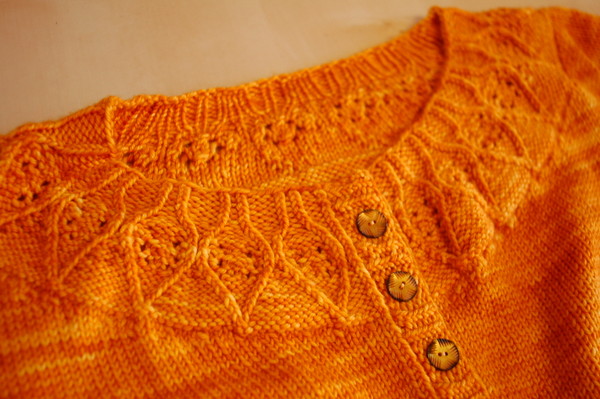 In this project, I conquered a number of firsts: first cardigan, first set-in-top-down sleeves, first time making a button band, first time making something with charts on cuffs and the yoke and the waistline.
I actually started and finished knitting this sweater before the Happiness Cardigan, but took ages to pick out the right buttons and finish sewing them on.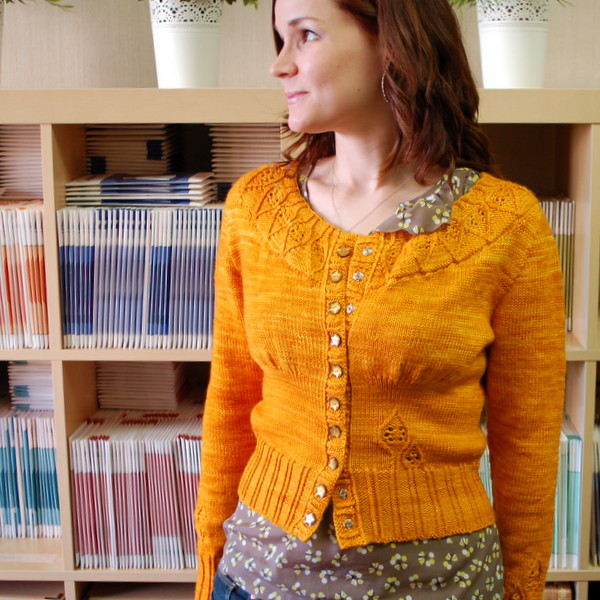 It's soooo pretty. It's so pretty that it needs a simple outfit so that it can take centre stage. (I tried it on over my bright Chantilly and it was total sensory overload.)
I added grosgrain ribbon to the front bands to stabilize them. The buttons are from Button Button and I made myself wait until the cardigan was completely finished before picking out the buttons! That was such a fun part, bringing the lovely sweater to the shop and trying on different buttons until we found the perfect ones.
It's the perfect cardigan for retro dresses and full skirts. The high waistline of the cardigan calls for a full, dramatic skirt puffing out where the cardigan ends, don't you think?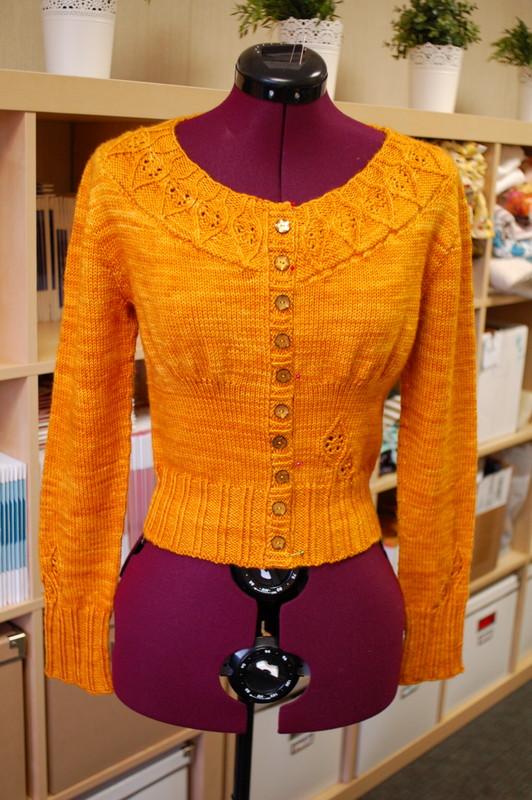 While this sweater was drying, after blocking, I stuffed its bustline with padding. It looked so funny drying on the dining table with a three-dimensional knitted bosom!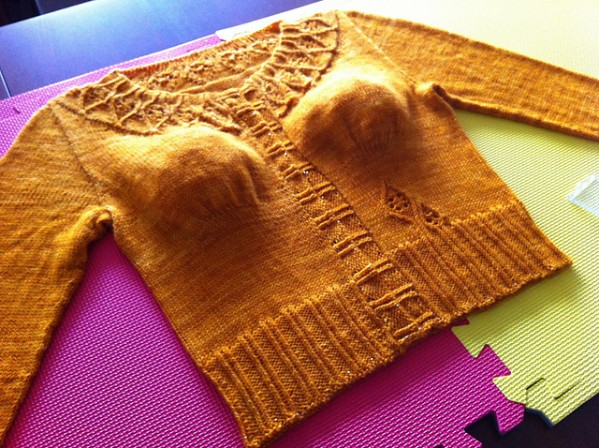 This is a good sweater for busty women. On me, it does fall flat just the tiniest bit. I feel like there shouldn't be any sagginess at the side like there is! Or maybe in my mind, all cardigans are supposed to be supertight. Perhaps ease is all right. I was worried it would end up too tight, but it ended up a little loose instead!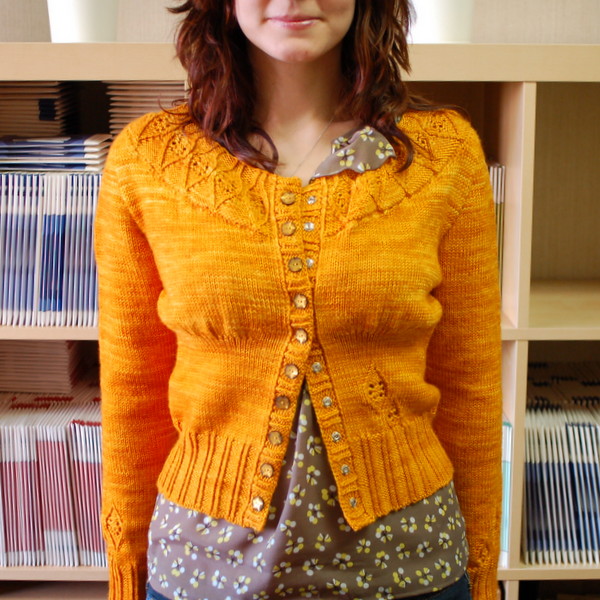 Time to complete: 11 weeks + 1 day of knitting, plus another two months afterwards to sew on grosgrain ribbon, buttons and snaps. (19 weeks total.) A long time.
I love this sweater. I remember trying it on in the mirror and thinking 'I want to make eight more of these!' This is a good style for pear-shaped women, especially in a bright colour. Draws the attention up top, broadens the shoulders to balance out wide hips.
Things I would change? There are often a few teeny things I would change on each project. On this cardigan, the sleeves grew after washing and blocking. I think it may be the weight of the sleeves dragging them down, but they used to stop just below my wrist bone, exactly where I wanted. Now they're covering part of my hand. Which is fine, it will keep me warmer, but I might get the cuffs caught on things as I work.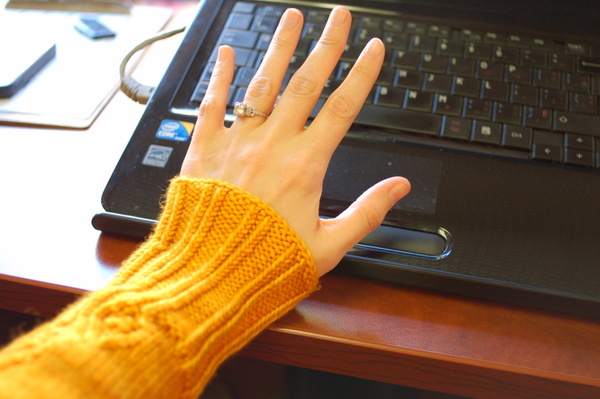 I would also find a way to make it just a little bit smaller. The fit is good below the bustline, but a little too roomy through the bust and shoulders. I think it's the design, as many other people's projects noted the same thing. Next time perhaps a size down on top, blending into the same size below the bustline? It's more obvious from the back view, that this sweater has extra ease. I think I've changed size since I started knitting this one – I started it back in June, nearly five months ago!
Back view pictures reveal a lot, don't they? Looks like I could shorten the length a little next time as well, to get rid of that bubble at the back.
I'm excited to be able to knit cardigans now. It used to be that cardigan patterns were out of my comfort zone, but not anymore! Now that the knitting part isn't so scary, it's time to learn more about fitting my projects to get the look I want. Isn't that how it goes in sewing, too? First we learn how to sew and how to use the machine, how to follow a pattern, and then once we've conquered that, then we focus on fine-tuning the fit.
PS. Thank you for all the awesome comments on sewing blogs and what you like. More thoughts on that tomorrow!
PPS. Thanks also for the comments on my dress project that bombed. Nobody's perfect! Which prompted you to ask: whatever happened to all the things I've started making and never finished? Look for an embarrassing UFO round-up and status update this week!