A lot of you already know how to gather, so this post is for the beginners out there. I was about to gather the skirt for the Picnic Dress and thought – wait a moment, this is a great technique to add to the Sewtionary!
So here's how to gather using machine stitches. There are other gathering methods but this is my usual way to gather, plus it's the method described on most pattern instruction sheets.
First, determine where you need to gather. Sometimes it will be between two notches, or two small circles, other times you will be gathering the entire length of a piece! Make sure you know where you're starting and where you're stopping before you begin.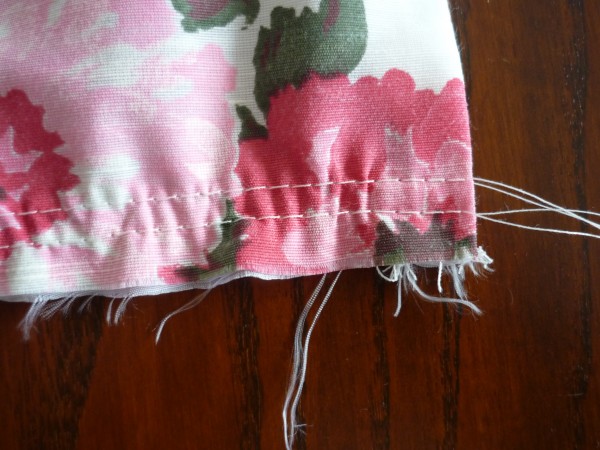 Next, sew one row of long machine stitches – usually stitch size 4 is used for gathering. Sew this first row just inside your seamline, so if your seam allowances are 5/8″ make your stitch line 1/2″ from the edge.
Sew a second row of stitching 1/4″ from the edge. An easy way to make the second row of stitching is to line up your presser foot edge along the first row of stitching and sew!
Now, separate the top two threads from the bottom two threads. Instructions always say to pull the bobbin threads to gather – does anyone know why?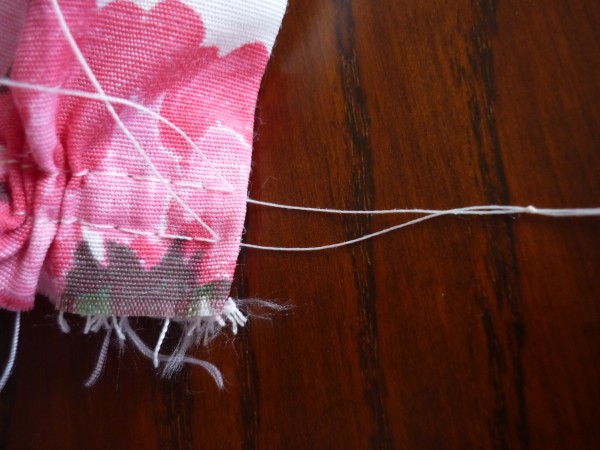 Tie the two bobbin threads together in a knot. Why? Two reasons. One, it will help you easily find the right threads to pull and keep them separate from the top threads.
Two, it will also help you pull up each row of gathering evenly! If you pull one thread more than the other, your gathering will be uneven. Which is not the worst thing, but it's much easier if it's gathered evenly on both lines of stitching!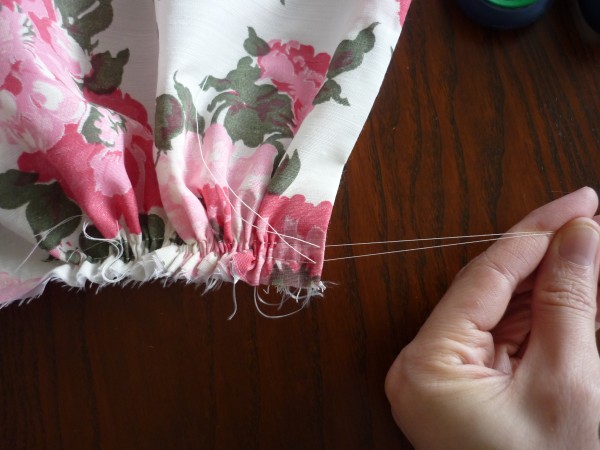 This next step would be better explained if I had three hands, as the left hand is taking the photo! Hold the bottom threads in your right hand, and use your left hand to slide the fabric along the basting threads. Pull with your right hand, and slide the fabric down the bottom threads. You're going to end up with a very long tail of threads in your right hand!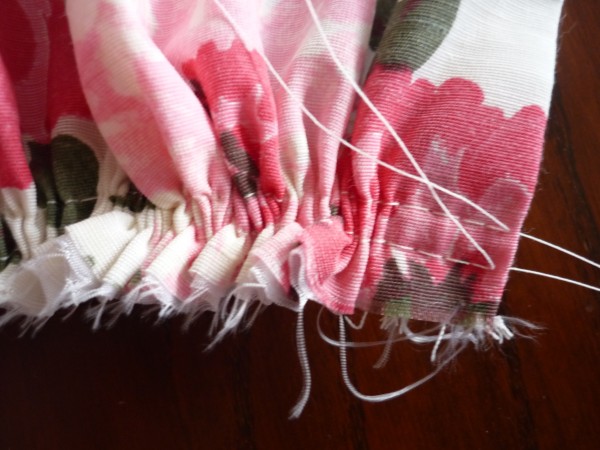 Keep pulling the gathers until they match the opposite edge. You're likely attaching this gathered piece to something else – a waistband, a dress bodice, or perhaps a straight seamed piece. In my case I'm gathering a very full skirt, so I have a lot of gathering to do!
Pin your gathers to the non-gathered edge (in my case, the dress bodice) and adjust them to fit. You can redistribute the fullness of the gathers, if it's more gathered in one place. Just use your fingers to smooth the fullness into place.
I hope this was useful! Do you have any gathering tips and tricks to share with the beginners out there? Let us know in the comments!