I knit this cowl after really wanting a creamy winter white cowl. I knit, so why not knit one? Well, this is a pretty boring pattern when you're no longer learning to knit. It's excellent for practicing knit and purl stitches. However, it's a lot of back-and-forth, switching between knit and purl stitches over and over when you know what you're doing!
I got one photo outside before my camera battery died…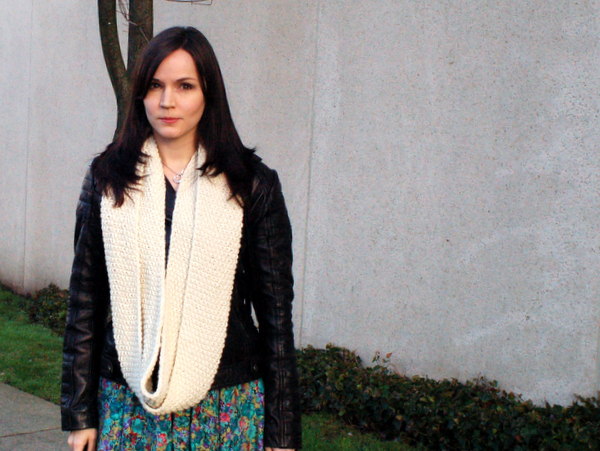 Man, I look mad that my battery is nearly dead!
That's one great thing about sewing, as opposed to knitting. It's not any more boring to sew a beginner skirt project no matter how long you've been sewing. I don't mind sewing a simple project, especially after finishing a complicated one, because it's fast.
Ravelry notes here. The pattern is the Gap-tastic cowl (free! and easy!) and the yarn is Malabrigo Chunky, exact same yarn as I used for my first one (Sunset Cowl). If you are just learning to knit this would be an excellent first project. You'll be a master of the knit stitch and the purl stitch after this one!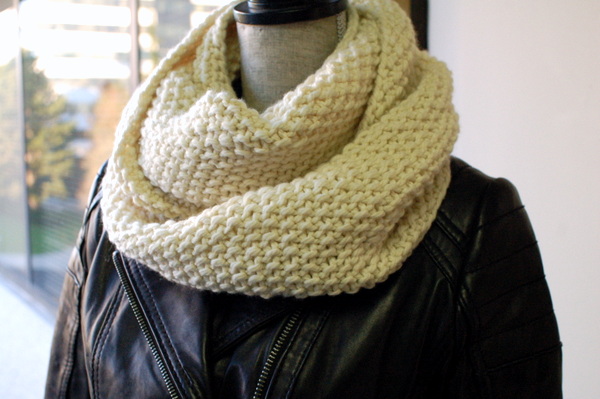 With knitting, and this could just be me, I want to learn something new. I want the challenge of an interesting pattern, or at least, a simple pattern that doesn't have me constantly alternating between knitting and purling, it's hard on the hands. I'm probably ever so slightly faster at knitting than three years ago, but not a lot.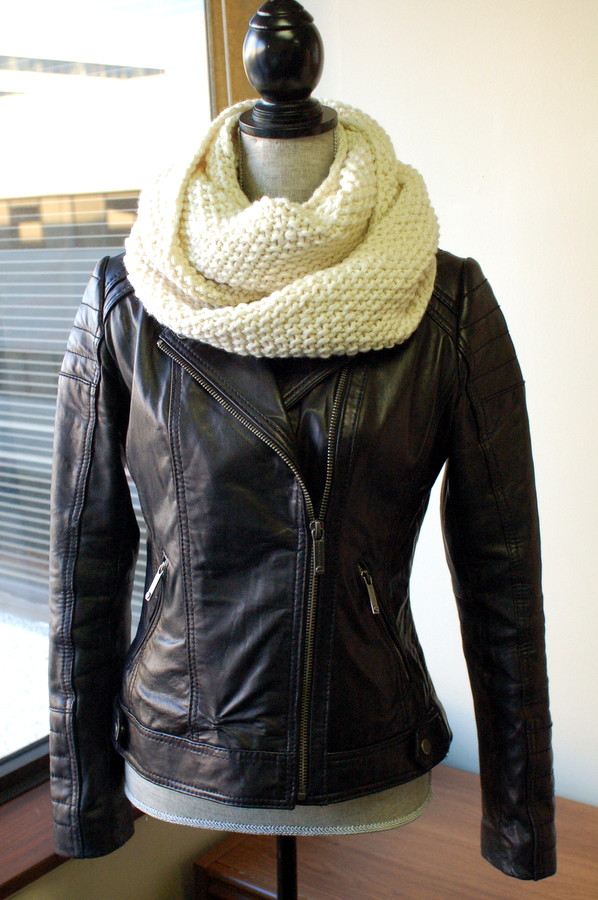 The only variation I made was to use three balls of yarn rather than two. This made a wider and warmer cowl.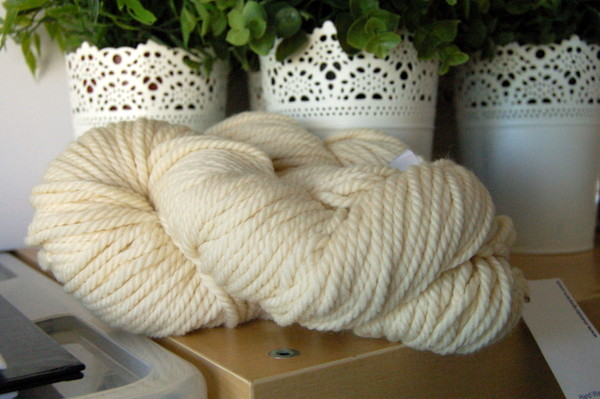 As a comparison, here's the first version of this cowl: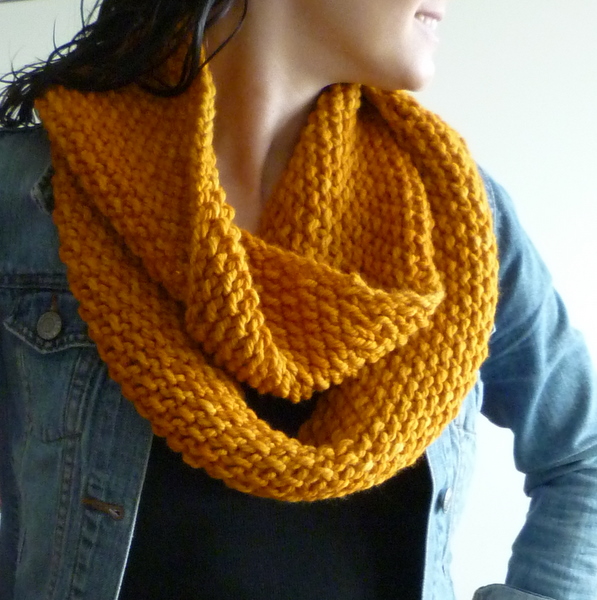 In the first version, I only used two balls of yarn, and I used a too-large needle so it ended up stretching out into a much longer and narrower loop. I could loop this yellow version around my neck three times; this ivory cowl can only loop twice. I prefer the new and improved version!
This was purely a project where I wanted to wear the results, not one where I enjoyed the process of making it. It took me over a month to work the loose ends in, because I was so ready to move on to a more interesting and challenging project. But it's done! My lovely ivory cowl is done and now I have it in my wardrobe to wear and enjoy.
Super-close-up shot to show off the bulky wool: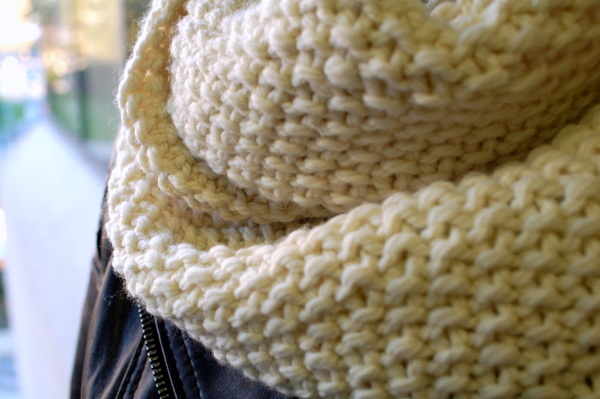 I went back out with my charged battery, to take a few last modeled photos before the sun set. During the quick photo session I got some awesome commentary from a stranger. Here's what it would be like if the stranger captioned these photos:
"That looks really strange."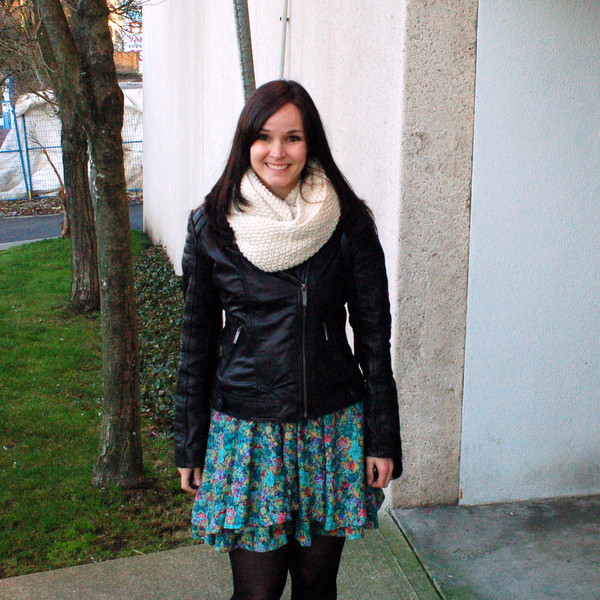 "Was that a good photo?"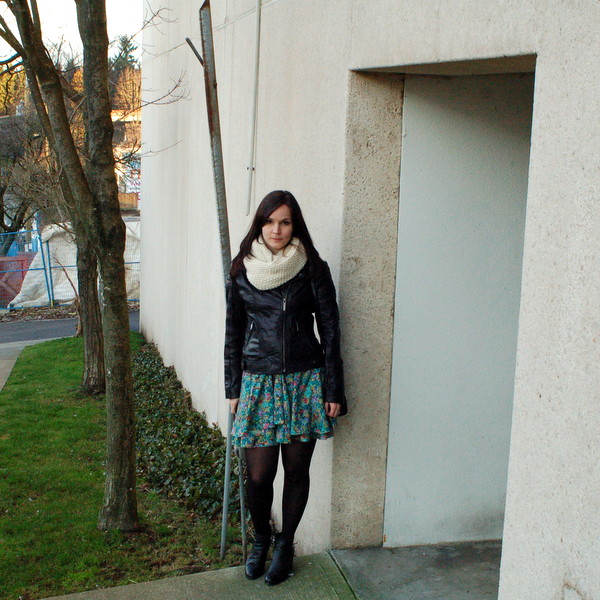 "Ah, it's a selfie!"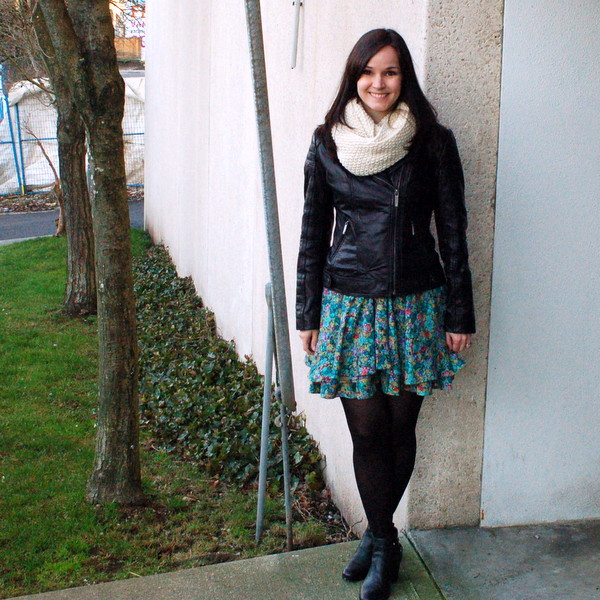 Thanks, stranger. So awkward! Makes it hard to keep a straight face, too.
Does that ever happen to you when taking blog photos? I like the outdoor light and having enough space to fit my whole self into the photos, but I get so embarrassed when people comment!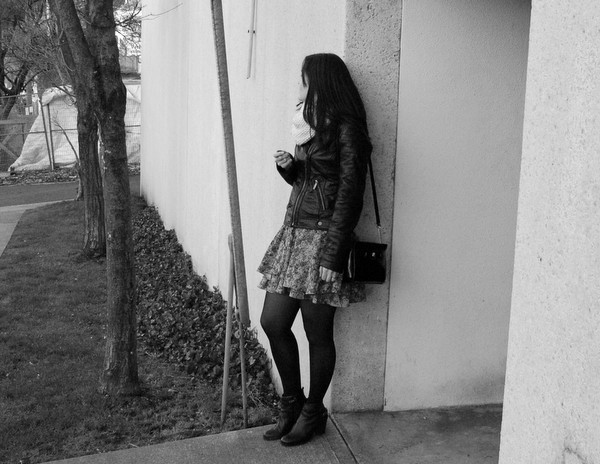 ps. Dress is unlabelled from Value Village, jacket is fancy Michael Kors from Nordstrom Rack, boots are Sam Edelman from Town Shoes. Just in case you wondered!