I'm so excited to host another sew-along! This time I'll be walking you through the sewing steps for the Gabriola Skirt, with some extra tips, tricks, and random tid-bits mixed in. It's going to be fun! I hope you'll join me.
The Gabriola sew-along will officially begin Monday, March 17th, 2014. But of course, as usual, the posts will always be here and we'll be going at a very manageable pace. You'll be able to catch up or pick it up whenever you'd like.
Here is the sew-along badge, you can put this on your blog if you'd like!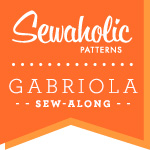 Right-click the image to save it to your computer. If you'd like to add a link to your badge, use this one to find all of the Gabriola Sew-Along posts quickly and easily.
http://sewaholic.net/tag/gabriola-sew-along
If you'd like to use our photos of the Gabriola skirt in your blog posts, go right ahead! Just please be sure to link back to Sewaholic if you do.
This skirt is a fun and fairly quick project. We'll begin our skirts on March 17thth, and we'll be finishing up on March 31st.
** Gabriola Sew-Along is now complete but feel free to refer to the posts! Here is the list of what we covered. **
Gabriola Skirt: Styling Inspiration
Gabriola Sew-Along: Let's Talk Fabric and Supplies!
Gabriola Skirt: Grading Between Sizes
Tips for Adding Lining to the Gabriola Skirt
Gabriola Sew-Along #1: Waistband and Yokes
Gabriola Sew-Along #2: Assembling Skirt Panels
Gabriola Sew-Along #3: Attaching Skirt and Yoke Pieces, Preparing for Zipper and Waistband
Gabriola Sew-Along #4: Sewing Center Back Zipper
Gabriola Sew-Along #5: Attaching Waistband to Skirt
Gabriola Sew-Along #6: Finishing Inside of Waistband
Gabriola Sew-Along #7: Hemming Skirt, Attaching Button or Hook and Bar
Super manageable right? I will be here every step of the way if anyone has any questions, comments, or really anything at all to add!
Once the sew-along is complete, we'll get to share our skirts with each other! This is my favorite part. Yay!
If you're planning on participating (or just following along!), I would love to hear from you in the comments. I can't wait to walk everyone through sewing this lovely and flattering maxi skirt!