Sometimes you find inspiration in the most unlikely places. In this case, a free issue of 'Hello!' Magazine that I got in the mail. I was flipping through it while eating breakfast, to have a look through before putting it in the recycle bin, and saw this!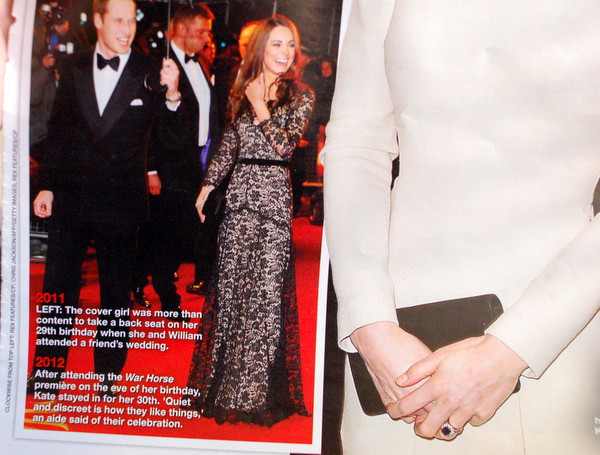 Look! The lower half of Kate's dress is pretty close to the seaming of the Gabriola Skirt pattern.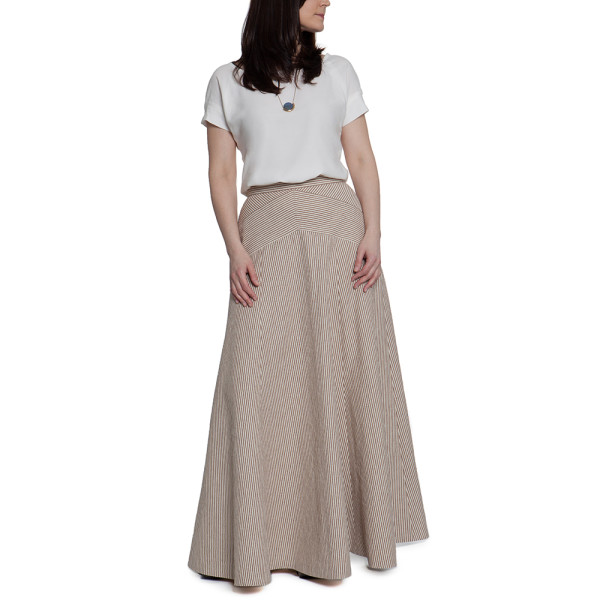 I wouldn't have thought of sewing the Gabriola skirt in lace, but why not? A lace maxi skirt would be pretty gorgeous, and luxurious, and from this photo of Kate I know that black over ivory would look amazing.
To get this look, I'd find a similar black lace and a creamy peach or ivory fabric to go underneath. A lightweight viscose fabric, rayon challis, or even a polyester crepe would work. You want it to have plenty of drape, so that it clings while the lace stands away from the body.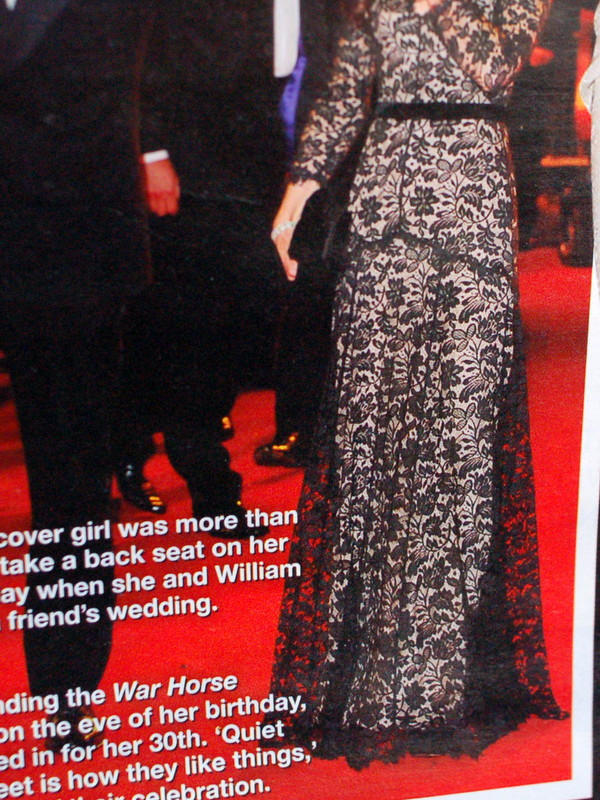 Look how the lace skirt stands away from her legs, while the inner layer fits closer to her body. This is a key part of the look, but I think you could achieve this effect simply by choosing a fabric with drape for the inner layer. No need to cut the inside skirt smaller unless you wanted to. You'd want to sew each layer separately, rather than treating the inner layer as underlining.
And of course, that scalloped hemline! This is a bit tricky if you haven't made this skirt before, as you can't hem it after it's sewn. You have to cut right on the scalloped edge as your finished edge, with no hem allowance. (Check out this old post here on cutting scalloped-edge lace.) It looks like the lace is at least 4″ (10cm) longer than the inner layer, so you get that dramatic floor-sweeping effect.
Other thoughts on re-creating Kate's look:
If your lace doesn't have a scalloped edge, you could cut along the floral shapes to create your own shaped edge. Test this on a scrap piece to see if you like the effect first.
For the seams, French seams would be a good option. Or, bind the seam allowances with black seam binding or bias tape. Or sew thin black ribbon along the outside of the seams.
The Gabriola Skirt has more seamlines than Kate's dress, so to get even closer to the look, combine the top yoke pieces with the angled yoke pieces and remove the seam.
I love outfits with a mix of dressy and casual, wouldn't this be gorgeous with a denim shirt? A simple black tee shirt? A bright-coloured V-neck sweater?
I'd personally cut a solid black waistband, just like her dress. Add a simple black tank or blouse and you're good to go!
The more I plan this out, the more I want to try it myself!
Do you do this too: see something in a magazine or photo that you like, and break it down for a sewing project? I do it all the time! In my head I'm thinking add a seamline there, line it with this sort of fabric, use this similar pattern I own, whenever I see a garment I like.
If you try making a lace Gabriola Skirt just like Kate Middleton's, I'd love to see it! (And I promise to show you if I do too!)
Have a wonderful weekend, everyone! The Gabriola Sew-Along starts on Monday, where Caroline will be taking you through the making of this skirt. Hope to see you there!