A couple of months ago, I tried to start something called 'Fun-Sewing Friday.' Terrible name, I know!
The goal of 'Fun-Sewing Friday' was that one day a week, I would focus on sewing something fun. By fun I meant something I wanted to make for enjoyment, or for my own wardrobe, but nothing work-related. In my mind I would come in, briefly check the computer for anything urgent, and then settle down for a day of blissful pleasure sewing. Doesn't that sound ideal? Add in a warm cup of tea and some good music, and that's a perfect day!
I bet you can imagine how the story ends. I never, once was able to do a Fun Sewing Friday! I don't even think I even started sewing on a Fun Sewing Friday. Something always came up, or I felt too guilty spending precious work time doing anything that wasn't focused on the business. I'd think "I don't really need to sew, but I do need to pack today's orders, and answer emails, and pay my bills…" and before I knew it, the day with be over. Or I could have chosen to sew on a Friday rather than work, but I knew that come Monday, I'd be regretting that day spent sewing as the work would still be there on Monday and I'd be behind.
I managed to do a few Fun Sewing Saturdays, coming in on the weekends just to sew, but I never accomplished as much personal sewing as I'd like. There's no sewing machine at home, only at the office, so if I want to sew, I have to do it here!
For most of November and December, my office was piled sky-high with boxes, leaving no room for Fun-Sewing Fridays even if I had the time!
I also used the sewing table for other things, including packing patterns or storing supplies. Even putting away the sewing machine frequently sends the message that sewing can wait, as the other work is more important.
So this year, I'm going to try to squeeze in more fun sewing. Fun Sewing Friday is back! Or maybe even just Sewing Fridays, even if there's work-sewing in there too. I can go weeks without touching my machines sometimes, and I feel the urge to reconnect with fabric and sewing, watching the magic of constructing a 3-D garment from flat fabric and paper pieces. I want to smell freshly-ironed muslin. (So weird, but I love that smell!) It's sort of like dating. You start out dating, spending extra attention on someone and learning little things about them. Just like dating, you learn and explore and find out where you fit in the world of sewing. Then once the relationship is established, you can fall into a routine and even a rut. I've been having a love affair with knitting, learning and experimenting and taking things to the next level. I want to flirt with sewing again!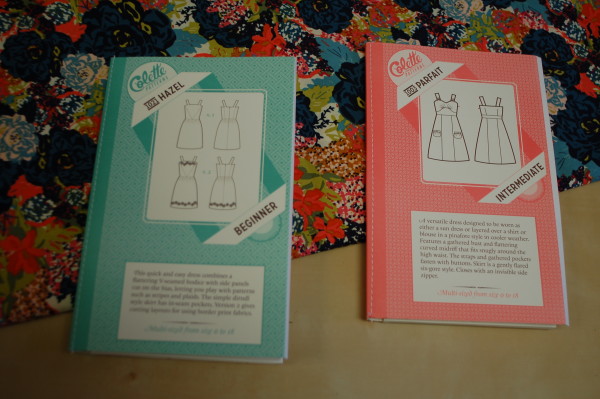 One of the weirdest things to understand about  being your own boss is the illusion of freedom. I think I'm harder on myself than any boss would be! Sure, I can work on anything I want. No one is going to tell me to stop sewing and get back to work. And yet, I think that's what makes it even harder to do things that are a little more fun, a little less work. The work parts are obvious when they need to be done, and I'm the only one who's going to do them, so I focus on those tasks as the most critical. It's harder to identify the times when I need to get back to sewing and touch fabric again, get inspired, and remember that feeling of fabric running through my machine. I need to recharge my creative side just as much as I need to ship out orders and stuff envelopes! So that's why it's even more important to stay balanced in a creative job. The manual and technical work will always be there, but it's equally important to feed and exercise our creativity.
I bet some of you are thinking, what a lucky girl! And it's true. I am very lucky to be able to even think about spending a workday sewing! Even if it's just a half day, I want to be able to sew more. I always wish for more time, but in truth I am the only one who controls how I spend my time.
Here's hoping I'll be able to fit more Fun Sewing into my work week! And if you think of a cuter name than Fun Sewing Friday, please let me know!