I loved knitting this sweater from start to finish. It's fast, thanks to the thick yarn and easy stitch patterns.  It's super comfortable to wear thanks to the garter-stitch collar and soft, plushy yarn. And it's warm! Oh, and it has buttons!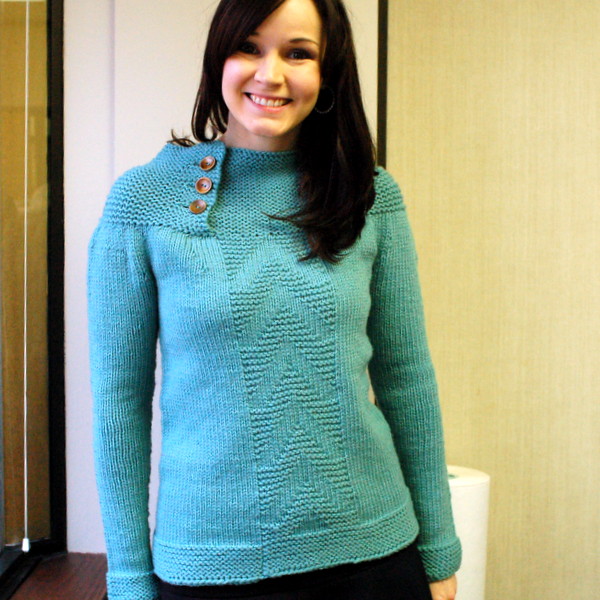 Ravelry notes here. This pattern is part of the Journey book – same as the Climb socks I knit here! I fell in love with the images in the book. I wanted to be that fresh-faced, outdoors-loving woman in the photos. And so, I knit the same sweater and socks!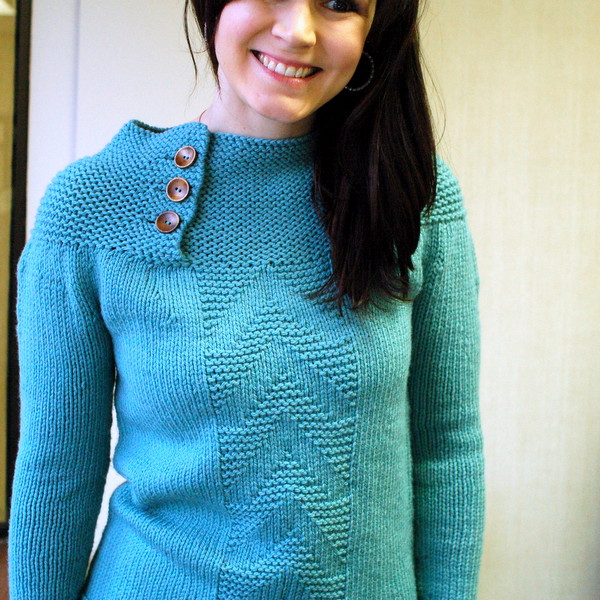 Yarn is Quince & Co Osprey, same as the pattern sample. I love the colour, Belize, it's a gorgeous aqua that suits me more than sky blue.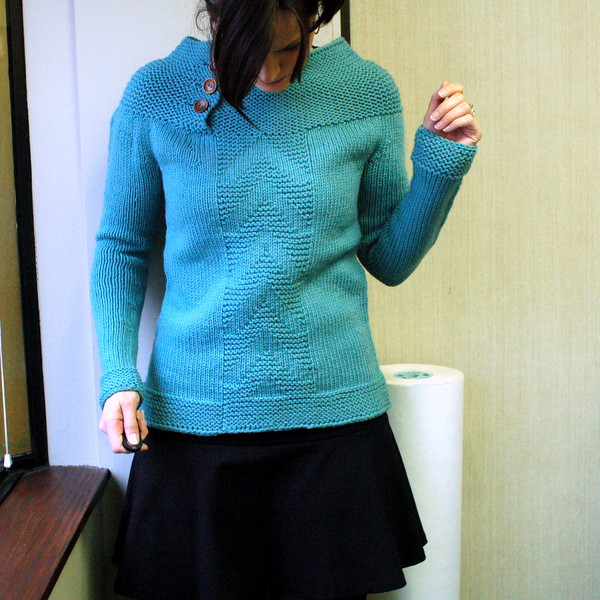 Modifications:
 Lengthened sleeves
Knit body, then knit sleeves, then finished body with all leftover yarn.
It's rare that I choose to make something this relaxed and loose fitting. And I love, love, love it. I would make this again. I want to knit this again, in cream or charcoal grey. Too bad I'm not buying yarn this year. As soon as I can I'm knitting this one again in a soft charcoal grey. Or how about this – two strands together, for a marled look? Brown and cream? Pale pink and white? Burgundy and ivory?
You can see that the body is a straight cut, from the armholes to the hem. No waist shaping, yet it still looks flattering.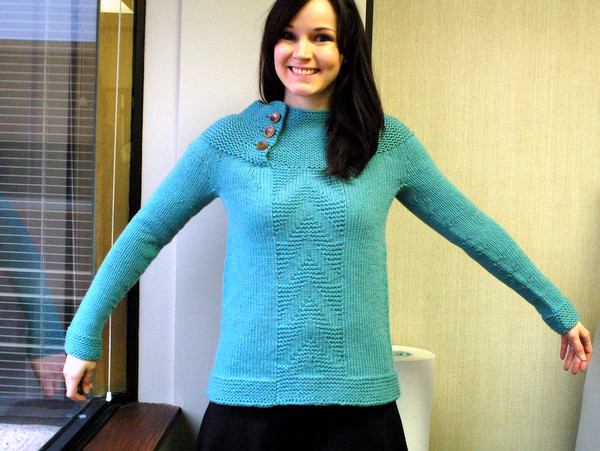 From the back you can see the extra ease, more so than the front.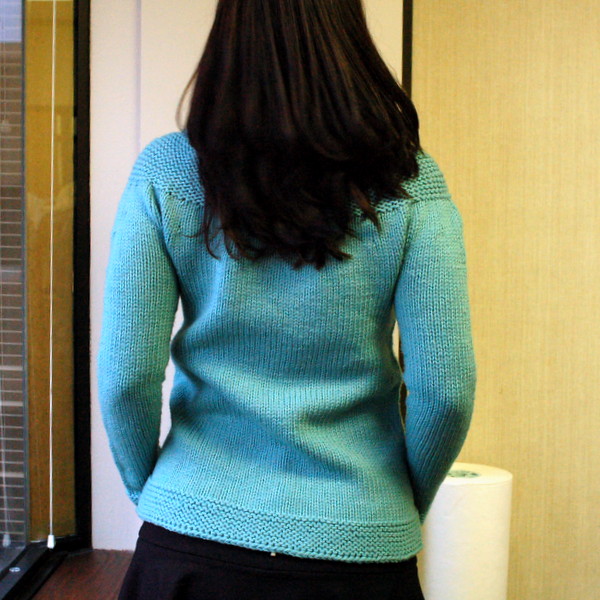 Buttons are wood, from Button Button in Vancouver. It's been a while since I finished a sweater with buttons, and it's always a treat to take my finished sweater in to Button Button to pick out the perfect buttons. I enjoy that part so much! With hand knit sweaters, it's worth it to buy the very best buttons.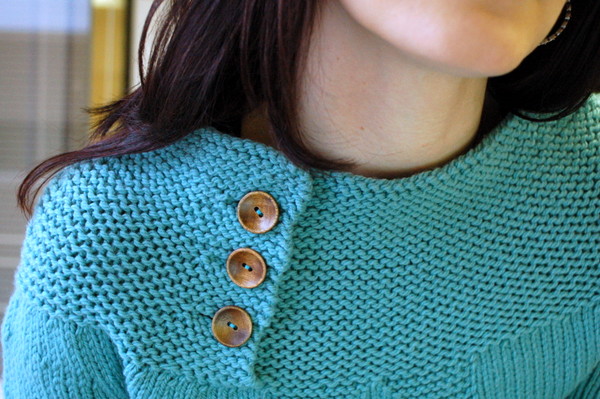 I learned a new technique – the one row buttonhole. I've avoided buttonholes on a few of my sweater projects, choosing to replace them with snaps instead, but I couldn't do that here. I'm glad, because otherwise I wouldn't have learned something new. It's a reminder to me not to get set in my ways, or I might miss out!
This colour photographs differently on me and off me. It's probably somewhere in between in real life, but on the modelled photos, it appears more vibrant.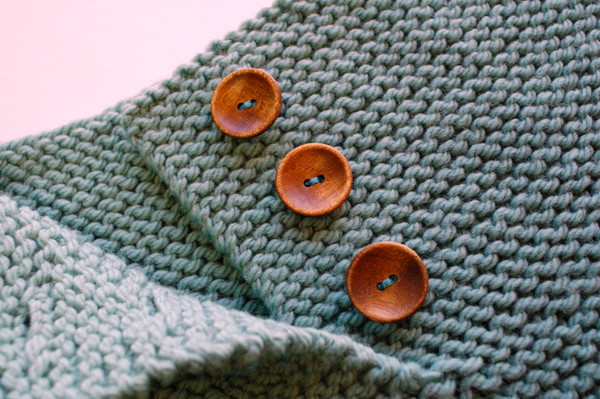 I added reinforcing buttons on the back of the main buttons, to keep them from pulling through the knitted fabric.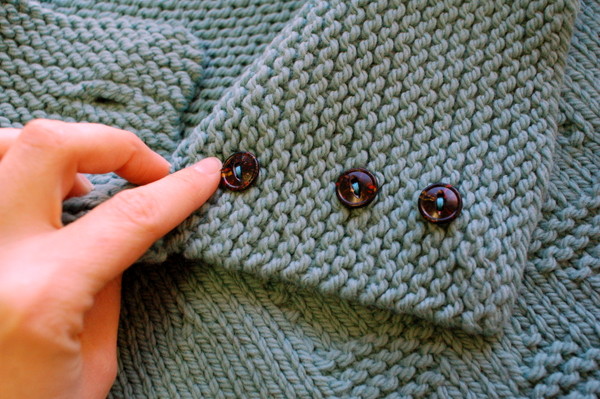 I love this sweater so much, I love the loose fit, the squishy yarn, the collar, even the funnel neck which I wasn't sure about. I didn't want to look like I was getting swallowed by a sweater – but I find it way more flattering than I expected.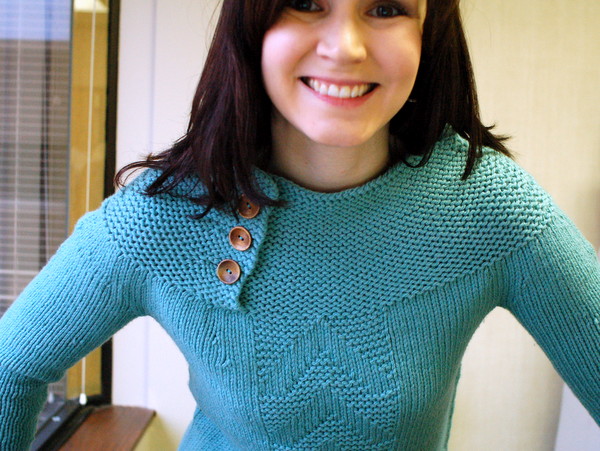 Here's a few more shots of the sweater on the dress form: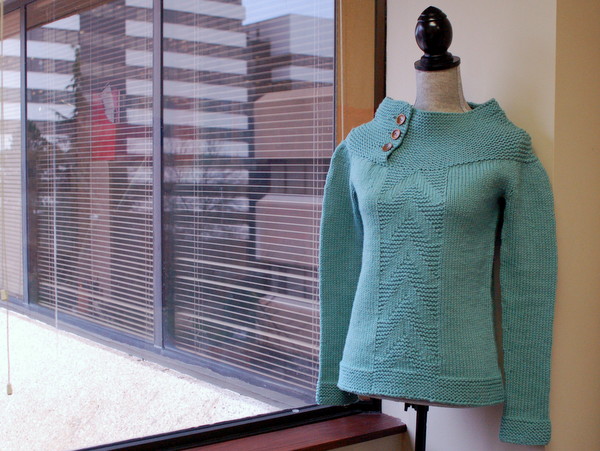 Looks better with a person in it, to fill out the arms and such.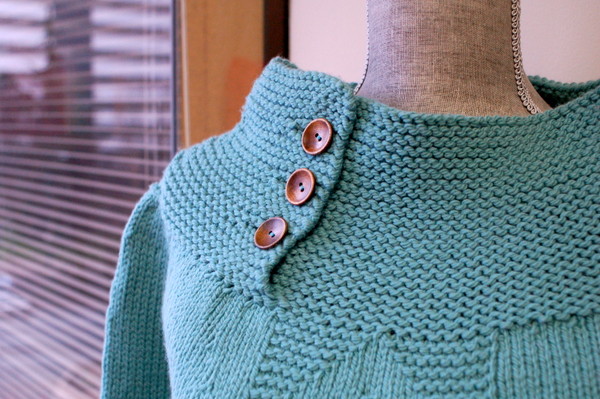 Close-up of the stitch pattern: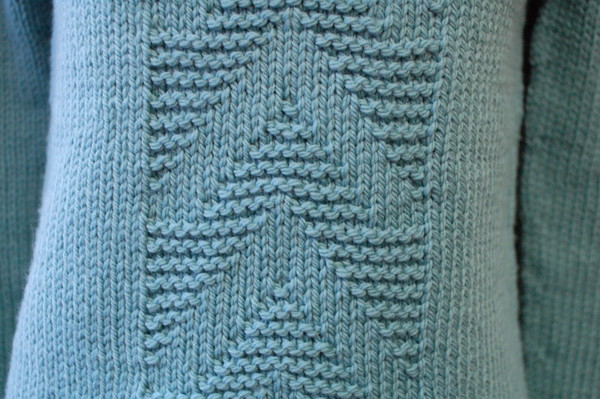 And a closer look at the garter-stitch hems: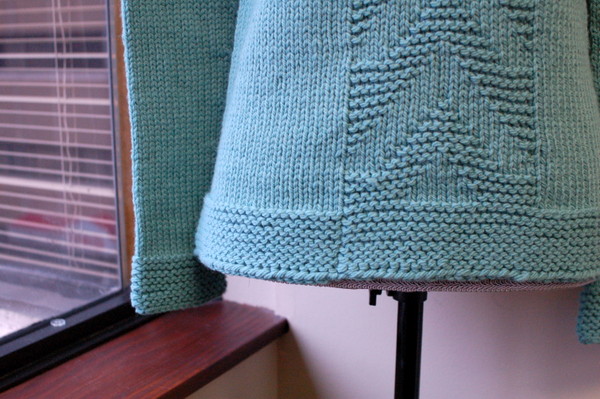 What else to say? Really enjoyed knitting this, and enjoy wearing it just as much. There's nothing very difficult about this pattern, except perhaps deciding on a colour!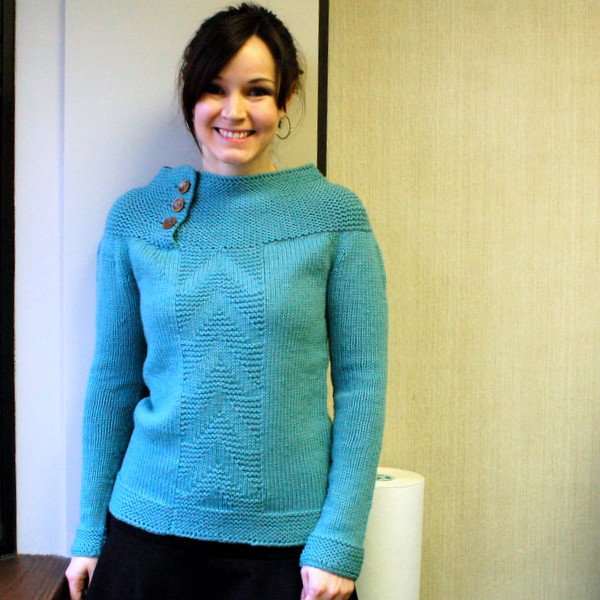 Now all I need is a flattering pair of leggings and some hiking boots, and I'm ready to get outdoors in style! Although this sweater works just as well if I never leave the office too.