While I'm on vacation, I thought I'd pull out some projects from the archives to keep you entertained. (Also in case I can't get to a computer and show you all the fabric I've been buying on holiday – or in case there is in fact no fabric shopping on holiday!?)
After organizing the sewing room spare room, I found tons of old photos! So old they were all taken on film cameras, so I had to scan them in to share them. They're a little grainy but they work.
Today's photo is my high school prom dress, where we were gonna party like it's 1999. Cause it was, literally! This is me at my high school graduation, "Class of 1999," in my homemade prom dress.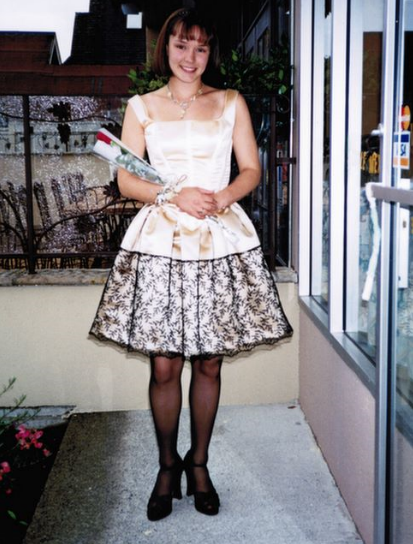 I used to skip my other classes to work on this dress. Yup, I'm that much of a sewing dork. Although, it took me four months to make it. You need that much time when you sew for an hour at a time, and most of that hour is spent setting up and cleaning up afterwards!
I used Vogue 1605 a Bellville Sassoon Designer Original. Rated Advanced, I'm sure. If you like it, it's still for sale, now as a vintage sewing pattern. (Wow, that makes me feel old! Patterns from my high school era are vintage! Click the image below to buy.)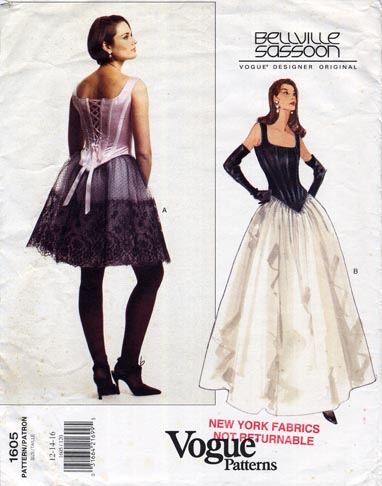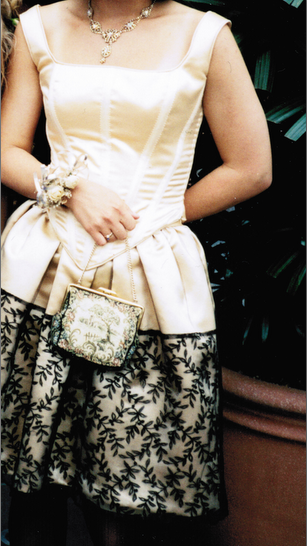 I was the only girl to wear a short dress, and the only girl to make my own.
Proms in Canada aren't like they are in the States, from what I've learned from watching teen movies.
You don't have to have a date to go, you aren't allowed to invite anyone from outside your graduating class, and there is no prom queen or king.
On prom night, we had a buffet dinner (with spaghetti and tomato sauce! With all the white dress shirts and dry-clean-only prom dresses in the room, who planned that out?)
I'll never forget filling my plate, sitting down at the table and being stabbed by an escaping piece of boning!
It had poked through the ribbon trim and continued to jab me all night long. This dress was definitely designed for standing, not for sitting at the dinner table.
When prom finally arrived, I was just about sick of my dress. I'd looked at it every day in sewing class, had agonized over rows and rows of gathering, fought with inserting the boning, and washed my hands a hundred times so I didn't stain the work-in-progress. All that work and time spent had taken just a tiny bit of the fun out of the dress.
After making my prom dress, I vowed I'd never make another milestone dress again. I'd BUY my wedding dress, rather than work on it for four months and wish I'd worn something different on the big day.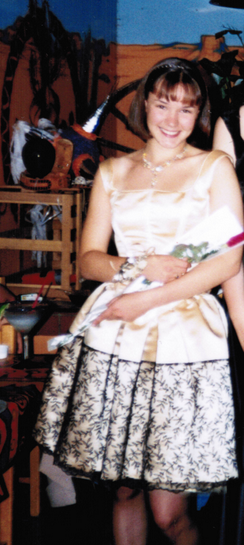 Of course, that's the voice of 17-year-old me and she was kind of stubborn and impatient. Not at all like 28-year-old me who is so much wiser and calmer… well, maybe that's a stretch.
Anyways, despite the stubbornness of my younger self. I believe I would make my wedding dress, should my guy and I decide to tie the knot someday. (No, we're not married but he's most definitely the love of my life!)
Have you seen the prices of wedding dresses these days? (Gosh, that sounds so practical of me to say..) As someone who can sew, and a generally thrifty person, I just can't justify the hefty price tag on something I'll wear once. Seems wasteful to me, and I'm not a wasteful person.
Oops.. I'm getting a bit ahead of myself here. Back to the topic of prom dresses!
Who else made their high school grad dress? Was it a success? Share links, if you have them!