Here's another high school memory outfit, another photo I found while cleaning up. A couple of months before the actual prom, my high school put on a boat cruise. You head to downtown Vancouver, get on a medium size ferry-type boat (with music and a dance floor!), and cruise around the harbour for a couple of hours.
Looking back it was probably more fun than the actual prom. You could invite people from other schools, you got to go on a boat, and there was less pressure for it to be the 'perfect night.'
This outfit I loved more than my prom dress. I thought I was so hot! Looking back it's a sort of strange outfit, but I felt cool, which I suppose is the best part. And it was comfortable too, no boning to contend with.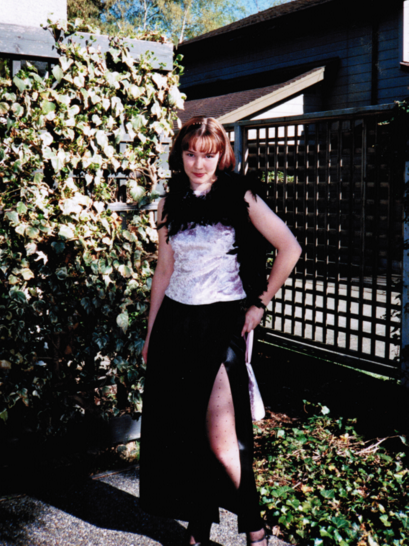 The halter top had buttons up the back, made of a velvet-like fabric with shiny dots on top. Love it! I felt super classy in the back-button top. The wrap skirt is a polyester satin, and my nylons are super cool with a dotted texture. I also have 4″ heels which back in the day, was a big deal! I used to walk half an hour to school and half an hour home, so practicality was important in my daily shoes. Any excuse to parade around in heels was a delight! And who doesn't love an excuse to wear a feather boa?
Two girls ended up wearing the same dress to this boat cruise night, but not me…